America likely will be shocked over details regarding Iran's capture and treatment of several U.S. sailors earlier this year once they're declassified, one member of the House Armed Services Committee told the Washington Free Beacon.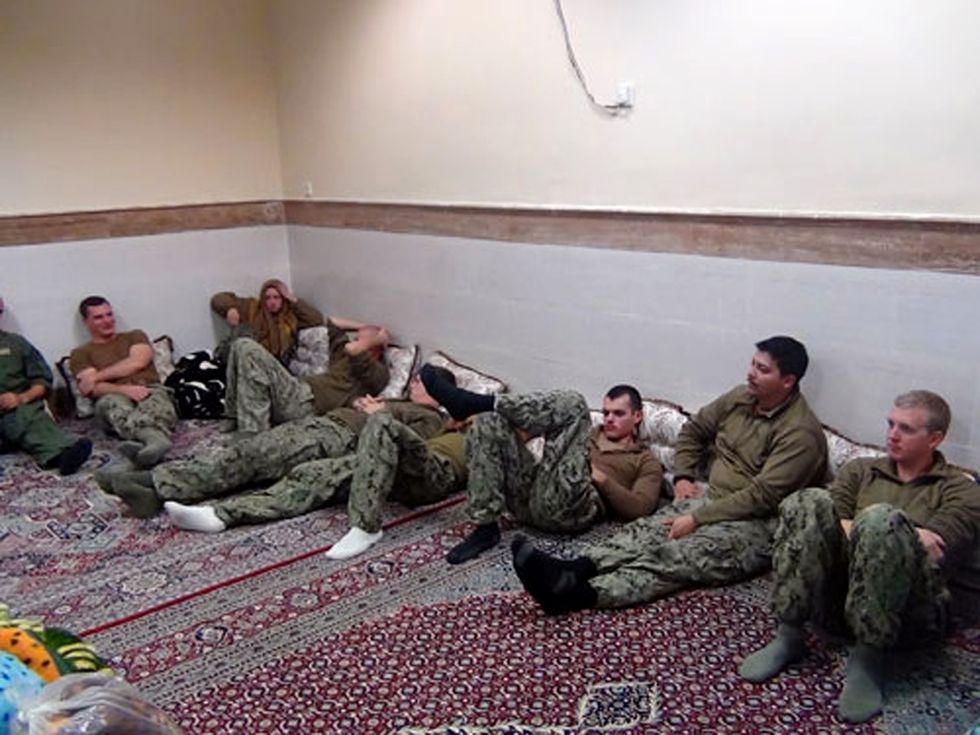 This picture released by the Iranian Revolutionary Guards on Wednesday, Jan. 13, 2016, shows detained American Navy sailors in an undisclosed location in Iran. Iranian state television is reporting that all 10 U.S. sailors detained by Iran after entering its territorial waters have been released. (Sepahnews via AP)
Rep. Randy Forbes (R., Virginia) told the outlet the Obama administration is keeping certain details of the incident secret but that he's had "a full classified briefing" from military officials — and a full report to the public may not come to light for a year.
"I think that when the details actually come out, most Americans are going to be kind of taken aback by the entire incident, both how Iran handled it and how we handled it," Forbes told the outlet. "I think that's going to be huge cause for concern for most Americans. That's why I've encouraged members of Congress to get that briefing so they do know exactly what did take place."
Iran state TV releases images of the 10 U.S. Navy sailors who were held by Iran yesterday https://t.co/PQH21JeRHX pic.twitter.com/6hYCqtERKg

— Dan Linden (@DanLinden) January 13, 2016
Forbes told the Free Beacon that Iran's treatment of the U.S. sailors — one of whom was videotaped apparently crying — may have been far worse than what's been reported thus far.
#Iran state TV publishes new pictures of #US sailors in which one sailor is crying after being detained. pic.twitter.com/Kl0WkN3QFG

— Abas Aslani (@abasinfo) February 10, 2016
"I think clearly there were violations of international and maritime law that took place here," Forbes told the Free Beacon. "We [the United States] did almost nothing in response, in fact, to have Secretary [of State John] Kerry actually thank them for releasing our sailors after the way they captured them, I think was a slap in the sailors' face."
More from the Free Beacon:
Forbes is pushing a new measure that would increase sanctions on Tehran for its treatment of the U.S. sailors in order to hold Iran accountable for its aggressive behavior.

Forbes' measure outlines a range of Iranian aggressions against U.S. forces in the Persian Gulf region.

"Iranian military and paramilitary vessels have repeatedly behaved in a dangerous and unprofessional manner in close proximity to naval vessels and commercial shipping operating in internationally recognized maritime traffic lanes," according to a copy of the measure the Free Beacon said it examined.

The list of provocations includes a December 2015 incident in which Iran conducted a "live firing exercise within 1,500 yards of the U.S. aircraft carrier Harry S. Truman."

Iranian military aircraft buzzed the Truman and a French aircraft carrier in the region in January.
"The administration will not stand up and say this is just wrong," Forbes told the outlet. "Instead of thanking them the administration should be standing up and saying its wrong."
He also told the Free Beacon that Congress must hold Iran accountable for its aggressive military behavior.
"These kind of actions undermine stability in the Gulf," Forbes told the outlet. "And they raise the danger of inadvertent escalation. I think it goes without saying that if that's the case and they won't stop that activity, all of that should at least be considered and debated as part of any Iran sanctions bill that may come up in the future."
This story has been updated.