While accepting an award in New York Monday, "Harry Potter" author J.K. Rowling sharply criticized comments made by presumptive Republican presidential nominee Donald Trump while still defending his ability to make those very remarks.
During a speech at Pen America's annual literary gala, Rowling expressed opposition to a proposal to ban Trump from visiting the U.K. According to CNN Politics, a petition circulated in the U.K. in an effort to ban Trump from visiting the country garnered more than 568,000 signatures. The British Parliament debated banning Trump but never voted.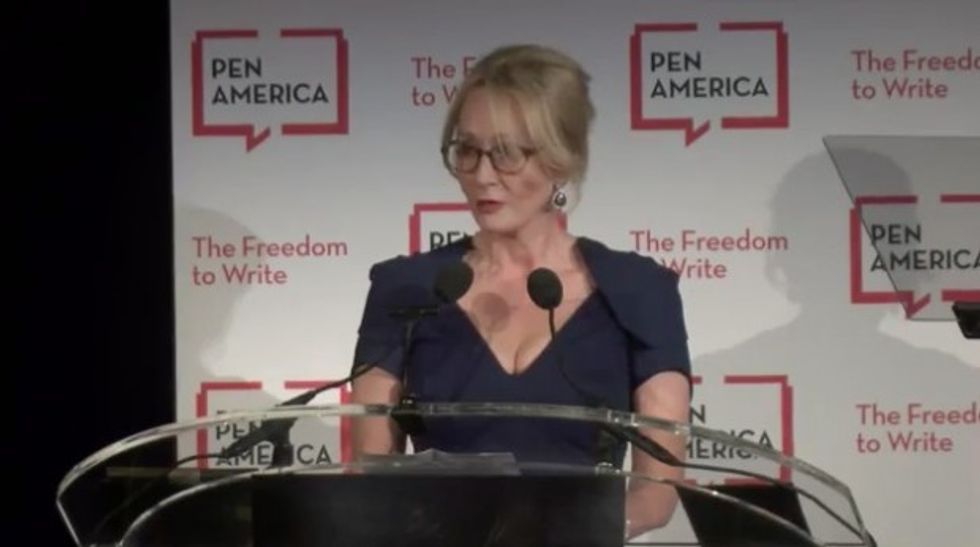 Author J.K. Rowling (Image source: YouTube)
"Only last year, we saw an online petition to ban Donald Trump from entry in the U.K. It garnered half a million signatures," she said. "Now, I find almost everything that Mr. Trump says objectionable. I consider him offensive and bigoted. But he has my full support to come to my country and be offensive and bigoted there."
Rowling said that freedom is both Trump's right to speak and her right to "call him a bigot."
"His freedom to speak protects my freedom to call him a bigot," she said. "His freedom guarantees mine. Unless we take that absolute position without caveats or apologies, we have set foot upon a road with only one destination."
"If you seek the removal of freedoms from an opponent simply on the grounds that they have offended you, you have crossed a line to stand alongside tyrants who imprison, torture and kill on exactly the same justifications," Rowling added.
Rowling has been vocal critic of Trump. She once tweeted that her story's villain, Voldemort, "was nowhere near as bad" as the candidate.
How horrible. Voldemort was nowhere near as bad. https://t.co/hFO0XmOpPH

— J.K. Rowling (@J.K. Rowling) 1449575972.0
—
Follow Kate Scanlon (@kgscanlon) on Twitter