Students at Fruita Monument High School in Colorado launched a patriotic rebellion last week after school officials banned all flags in the school parking lot, including the American flag.
The order to prohibit flags came after Fruita Monument senior Colt Chatfield was told he couldn't fly a Confederate flag, which school leaders deemed offensive to others, the school's principal told KKCO-TV.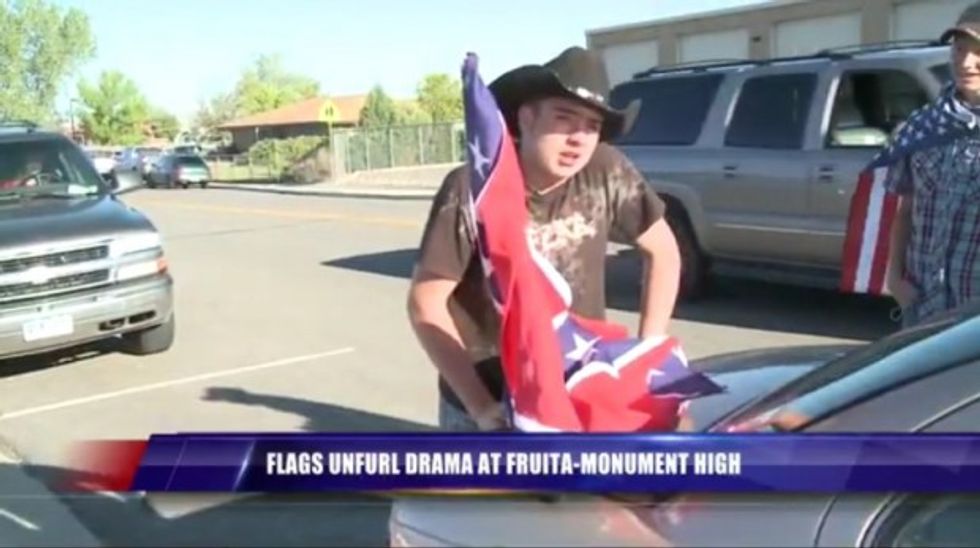 Image source: KKCO-TV
"They said we can't fly a Mexican flag, Confederate flag, American flag, any flag at all," senior Paxton Streeter told KKCO.
Another senior, Keegan Bogart, told KKCO that the school was prepared to take action against students who violated the ban: "My buddy was kicked out for having [a flag] in his truck, and they threatened to expel Colt Chatfield for it, and they told all seniors that they would not walk [in graduation] if we continued to display flags in the school's parking lot."
But after school administrators announced the ban May 9, students rallied to show their collective indignation with what they viewed as a grievous assault on freedom.
Five students, including Chatfield, returned to school Tuesday with even more flags, the majority of them American, pulling into the school parking lot in what resembled an Independence Day parade.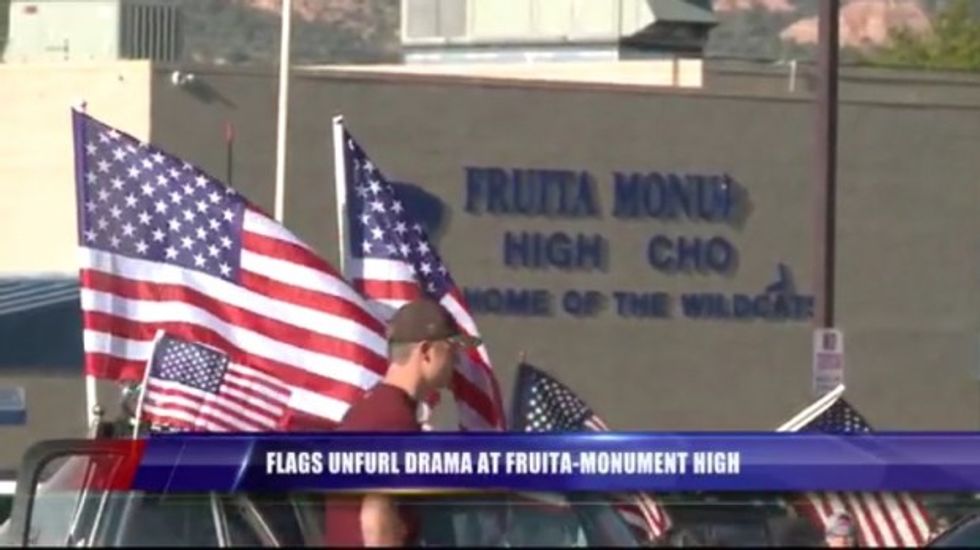 Image source: KKCO-TV
FMHS Principal Todd McClaskey explained that the ban was merely an attempt to foster a peaceful and inclusive school environment, because the administration believed some of the flags were "inappropriate and offensive," KKCO reported.
"It wasn't a matter of it being an American flag, or a Rebel flag, or a Confederate flag, McClaskey explained. "It was the fact that administration was spending time in the parking lot policing flags, rather than being in the building focused on helping students focus on learning and graduation, which is why we said no flags in the parking lot."
But students did not appreciate the school's quick-fix solution to the flag problem.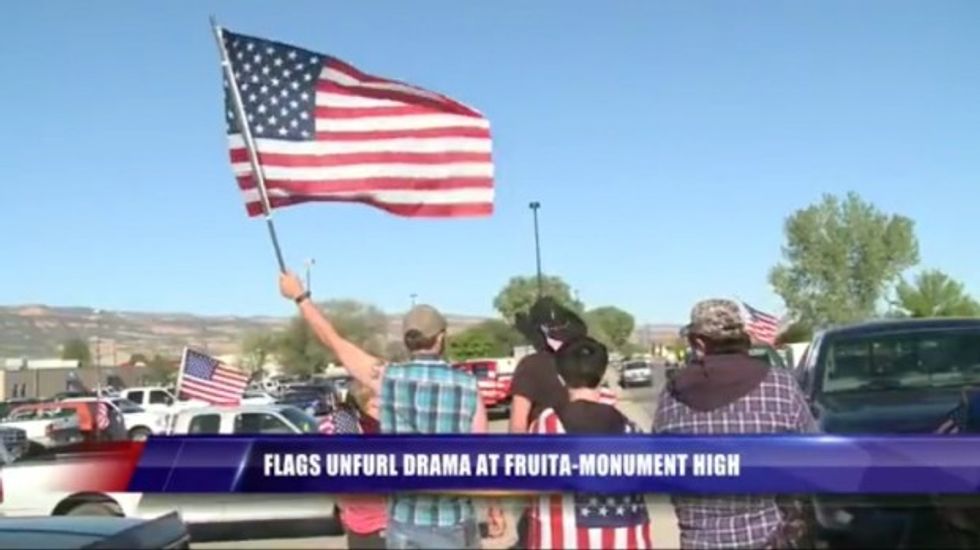 Image source: KKCO-TV
"I don't see how you can pull someone's right to walk in graduation because they were being patriotic," Bogart said.
One veteran even showed up at the high school to stand in solidarity with the students. "We're all proud of this flag," he told KKCO. "Thousands of people have died for this flag. I think we should be behind the kids."
School officials quickly lifted the blanket ban, telling students they would be permitted to fly appropriate flags, including the American flag, respectfully.
Watch: