Melania Trump heard MSNBC host Chris Matthews commenting on her looks in a recent hot mic moment, and she seemed a bit taken aback by his remarks.
"Unbelievable," Melania Trump said in an interview with Du Jour published Tuesday. "That's what I'm saying! I'm not only a beauty, I'm smart. I have brains. I'm intelligent."
"I would just say, Men will be men," she added.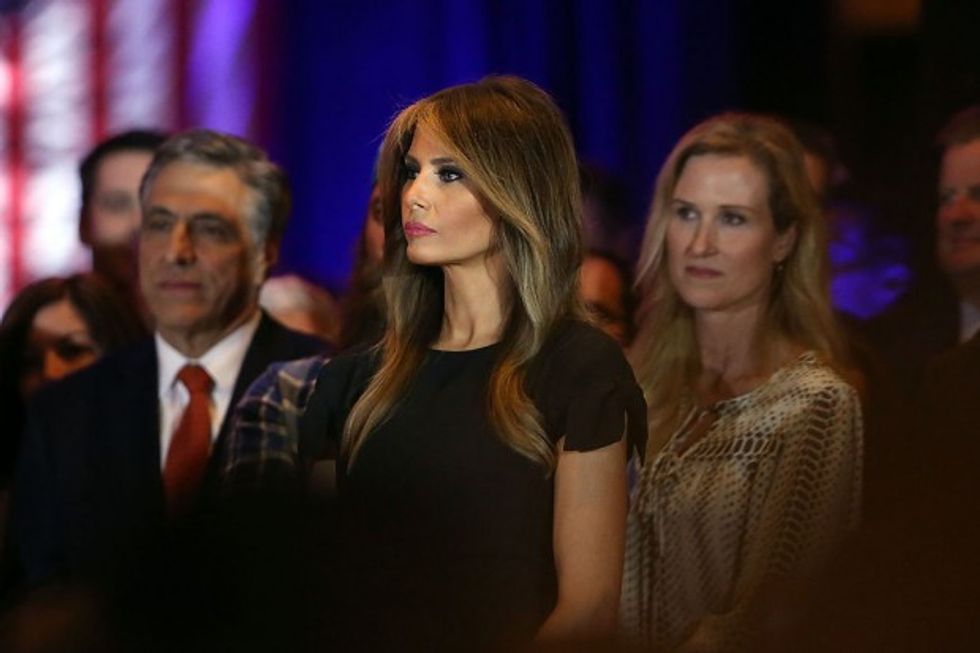 Photo by Spencer Platt/Getty Images
Matthews was caught earlier this month gushing about the former model's appearance, asking, "Did you see her walk?"
"My God, is that good," he continued. "I could watch that runway show."
But for Melania Trump, such comments come with the territory. She said it is quite common to hear remarks like Matthews', especially given the fact that she's married to such a high profile billionaire like Donald Trump, the presumptive nominee for the Republican Party.
"When you walk in a room, everybody knows the person," she said of the New York real estate mogul. "Sometimes people see you with that man, and maybe they know more about the man, and they judge you or see you differently. You need to know [who] you are and you need to be very secure. You need to stand up for yourself. You need to have your own yes and no."
And being so famous, Melania Trump said her husband sometimes needs to be with someone who will "tell him the truth."
"To be married to my husband, to someone successful as he is, he needs somebody who will tell him the truth," she said. "Somebody smart, you know. It's not just like I'm there and I'm just doing things for him. People say I'm not on the campaign, [but] I'm very involved from home."
Additionally, Melania Trump wanted to clear up any sort of suggestion that her spouse is anything like Nazi leader Adolf Hitler. The comparison was first made when Donald Trump announced his proposed ban on Muslims entering the U.S., which his campaign has since sort of walked back.
"We know the truth," she said. "He's not Hitler. He wants to help America. He wants to unite people. They think he doesn't, but he does. Even with the Muslims, it's only temporary. Maybe he needs to say it in a softer way. He doesn't go after religions."
She clarified that the presumptive nominee just meant people need to know who is coming into the country, because, if not, "we don't have a country."
"We see how he is, and he wants to unite the country and bring people together and bring jobs back," she added.
—
Follow the author of this story on Twitter: