Sen. Tom Cotton (R-Ark.) condemned the "the growing assault on law enforcement" in the United States during remarks Thursday at The Hudson Institute, saying that law enforcement officers are "constantly and unfairly criticized and undermined" while they attempt to combat a rise in violent crime.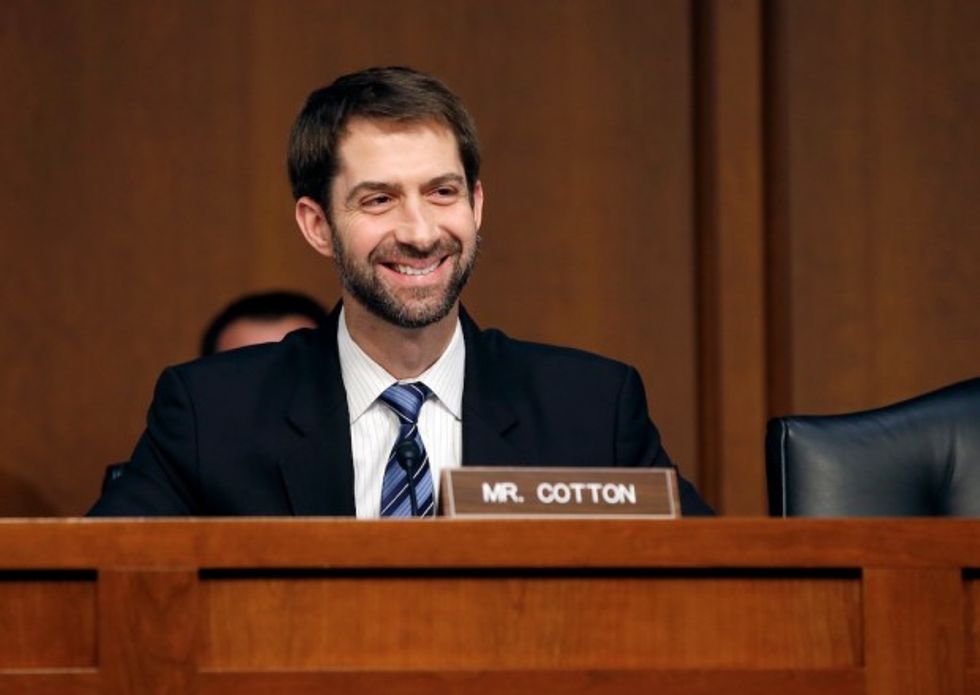 Sen. Tom Cotton, R-Ark., smiles during a Senate Intelligence Committee hearing on Capitol Hill. (AP Photo/Alex Brandon)
"Now let me make something clear," Cotton said. "Black lives do matter. The lives being lost to violence in America's cities are predominantly those of young black men, with devastating consequences for their families and their communities. But the police are not the culprits. In nearly every case, the blood is on the hands of criminals, drug dealers and gang members."
Cotton admitted that police abuse does occur and urged that the "small number of people who do the wrong thing" should be investigated and disciplined. "But what should not and cannot occur is a rush to demonize law enforcement whenever force is used," Cotton added. "In the absence of facts and hard data, we're vulnerable to heart-wrenching images, to our own biases and to cheap demagoguery. This is dangerous."
He also noted that Gallup polls have found "more and more Americans are worried about the impact criminals are having on their communities."
.@SenTomCotton speaking at the @HudsonInstitute: "Criminals are criminals, victims are victims." pic.twitter.com/MDMwL8cfjL

— Kate Scanlon (@kgscanlon) May 19, 2016
The senator went on to lay out his opposition to a criminal justice reform bill currently in Congress that would reduce mandatory minimum sentences, which he characterized as counterproductive to stemming violent crime because "criminals are not victims."
"Criminals are criminals," Cotton said. "Victims are victims. That may seem harsh to those who have security details and live in gated communities. It's easy to feel virtuous about being soft on crime when you live in Chappaqua."
"The Obama administration has become so solicitous towards criminals that we're not supposed to call them criminals at all," Cotton said. "Now the new term is 'justice-involved individual.' I'm not joking, this is the administration's new term for criminals: 'justice-involved individual.' That alone is a crime against the English language."