Pop star Demi Lovato used her Sunday evening performance at the 2016 Billboard Music Awards to make a statement on the bathroom controversy that's currently gripping the nation.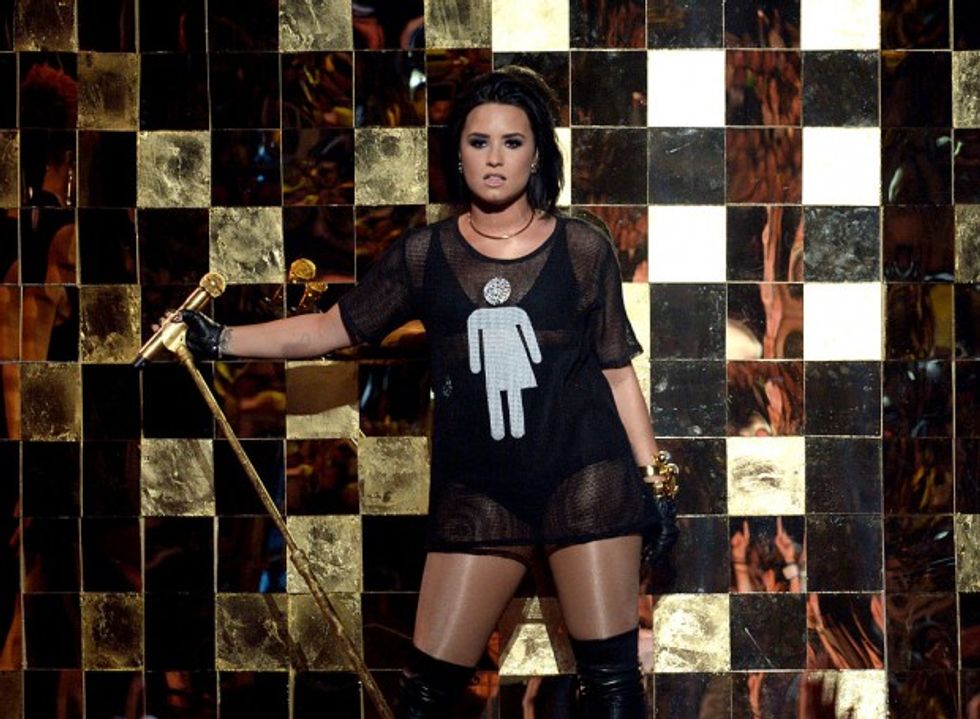 Recording artist Demi Lovato performs onstage during the 2016 Billboard Music Awards at T-Mobile Arena on May 22, 2016 in Las Vegas, Nevada. (Photo by Kevin Winter/Getty Images)
Lovato wore a top emblazoned with a symbol combining male and female bathroom symbols, often used by proponents of genderless or "inclusive" bathrooms.
Demi Lovato has a symbol for transgender bathrooms on her shirt at the Billboard Music Awards https://t.co/FGjlgJG9fS

— Hunter Schwarz (@Hunter Schwarz)1463966103.0
Amazing shirt on the #BBMAs @ddlovato! Thank you for supporting equality for all, including transgender North Carolinians. #RepealHB2

— Human Rights Campaign (@Human Rights Campaign)1463966568.0
Is Demi Lovato making a statement on North Carolina's controversial "bathroom law" with her shirt & bathroom-looking tile, or am I reaching?

— Gisela Margarita (@Gisela Margarita)1463966236.0
The controversy erupted over a North Carolina law requiring that transgender individuals use bathrooms and changing facilities that correspond with their biological sex rather than their gender identity.
Lovato cancelled performances in North Carolina in protest over the law.
Watch below:
#BBMAs: @DDLovato belts out 'Cool for the Summer' https://t.co/plRHXX7wF3 https://t.co/FafcTqOGgb

— Hollywood Reporter (@THR) May 23, 2016