Zakia Belkhiri instantly became the darling of the left when the hijab-wearing Muslim woman — lips puckered and offering a peace sign with her fingers — was photographed taking a selfie in front of an anti-Islam demonstration in Belgium last week.
The story of Belkhiri "trolling" the haters was picked up by many outlets. ChristianToday said the protest "backfired" due to the her presence. Mashable noted Belkhiri's "defiant selfies,"Huffington Post UK described her actions in the face of "hostility," and the BBC highlighted her "cheeky selfie."
"This wasn't a protest at all, this was just to share joy and peace," the 22-year-old told the BBC in an email, adding that she wanted "to show that things can be different. And that we can live together, not next to each other but with each other."
But since Belkhiri's past social media comments about Jews surfaced, she now appears to be in damage-control mode.
"Hitler didn't kill all the Jews, he left some," she wrote in a November 2012 tweet. "So we know why he was killing them."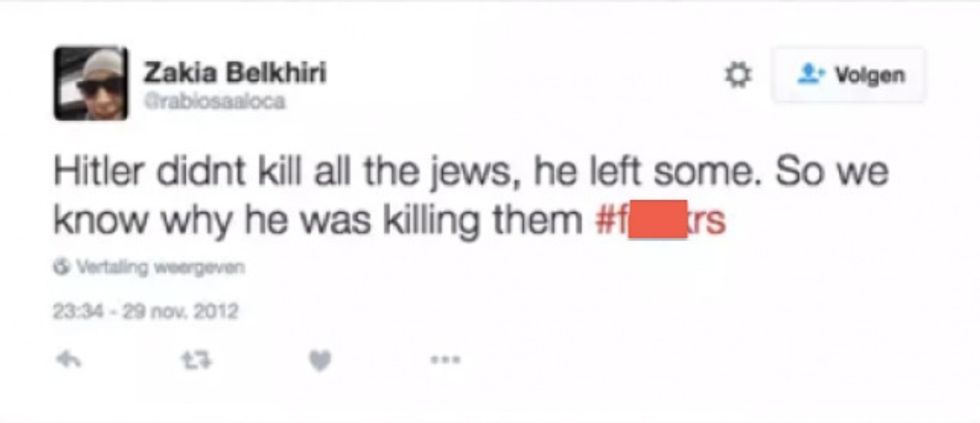 Image source: Twitter via the Times of Israel (redacted)
In a March 2014 Facebook post, Belkhiri used an expletive for Jews and then wrote: "I hate them so much."
Since these revelations, Belkhiri deleted all her social media accounts, the BBC reported in a follow-up article, adding that she hopped on Twitter in an attempt to explain her past remarks: "My opinion many years ago was meant on the zionist back then, that spread hate instead of love so to all the other jews peace be upon you!"

Image source: Twitter via BBC
Well, that didn't fly so well, either:
@rabiosaaloca you meant that Zionist Jews deserve to die?

— AKrok (@AKrok)1463853038.0
So she returned to Twitter with a longer post and apologized "to everyone in the Jewish community which I've hurt with my comments of several years ago."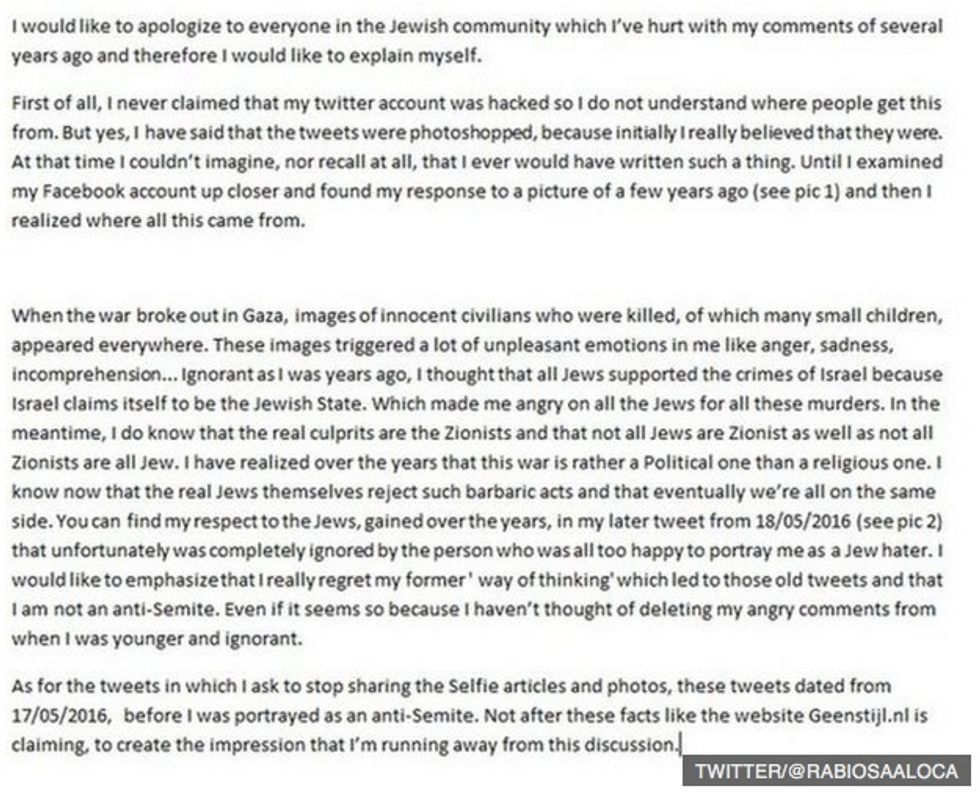 Image source: Twitter via BBC
"I am not an anti-Semite," she added. "Even if it seems so because I haven't thought of deleting my angry comments from when I was younger and ignorant."
(H/T: Allen B. West)