Just a month after Prince's unexpected passing, Sunday night's Billboard Music Awards closed with a controversial tribute to the musician, starring Madonna and featuring a surprise duet with Stevie Wonder.
Ten days before the awards show, when Madonna's tribute to Prince was announced, there was an outcry on social media protesting the show producers' choice.
Billboard Awards: Stop Madonna from tributing Prince during the Billboard Awards - Sign the Petition! https://t.co/eMR1QkvIal via @Change

— Amanda Seales (@amandaseales) May 14, 2016
The change.org petition against Madonna as the only performer paying tribute to Prince generated more than 8,000 online signatures and sparked a counter-protest from Madonna fans.
Despite the outcry against Madonna, the producers were not publicly backing down. However, the unannounced addition of Stevie Wonder could be seen as a victory by those who demanded more performers be added to the tribute.
Immediately after the show ended, social media exploded with criticism of the performance.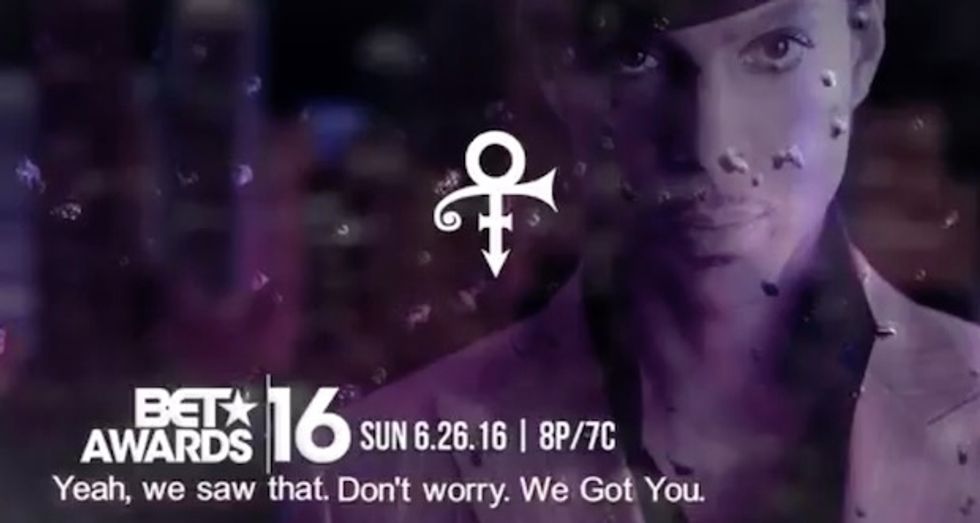 Image source: Twitter
Black Entertainment Television subtly slammed the performance, using it to plug the network's upcoming awards show featuring a tribute to Prince.
#BETAwards #PrinceTribute pic.twitter.com/VTNYE0POvD

— BET (@BET) May 23, 2016
Comedian Chris Paul called the performance "soulless."
Madonna dug such a soulless and spiritless hole that not even the great Stevie Wonder could save her #Prince tribute. #BMAs

— A Tribe Called Chris (@ChrisPaulComedy) May 23, 2016
Entertainment Tonight's Kevin Frazier weighed in as well.
Wonder what @Prince thought about @Madonna tribute at the #BBMAs ? pic.twitter.com/EtRc4MLT86

— Kevin Frazier (@KevinFrazier) May 23, 2016
As did much of the Twitterverse:
In other words Madonna picked the one Prince song that is more than beyond her vocal range to honor him; and then blew it spectacularly?

— Rach (@rach0726) May 23, 2016
This is how I felt about #Madonna Prince Tribute pic.twitter.com/lq3Q8NG77C

— Reallyfamous (@R3allyfamous) May 23, 2016
The fact that #BBMAs ended the night by having @Madonna do that pitiful @prince tribute. Thank God for #StevieWonder pic.twitter.com/Qm9UAjMlLS

— Karys S. Belger (@_MissPerspectiv) May 23, 2016
The #Prince tribute was completely disrespectful. @Madonna cannot sing. There's no word in any language to convey my disgust #BBMAs @bbmas

— Reality Wives TV (@realitywivestv) May 23, 2016
Not everyone was unhappy with the tribute. Comic Margaret Cho was moved to tears by the performance.
Crying. Great tribute. @Madonna and #StevieWonder are beautiful. #Prince

— Margaret Cho (@margaretcho) May 23, 2016
—
Follow the author of this story on Twitter and Facebook: