Even on the silver screen, where moving images are the key to storytelling, every now and then what directors choose not to show their audiences makes all the difference.
In those instances — think Quint's riveting U.S.S. Indianapolis monologue in "Jaws" — the mind and imagination of the viewer provides the visuals, and that typically jumpstarts a more visceral and primal cinematic experience.
A similar storytelling style works brilliantly in "Risen," a celluloid yarn that in one very critical way communicates more by what it doesn't show than by what it does.
The action begins on the day of Jesus Christ's crucifixion but takes off on Easter Sunday with the pursuit of his missing body. And the film, which released to DVD Tuesday, comes from the perspective of Clavius, a Roman military officer (Joseph Fiennes) who sealed Christ's tomb and placed guards there — and now quite naturally finds himself in hot water with Pontius Pilate.
But how could the body have been taken? The tomb was all but impenetrable after seven men rolled a giant stone over the entrance. But then the stone was secured with multiple lengths of thick rope, and the ominous Roman wax seal was stamped on top of it all — plus, Roman soldiers were standing guard.
Who could pull off a body snatching with all those obstacles? The disciples were prime suspects — except for the fact that they were devastated and in hiding, as Pilate himself acknowledged.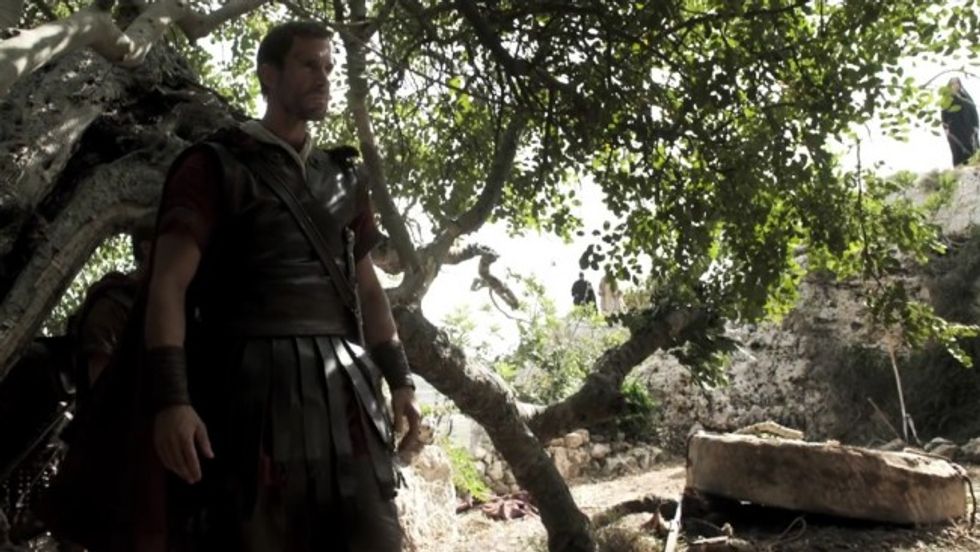 Joseph Fiennes plays the Roman officer Clavius, here investigating Chris's empty tomb. (Image source: YouTube/Sony)
Well, apparently someone pulled it off. How isn't nearly as important to Clavius as where — as in, where is the corpse? He needs to find it fast — and vanquish the growing resurrection chatter and the further unrest it's causing in Jerusalem.
The idea that Christ actually rose from the dead? Not even a blip on his radar.
Which brings us to a pivotal scene: After continual dead ends in his search, Clavius has just tracked down in a tavern one of the two soldiers he tasked with guarding Christ's tomb. He hasn't seen the soldier since leaving him at the burial site the night before the Nazarene's body went missing — and now Clavius wants the truth.
— Spoiler Alert —
Both guards went to the Jewish leaders for sanctuary Easter morning, and Clavius learned they were pardoned by Pilate and paid off to parrot the party line: Christ's "rabid" disciples came in the night, overpowered the guards and stole his body.
But Clavius isn't buying another retelling of the canned explanation. He knocks over the guard's drink, grabs him by the scruff of his collar and gets to some pointed interrogation at a tavern table:
How did the stone fall 10 paces from the tomb when it took seven men, myself included, just to roll it closed? The ropes weren't cut; they were torn as if thread. The seal melted like butter. Shall we go there?
The guard (played by Richard Atwill) becomes frightened at this prospect and finally comes clean.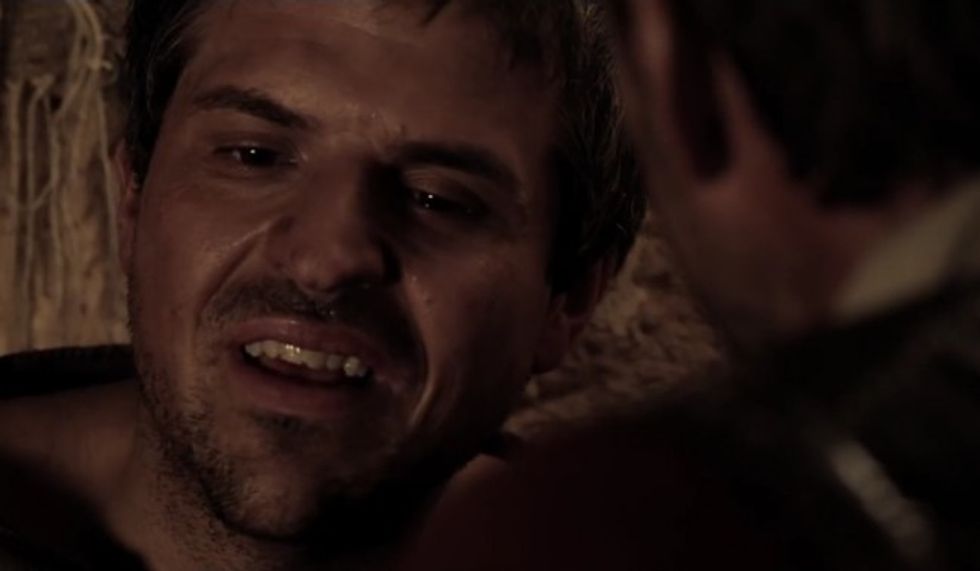 Richard Atwill plays the guard who finally comes clean about what happened at Christ's tomb. (Image source: YouTube/Sony)
It's not a wild proposition that the creators of "Risen" could have depicted the actual resurrection — but wisely they didn't. Instead they have Atwill's character describe it. And it's a spellbinding, moment-by-moment account that leaves viewers to create their own images from his tearful, trembling words:
We was wakened by this terrible…this terrible…this terrible flash. The night was gone. The air smelled burned. And the ropes they just…they just exploded. And the stone flew like a leaf, and all of a sudden the sun…rose in the tomb. It was the sun. It was…it was everything. And then a figure…a figure appeared. I could not gaze upon him. The terrible light. And it wasn't a man. It wasn't. And there was this voice all around, I could not fathom. And then we were running. We ran so far…so far…until we…until we could think again. And then we went and told the priests because that's what you bade us do.
The guard had a front-row seat for the universe-altering event of all time, and he doesn't describe it as a gentle, white-robed, neat-and-clean happening. It was loud, violent, terrifying and otherworldly — not at all unlike the biblical idea of humans falling dead in the presence of God.
TheBlaze caught up with Atwill who shared what went into his powerful scene with Fiennes.
Atwill said he and director Kevin Reynolds talked "before the shoot about how this was a real turning point for Joe's character. We had to make sure that there was something in the recollection of the resurrection that made [Clavius] contemplate the fact that everything he has believed up to this point was untrue and there was another reality that he was yet to discover."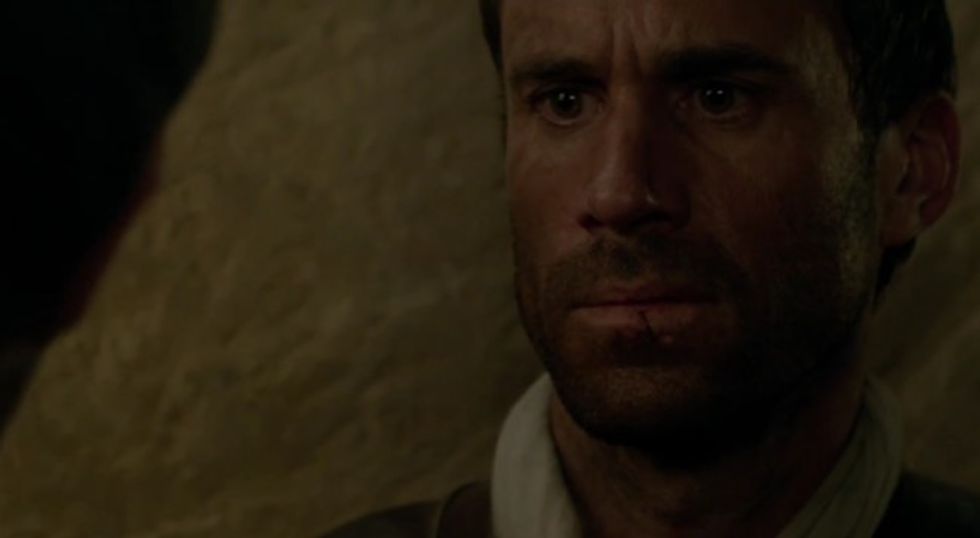 Clavius now knows the guard is telling the truth. (Image source: YouTube/Sony)
So Atwill had the challenging job of describing the actual resurrection — and during the retelling he practically comes unglued. To get to that emotional place, Atwill told TheBlaze he "tried to imagine how I would've felt if I had witnessed what was described in the scene" — and then everything after.
"I would've been sentenced to death and then pardoned and then had to cope with having seen the most incredible thing but being forbidden to tell anyone at pain of death," Atwill shared. "It's a pretty unsettling set of circumstances."
Amid the guard's description of the resurrection, the countenance of the once-skeptical Clavius changes completely — and he looks even a bit disturbed at this new prospect. He almost certainly believes the guard no longer is lying.
Atwill explained that his character "is separated from all that he knows and no one has asked him, on a personal level, what he is feeling. He knows he shouldn't, but he desperately wants to tell the truth — and in this scene he is given the chance to do so."
Here's the scene:
This story has been updated.