© 2023 Blaze Media LLC. All rights reserved.
Darryl 'DMC' McDaniels Calls on NY Police Commissioner to Apologize for Comments About Rap
"Totally , totally, totally unacceptable and false."
NEW YORK (TheBlaze/AP) — Rock and Roll Hall of Famer and hip-hop icon Darryl "DMC" McDaniels says the New York police commissioner's recent comments — where he labeled rappers as thugs following a shooting at a hip-hop concert — are disrespectful and that the commissioner should apologize to rappers like Chuck D, Will Smith and Kendrick Lamar — performers whose songs do not promote violence and negative images.
Scott Roth/Invision/AP, File
Police commissioner William Bratton's comments came Thursday after four people were shot at a Manhattan concert hall where rapper T.I. was scheduled to perform on Wednesday night. Bratton blamed the shootings on "the crazy world of the so-called rap artists who are basically thugs that basically celebrate the violence that they live all their lives."
McDaniels, one of the founding members of the pioneering rap group Run-DMC, said the shooting is not a "hip-hop problem" and that Bratton's statement was unfair to rappers like LL Cool J, De La Soul, J. Cole and many others.
"He needs to apologize to all the rappers who have come from (the) streets but have never put out anything negative (and) disrespectful to break down ... and destroy their community," McDaniels, 51, told the Associated Press on Friday.
"(Bratton) was upset and pointing a finger and getting to the root and not thinking about the people he would hurt by saying what he said," McDaniels continued. "Him as the commissioner saying it did so much damage (and) pushes hip-hop back — that's why he should apologize."
Bratton told the AP Friday night that, "I meant what I said about the thugs who call themselves rap artists, and shoot up crowded clubs, and in this case, kill and wound people."
But he said in a statement emailed by his spokesman that he understands rap has become "an important vehicle for storytelling in urban America" and that there's a segment of "gangster rap" that often overshadows rap's most important messages.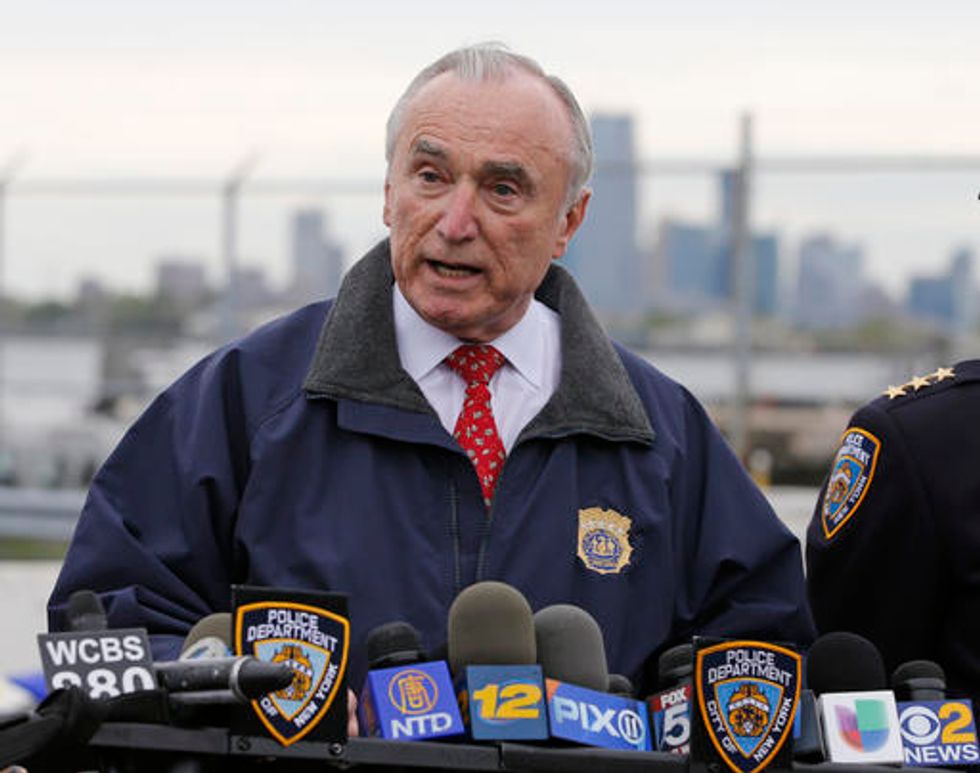 Kathy Willens/AP
Bratton said his comments about the shootings were "misread as a reference to all of rap and hip hop, which it was not." He said he's concerned about the "subset that not only glamorize violence but some who employ violence like a prop for 'street cred.'"
Police are investigating the deadly shooting at Irving Plaza, where one person died. Rapper Roland Collins, whose stage name is Troy Ave, will face attempted murder and weapons charges. He was also shot in the leg. Ronald McPhatter, who died, was a member of Collins' entourage and had been there to provide security, according to his family.
In an interview with WCBS radio, Bratton said rap music "oftentimes celebrates violence, celebrates degradation of women, celebrates the drug culture."
"It's unfortunate that as they get fame and fortune that some of them are just not able to get out of the life, if you will," he said.
McDaniels said his words are "totally, totally, totally unacceptable and false."
"There's a million rappers who come from the hood who do not portray, promote or produce products that celebrate or legitimizes any forms of negativity," he said. "The commissioner, he knew better than that. I respect his job, I know it's hard and all of that, but he should have known better."
Mayor Bill de Blasio has said he thought Bratton was "talking out of frustration."
Want to leave a tip?
We answer to you. Help keep our content free of advertisers and big tech censorship by leaving a tip today.
more stories
Sign up for the Blaze newsletter
By signing up, you agree to our
Privacy Policy
and
Terms of Use
, and agree to receive content that may sometimes include advertisements. You may opt out at any time.