A high school senior in Flushing, Michigan, was recently suspended for wearing a "Keep Calm and Carry Guns" T-shirt — and he's putting up a fight for his First Amendment rights.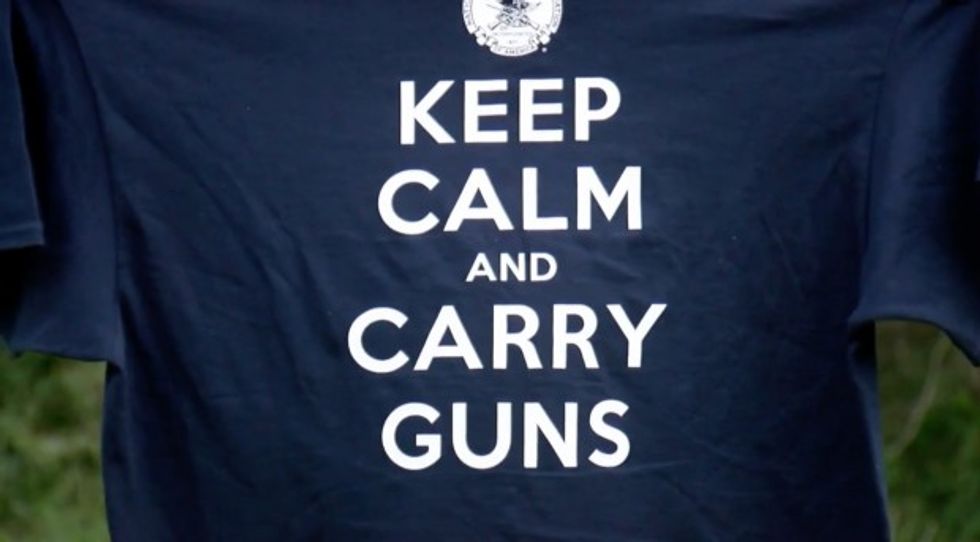 Screengrab via WEYI-TV
Andrew Eichorn, 18, told WEYI-TV that he attended his first two classes of the day without incident, but was called to assistant principal's office during third period.
Eichorn recalled his exchange with the assistant principal:
"She told me you're either going to have to change, turn it inside out, or go find a new one. You're not going back to class. I said I'm not doing any of those because it's my First Amendment right," said Andrew.

The assistant principal then suspended Andrew saying his shirt was inappropriate, and promoted weapons and violence.

"I asked her how does it promote violence? She said because guns are dangerous. I said for something to have violence, it has to have emotion and for something to have emotion it has to be living. So the very essence of her telling me a gun has violence means you're telling me a gun is living. There has to be an actual person using the gun," says Andrew.
Eichorn later sent a letter to the National Rifle Association — and he got a supportive response back.
But there's a surprise ending to this story. Amid the backlash,The Flushing Community School District released a statement apologizing to Eichorn over the incident:
The Flushing Community Schools recognizes and respects the rights of all students and families within the Flushing community, including the First Amendment right of free expression. The District's dress code policy as currently written and implemented as it relates to this situation, was in error. We apologize to the student and his family. We will be meeting with the family and their representative to further address this matter constructively. We will work to clarify the policy to assure a situation like this does not occur again.

As we enter into the Memorial Day Weekend and honor those who have sacrificed their lives, it is fitting to reaffirm our commitment to upholding all constitutional rights, including that of free speech.
Mark Eichorn, the student's dad, said he was proud of his son for standing up for his rights.
"Until people start waking up and realizing that we need to do something more about these criminals and thugs and punish them instead of good law-abiding citizens," he said.
---