Hillary Clinton pulled no punches against Donald Trump Thursday during a foreign policy speech in San Diego — arguing that the assumed Republican nominee is unfit to serve as commander in chief.
The Democratic candidate called Trump's foreign policy strategy "just a series of bizarre rants, personal feuds and outright lies," adding that Trump is in danger of leading the U.S. into a war "just because somebody got under his very thin skin."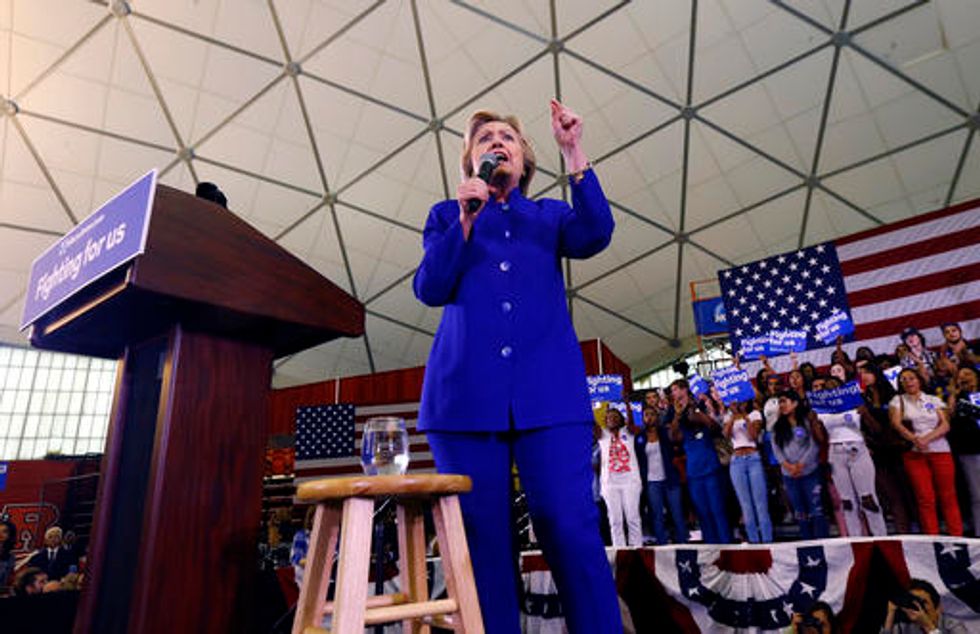 Hillary Clinton speaks during a campaign stop at Rutgers University Wednesday. (AP/Julio Cortez)
Clinton sought to draw stark distinctions between her point of view and Trump's, painting the businessman as woefully unprepared to be a major player on the world stage.
"I believe the person the Republicans have nominated for president cannot do the job," she said. "Donald Trump's ideas aren't just different, they are dangerously incoherent."
The former secretary of state argued that Trump's emotional reactions to members of the media and others, including the pope, show that he's incapable of reacting rationally to conflicts. "He is not just unprepared, he is temperamentally unfit" to hold the office, she said.
Trump's desire to rethink U.S. participation in NATO and "remain neutral" between Israel and Palestine will alienate U.S. allies and embolden its enemies, Clinton argued.
"If Donald gets his way, they'll be celebrating in the Kremlin," she said. "We cannot let that happen." She also knocked Trump's "affection for tyrants" like Russia's Vladimir Putin.
Trump has said that he knows more about the Islamic State than U.S. generals, Clinton said, and that voters should "believe him."
"You know what?" she said. "I don't believe him."
Clinton also nodded to Trump's propensity to tweet responses to events too quickly, joking that he might be writing some tweets up in response to her criticisms as she was speaking.
—
Follow the author of this story on Twitter and Facebook:
[facebook //www.facebook.com/plugins/like.php?href=