The former aide tasked with setting up Hillary Clinton's private email server during her tenure as secretary of state has confirmed that he has been granted limited immunity by the Justice Department — but he's also seeking to keep that agreement private.
Bryan Pagliano's lawyer filed a sealed motion of the deal Tuesday — just barely under a deadline — as the former technology aide argues why he should be able to invoke his Fifth Amendment rights in order to avoid self-incrimination. The Associated Press reported that he has requested a judge keep the conditions of the deal private.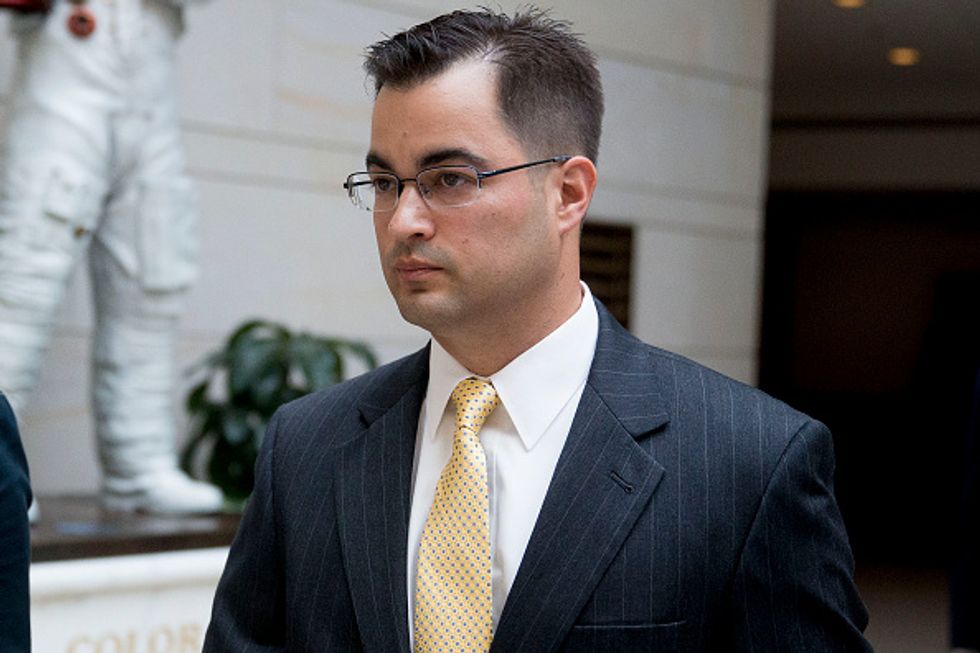 Bryan Pagliano, a former U.S. State Department employee, reportedly assisted in work on Hillary Clinton's private e-mail when she was secretary of state. (Getty Images/Andrew Harrer)
"The DOJ has not authorized a grant of immunity for Mr. Pagliano in connection with any other matter, including this civil case," Pagliano's lawyers wrote in a court filing, according to the Associated Press.
Pagliano received limited "use" and "derivative use" immunity from the Justice Department, his lawyers wrote. That type of immunity generally protects witnesses from having statements they make to investigators being used against them in any criminal case — with the exception of lies or false statements — while still enabling the government to prosecute using evidence it obtains independent of that testimony.
Judicial Watch has sought the testimony of Pagliano and several other current and former State Department aides about the 2009 creation of the private email system used by Clinton, the front-runner for the Democratic presidential nomination. The organization is challenging whether the State Department conducted an adequate search of public records in response to a Freedom of Information Act request filed in 2013 that sought records related to former Deputy Secretary of State Huma Abedin's outside work as a paid consultant for a charitable foundation run by Clinton's husband, former President Bill Clinton.
"It is unfortunate the public's right to know is being hampered," Judicial Watch President Tom Fitton said in a statement Tuesday evening. "These court filings are further evidence of the legal mess caused by Mrs. Clinton's email system."
The filing of the motion came Tuesday after a federal judge issued a directive last week that demanded Pagliano reveal the details of the immunity arrangement.
The Associated Press contributed to this report. 
This story has been updated with a statement from Judicial Watch.  
—
Follow Kaitlyn Schallhorn (@K_Schallhorn) on Twitter