Vice President Joe Biden endorsed presumptive Democratic presidential nominee Hillary Clinton during remarks at the American Constitution Society convention Thursday.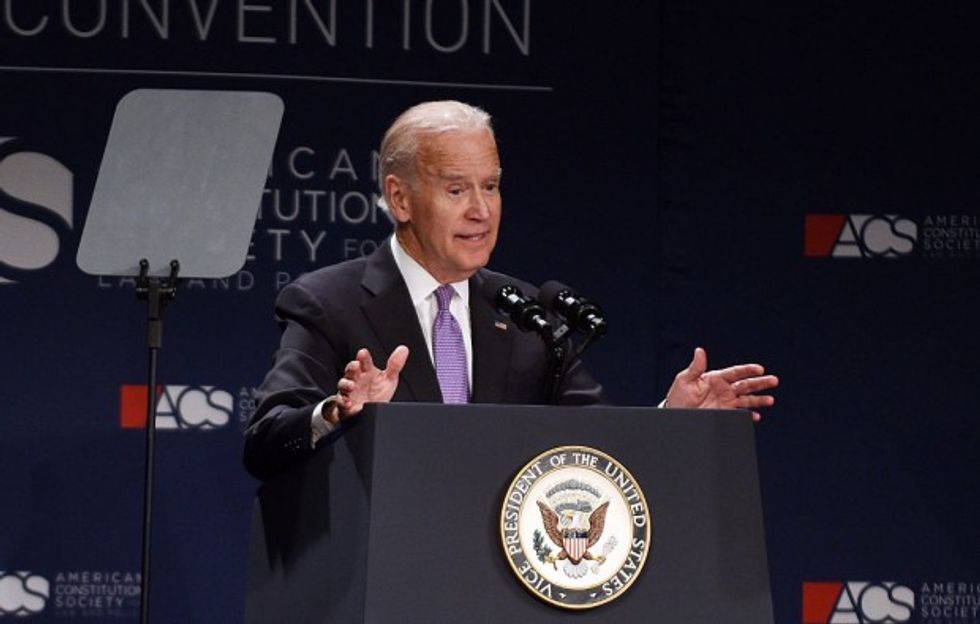 Vice President Joe Biden addresses the American Constitution Society 2016 National Convention on June 9, 2016 in Washington, DC. (Astrid Riecken/Getty Images)
Biden's endorsement followed President Barack Obama's endorsement of the former secretary of state on Thursday.
While discussing the Supreme Court seat left vacant by the death of Justice Antonin Scalia, Biden said, "Keep in mind, we have another entire term of this potential confusion if the vote is not allowed this year."
"Anybody who thinks that whatever the next president — and God willing, in my view, it'll be Secretary Clinton," Biden said. "Now, I don't say that for political reasons, but whoever it is, even if it is a Democrat, the idea this will be brought up within a month or two or three is highly unlikely. Even in a functioning system, it averages over two months."
A Biden source told CNN there's "no question" his remarks were an endorsement of Clinton's candidacy.
Biden was one of several high-profile Democrats to endorse Clinton on Thursday. In addition to the president and vice president, she was endorsed by Massachusetts Sen. Elizabeth Warren and her former rival Gov. Martin O'Malley.
Hillary Clinton has been endorsed today by: Barack Obama, Michelle Obama, Joe Biden, Elizabeth Warren and Martin O'Malley

— Jennifer Epstein (@jeneps) June 10, 2016
Watch below:
.@VP Biden: "Whoever the next President is, and God willing, in my view, it will be Secretary Clinton..."https://t.co/Nvrqk1jNBo

— CSPAN (@cspan) June 10, 2016
—
Follow Kate Scanlon (@kgscanlon) on Twitter