In a bizarre on-air incident, Telemundo 64 reporter Iris Delgado was approached by a woman while shooting a segment for the Spanish language channel from Philadelphia's City Hall.
"Excuse me!" the woman shouted at the reporter during the Wednesday evening broadcast.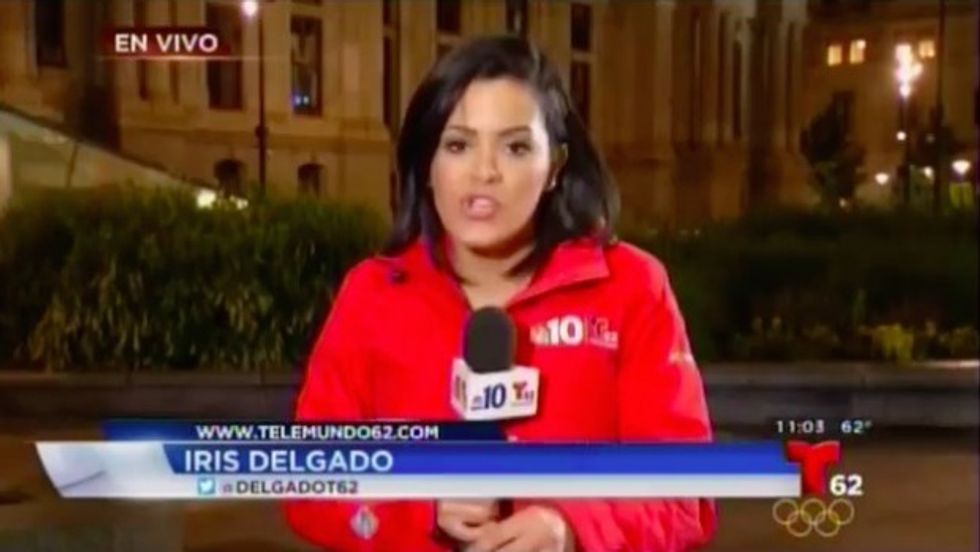 Image source: YouTube
Delgado continued the live shot, ignoring the unknown bystander, and delivered her sign-off to her colleagues back at the studio.
But a recording of the broadcast shows that before the camera cut away, the woman proceeded to punch Delgado in the face.
The camera quickly cut back to the studio, where anchor Ramon Zayas exclaimed, "Ay, dios mio!" before continuing with the report.
According to the Philadelphia district attorney's office, Waheedah Wilson has been charged over the assault, the Associated Press reported Friday.
Delgado has returned on air since the attack, but as of Friday, she and the station had yet to release any details regarding the event.
Online court documents show that Wilson was charged with simple assault and recklessly endangering another person. She is awaiting her preliminary hearing after failing to post bail, according to Philly.com.
Watch:
The Associated Press contributed to this report.