As the nation mourns the 49 lives lost Sunday in a terrorist attack that targeted a gay nightclub in Orlando, Florida, many have used the event as a platform for discussing a range of politically and religiously divisive topics. Since the attack, members of the LGBT community have lashed out at religious "bigots" who oppose homosexual behavior, while others have pointed to the massacre as further evidence of what they perceive to be America's dangerously lenient gun laws.
But one Christian leader has called for an end to conversations and behavior that steer attention away from the more than 100 victims of Sunday's shooting and the LGBT community, where the tragedy hit the hardest.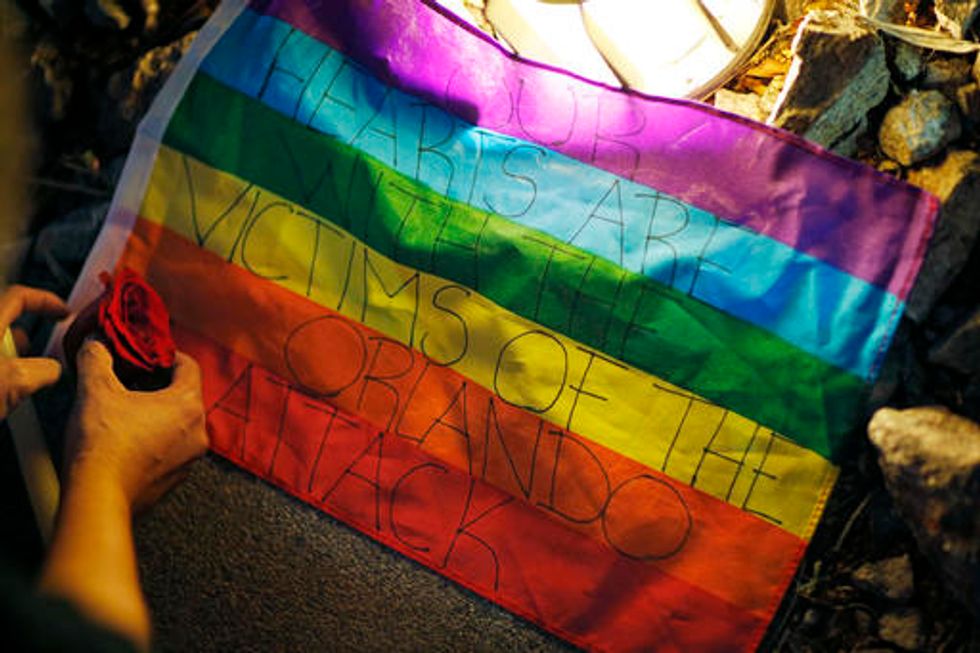 AP Photo/John Locher
In a blog post published Sunday, Russell Moore, president of the Southern Baptist Convention's Ethics and Religious Liberty Commission, called on Christians to reach out to their "gay and lesbian neighbors" during what is for many a time of fear and grief.
"Let's call our congregations to pray together. Let's realize that, in this case, our gay and lesbian neighbors are likely quite scared. Who wouldn't be?" Moore wrote.
He implored Christians everywhere to "demonstrate the sacrificial love of Jesus" to the LGBT community, adding, "We don't have to agree on the meaning of marriage and sexuality to love one another and to see the murderous sin of terrorism."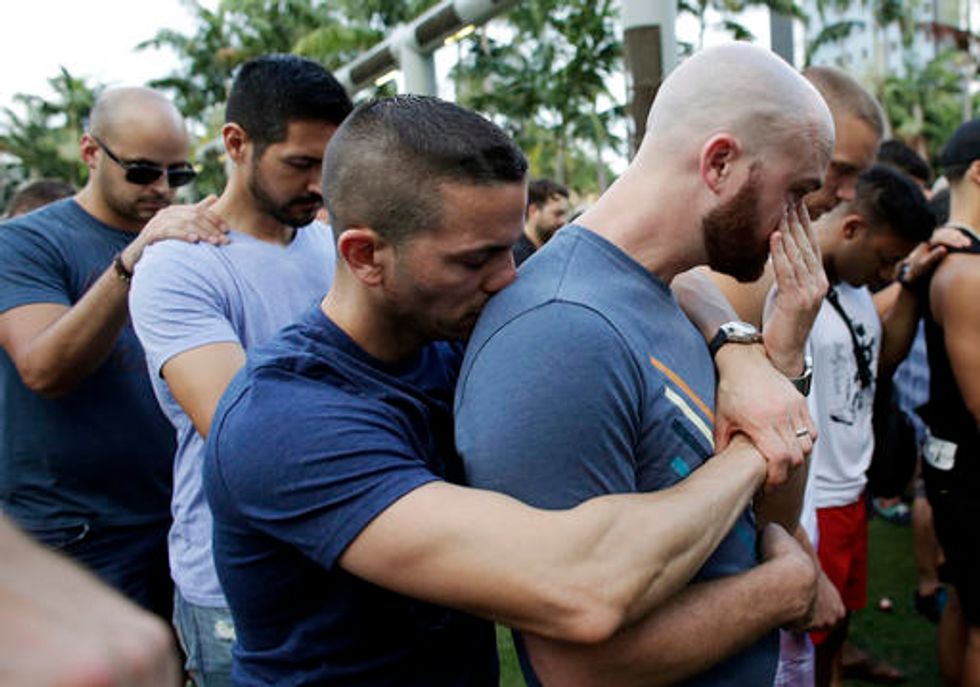 Caleb McGrew, 36, right, wipes tears as he stands with his partner Yosniel Delgado Giniebra, 37, center, during a vigil in memory of the victims of the Orlando mass shooting Monday in Miami Beach. (AP Photo/Lynne Sladky)
The shooter in Sunday's attack, 29-year-old Omar Mateen, was once on an FBI watch list for his possible ties to Islamic terrorists. The FBI is currently looking into two trips Mateen took to Saudi Arabia, in 2011 and 2012, for evidence that might point to his radicalization.
Sunday's shooting has been deemed the worst mass shooting in U.S. history. This, Moore claims, is a reason for Christians to stand by their fellow countrymen, barring all divisions for the purpose of loving one's neighbors.
He continued:
In the aftermath, we've seen some of the best aspects of America: people lining up, for example, to give blood for the victims. We've also seen some of the worst — as the aftermath turned into an excuse for social media wars over everything from gun control to presidential politics. What I wonder is whether the country still has the capacity to grieve, together, in moments of national crisis.
Moore added, "Our national divisions increasingly make it difficult for us not just to work together, but even to pause and weep together. We become more concerned about protecting ourselves from one another's political pronouncements than we do with mourning with those who mourn."