On Monday night's "The Late Show with Stephen Colbert," host Stephen Colbert and Fox News' Bill O'Reilly engaged in a lengthy discussion about gun control in the wake of Sunday's terrorist attack in Orlando.
During the conversation, O'Reilly proposed what he deemed "the key to solving the gun problem."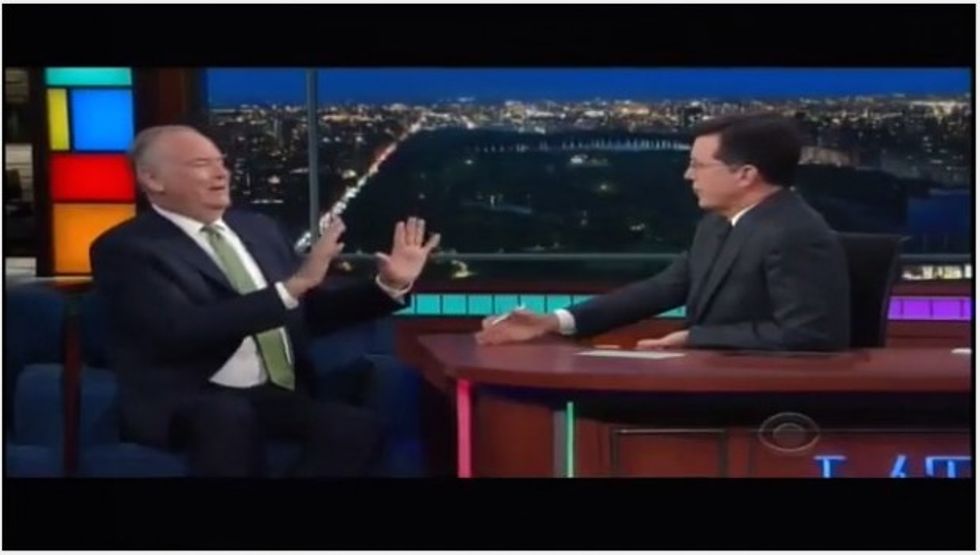 Image source: YouTube
"My solution to the gun problem is this: No. 1, Congress debates which guns are allowed — you can't have a bazooka, you can't have hand grenades," he began, adding, "It is perfectly legitimate for Congress, then, to say, 'What kind of rifles should people be able to buy?'"
"So President O'Reilly would be open to the idea that AR-15-like weapons or AK-47s could be limited?" Colbert asked, referring to the type of rifle that was initially believed to have been used by Omar Mateen, the shooter who killed nearly 50 people at Orlando's Pulse nightclub over the weekend.
O'Reilly said that it would be perfectly legitimate for Congress to to "debate" and "define" which types of weapons should be outlawed completely nationwide because "federal law always takes precedent."
Secondly, O'Reilly proposed making every gun crime — including the illegal sale of guns — a federal crime.
Colbert then asked if O'Reilly thought such a policy would provoke an "outcry from people who believe in states' rights."
O'Reilly replied, "Outcry doesn't concern me."
"Well there's an outcry over the Second Amendment, and that does concern you," Colbert interjected.
"I don't care," O'Reilly said.
"You don't care about the Second Amendment?" the host charged.
"I do," O'Reilly clarified. "But the Second Amendment doesn't give anybody a right to commit a crime with a gun."
That comment earned O'Reilly a loud round of applause from the "Late Show" audience.
Watch: