NEW YORK — As Sen. Bernie Sanders (Vt.) himself has admitted, he most likely will not be the Democratic presidential nominee, but he still sees "a future to believe in" — in other political candidates.
Speaking at an energetic rally Thursday in midtown Manhattan, Sanders promised a roaring crowd of supporters, all of whom were seemingly unfazed by poll numbers and the inevitable, that he will continue with his political revolution. But to do that, Sanders implored others to get involved in politics — whether that be in a local school board or at the congressional level.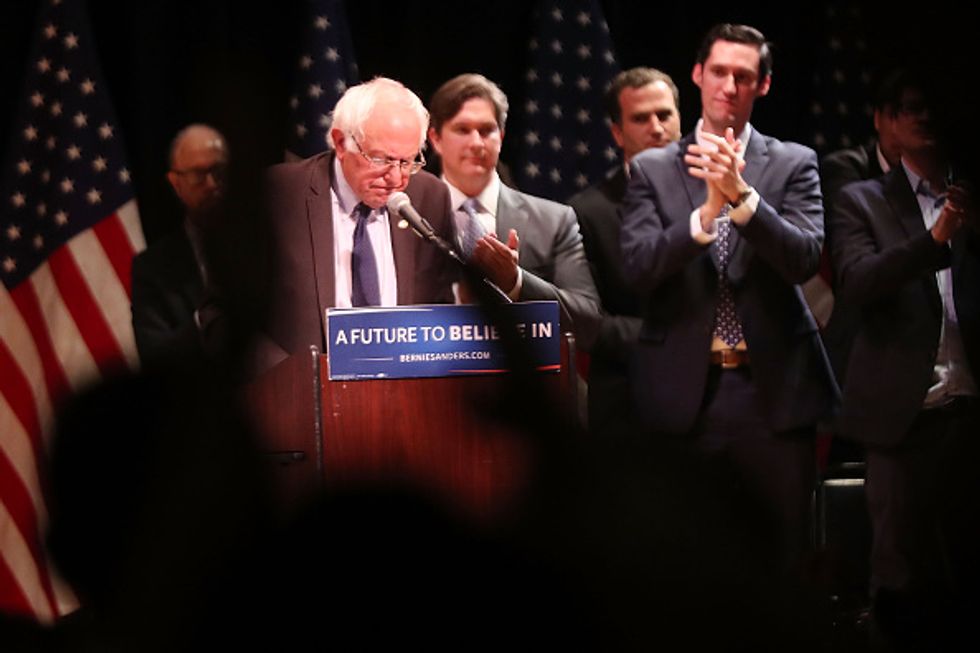 Vermont Sen. Bernie Sanders speaks to supporters Thursday in Manhattan at an event where he went over his core political beliefs. Speaking to an enthusiastic crowd, Sanders did not talk about Hillary Clinton who has secured the delegates needed to win the Democratic presidential nomination. (Getty Images/Spencer Platt)
"This campaign is about building a broad-based grassroots campaign organization. This campaign is about bringing millions of people into the political process," Sanders said during his nearly 90-minute speech at the Town Hall. "This campaign is about empowering people to understand that democracy is not a spectator sport."
Watching from his seat on the stage behind Sanders was Jeff Kurzon, a New York congressional candidate who has been directly inspired to run for office this year because of Sanders and his revolution.
Kurzon, 40, unsuccessfully ran for Congress in 2014, something that he said took a lot of effort on his part. While he said he knew he wanted to be a public servant eventually, he didn't plan to run again so soon.
"I decided in February, after having been a Sanders supporter and seeing the enthusiasm from his campaign, I would give it another shot," Kurzon, who is challenging Rep. Nydia Velazquez (D), told TheBlaze. "So Sanders really inspired me to throw my hat back into the ring."
Kurzon said his campaign, which is largely self-funded, has been talking to Sanders' political director as he hopes to receive some support from the Vermont lawmaker before Tuesday's primary.
"Just being on stage with him is an acknowledgement to some degree," Kurzon said. "It's competitive and getting his endorsement, I'm not sure if there's time for that, and at the end of the day, endorsements don't really matter to me as much as the individual endorsement from the voter — someone who understands my candidacy and will choose to vote for me because they know that when I'm elected I will not be beholden to special interests."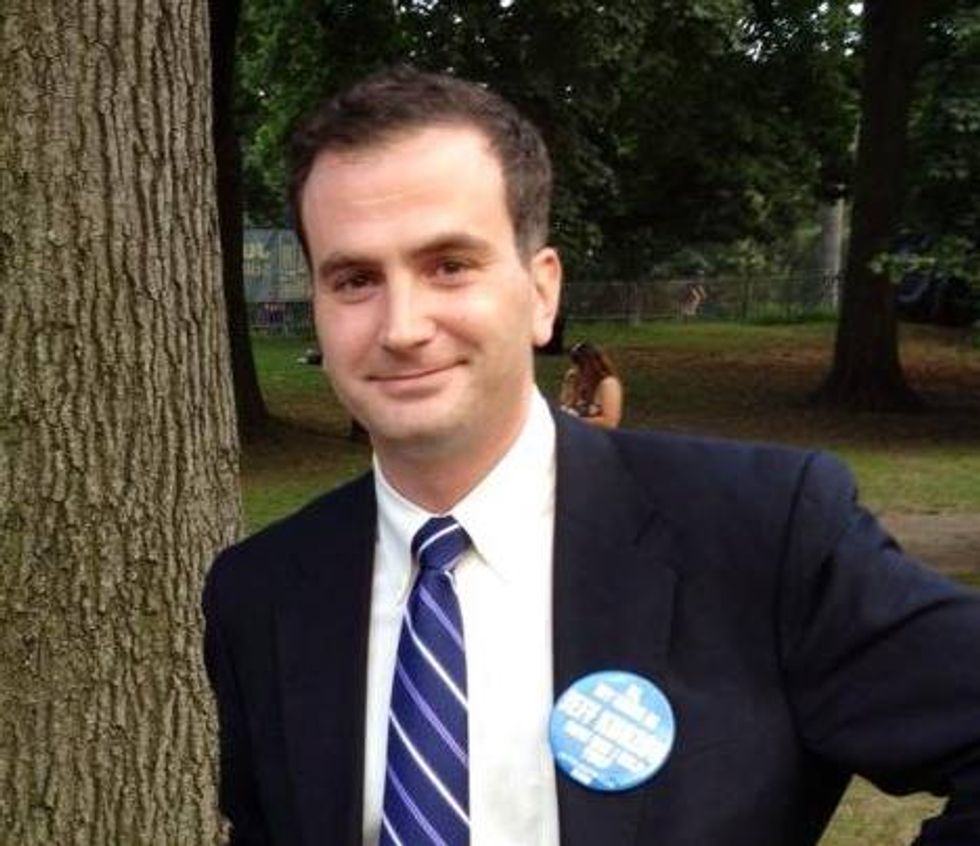 Jeff Kurzon, 40, is running against incumbent Rep. Nydia Velazquez in New York's Democratic primary Tuesday. (Image via Facebook/Jeff Kurzon)
Kurzon, who was critical of Democratic Party leaders such as DNC Chairwoman Rep. Debbie Wasserman Schultz (Fla.), added that "it was amazing" to be be on stage with Sanders as the self-described democratic socialist as he's "really excited" to be a part of his "movement."
"Bernie Sanders cares about people, and he cares about our environment because of the future of the Democratic Party," Kurzon said. "I think he has attracted me because he was talking about the corruption on our democracy with the influence of money in politics."
On Thursday, Sanders alluded to multiple campaigns across the country, including in New York and California, that he would help out in the coming weeks. One of those New York campaigns is that of Eric Kingson, a 70-year-old college professor and congressional candidate.
Speaking to TheBlaze by phone Friday on the way to a debate, Kingson detailed in precise specifics his main platform — Social Security — and somewhat humbly described himself as a candidate "who's actually done something." Kingston, a social work professor at Syracuse University, built the national coalition, Strengthen Social Security, with a colleague.
"That's actually why Bernie Sanders has endorsed me and why he's coming up [to Syracuse] today with his support," Kingson said. "He knows I'm a life-long activist, I'm effective and I'm concerned about human beings. I'm not going to suggest the other candidates aren't concerned about human beings, but I have experience."
Kingson also decried presumptive Republican nominee Donald Trump and former GOP presidential candidate Sen. Ted Cruz (Texas).
"I think our nation is in very deep trouble," he said, adding that big money and corporations have influenced U.S. democracy in a way that is "beyond dangerous."
"I think Bernie Sanders has launched something. I think we're all part of something bigger, which is a concern that we have a future that is decent, humane, that we readjust our economy so that money doesn't just flow up to the top 1 percent," Kingson continued.
Just hours later, Sanders appeared at a rally for the professor where he called for an to end closed primaries in New York.
"So let's give them a heart attack and show up to vote on Tuesday," Sanders said, adding that it would only take "just 7,000 or 8,000" votes to get him elected.
Should Kingson win the Tuesday primary, where he faces two challengers, he would run against incumbent Rep. John Katko (R) in November. Katko is running unopposed in the GOP primary.
Kurzon told TheBlaze that while Sanders has said it's not likely that he will be the Democratic presidential nominee and could cast his vote for former Secretary of State Hillary Clinton, he's not ready to give up just yet as he believes the nominee will be determined at the convention in July.
Kingson, too, didn't seem ready to give up on Sanders over the weekend.
"He's activated people, and he's brought people into the process. I think in a way he's won; I think he's served the country very well and done more than most presidents have done in their whole term to make this a better nation," Kingson said.
—
Follow Kaitlyn Schallhorn (@K_Schallhorn) on Twitter