Last week, a boy was selling candy with his sister outside a Target store in Rowland Heights, California, when they were approached by an angry elderly woman. Witnesses watched as the woman proceeded to lecture the children, demanding to see a license to sell.
Andy Lizarraga, who was leaving the Target with her mom at the time, recorded a cellphone video of the exchange and posted it to Facebook. In less than a week, the clip amassed more than 5.5 million views and 70,000 shares.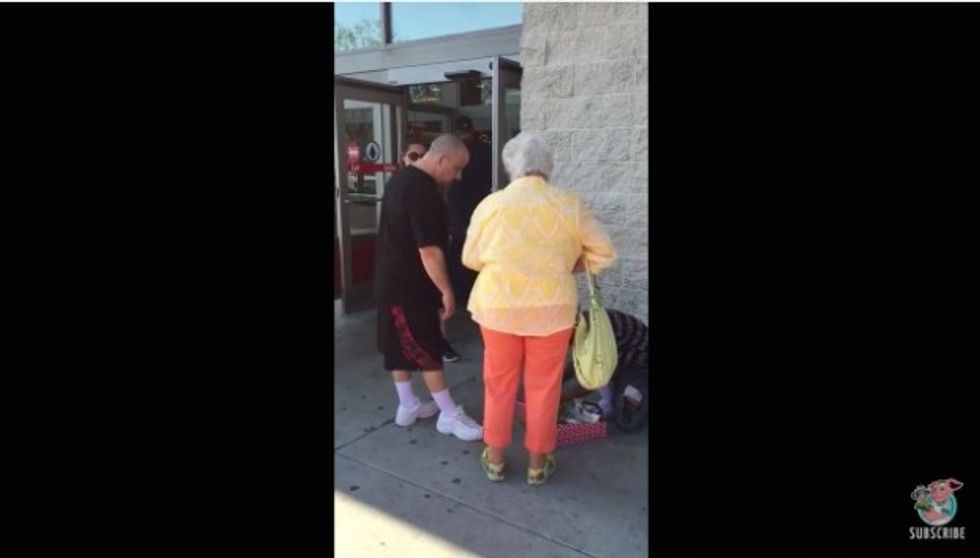 Image source: YouTube/Andrea Lizarraga/ViralHog
The altercation began when the woman walked up to confront the kids.
"She comes up to the little kid and is like, 'Where is your license? Have you asked permission to be here?' And then the kid is like, 'No, I'm just selling candy. I'm trying to make some money,' " Lizarraga told KCBS-TV.
In her Facebook post, Lizarraga added that the woman "started harassing him to the point where he started to cry."
When other shoppers entering and exiting the store began to notice what was happening, a group of people approached the woman, telling her to leave the young candy vendors alone, according to Lizarraga.
After this, a man walked over to give the woman a piece of his mind. Then he bought $80 worth of candy.
"I'm buying it all," the man said, taunting the woman. "I'm gonna buy it all, and I'm gonna give it away to all these people. You should be ashamed of yourself."
The man who purchased the candy, Jay Lopez, described to KCBS what he witnessed that caused him to intervene.
"She continued to yell at her and scream at her and tell her if she didn't have a permit, that she was going to go to jail, that sheriffs were on their way," Lopez said. "When I walked up, she was crying hysterically."
That's when he decided to put an end to the argument and purchase all of the candy.
"Mind your own business. Take care of yourself and your family and everything will come together for you," Lopez said.