With a vacant Supreme Court seat — and more likely to come — voters have a significant decision to make when choosing their next president, but there's something else they should keep in mind, according to Sen. Mike Lee (R-Utah).
Lee, a former Supreme Court clerk, told TheBlaze Tuesday that "most of the concerns" he has pertaining to the federal government stem from the "departure from two very important structural protections" — federalism and the separation of powers. The departure from those protections is something that both Democrats and Republicans have contributed to, Lee said, and is an issue he hasn't really seen either of the two major presidential candidates address.
"I have yet to see either of these presidential candidates make federalism and separation of powers a centerpiece of their campaigns," Lee told TheBlaze in an interview. "To the contrary, one could argue that by not focusing on it, both candidates are indicating that federalism and separation of powers is not a priority for them."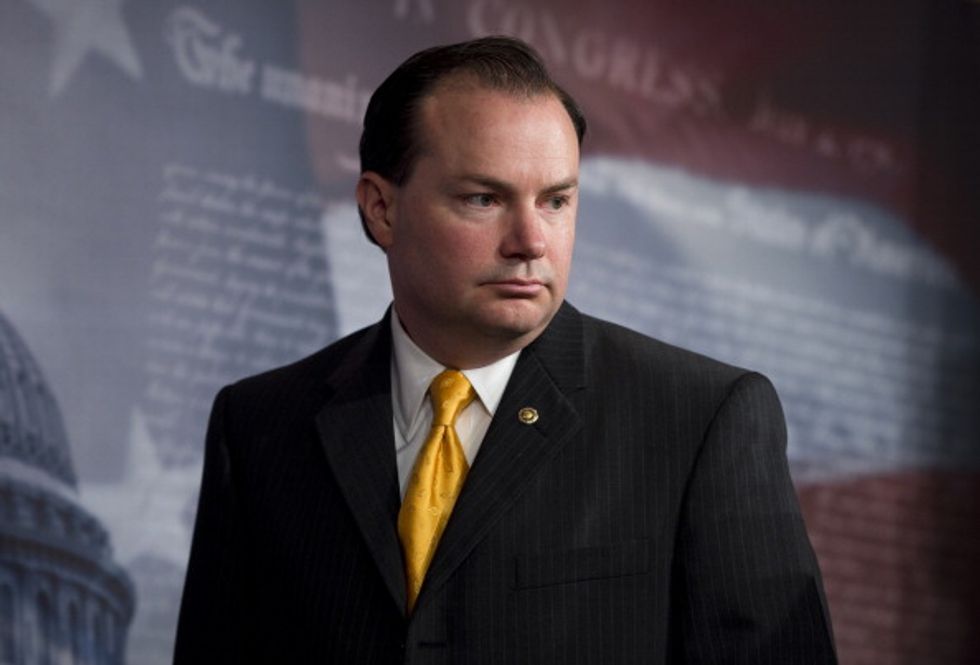 Utah Republican Sen. Mike Lee (Getty Images/Bill Clark)
However, Lee said that he is "encouraged" by presumptive GOP nominee Donald Trump's support of the REINS Act, which would require Congress to vote on any executive regulation that would cost more than $100 million. But still the conservative senator has not endorsed the Manhattan businessman, saying he's "still looking for a presidential candidate who will embrace the constitutional reform agenda."
"I'd also like to see him talking about federalism, which he doesn't talk about very much, and I'd also like to see him talk about the need for presidents not to simply get frustrated and say, 'I'm going to go it alone' or 'I'm going to use my pen and my cell phone because Congress won't do what I want,'" Lee told TheBlaze.
On presumptive Democratic presidential nominee Hillary Clinton, Lee said he does not "see much of an indication that she has any interest in returning to federalism or separation of powers, but who knows," admitting that he "could always be pleasantly surprised."
But the issue of straying away from federalism and separation of powers isn't one that is new to this presidential cycle only. Lee, author of the book "Our Lost Constitution: The Willful Subversion of America's Founding Document," argued that lawmakers on both sides of the aisle "have contributed to this problem over the course of many decades" especially as the country's government has been composed of "every partisan combination" in the past.
"I think both parties share the blame in far as our drift from federalism and separation of powers, and I think it's very important to start by acknowledging that we do have a problem," Lee said. "This is often thought by some as a conservative issue because some of the few people who acknowledge the problem happen to be Republicans, but not even all Republicans are acknowledging the problem. This is something that is going largely unaddressed that is a source of great concern for me."
One of the reasons Lee said he wrote his book was to explain the principles of federalism and separation of powers and "the fact that we've drifted from these constitutional mornings." He described federalism and separation of power as vertical and horizontal concepts:
Federalism is a vertical protection; it tells us to govern locally most of the time, most power in government should remain with the states and only a few powers should be exercised by the federal government. We've departed from that constitutional principle over the past 80 years as we've shifted more and more power to Washington. The horizontal protection is separation of powers which tells us that each branch of government is supposed to operate in its own way: Congress is supposed to make the laws, the executive branch headed by the president is supposed to implement and enforce those laws and the judicial branch is to interpret the laws where people disagree as to their meaning. We've seen that one turned on its head too. We've drifted far from that one. Most of our laws are now made by executive branch bureaucrats rather than by members of Congress.
"It's very dangerous, and to a significant degree, we're already there," Lee said.
—
Follow Kaitlyn Schallhorn (@K_Schallhorn) on Twitter