JERUSALEM (AP) -- A Palestinian assailant broke into a home in a West Bank settlement early Thursday and stabbed a 13-year-old Jewish girl to death as she slept in bed, the latest in a nine-month wave of violence that had recently shown signs of tapering off.
The attacker, identified as a 17-year-old high school dropout, was fatally shot by security guards.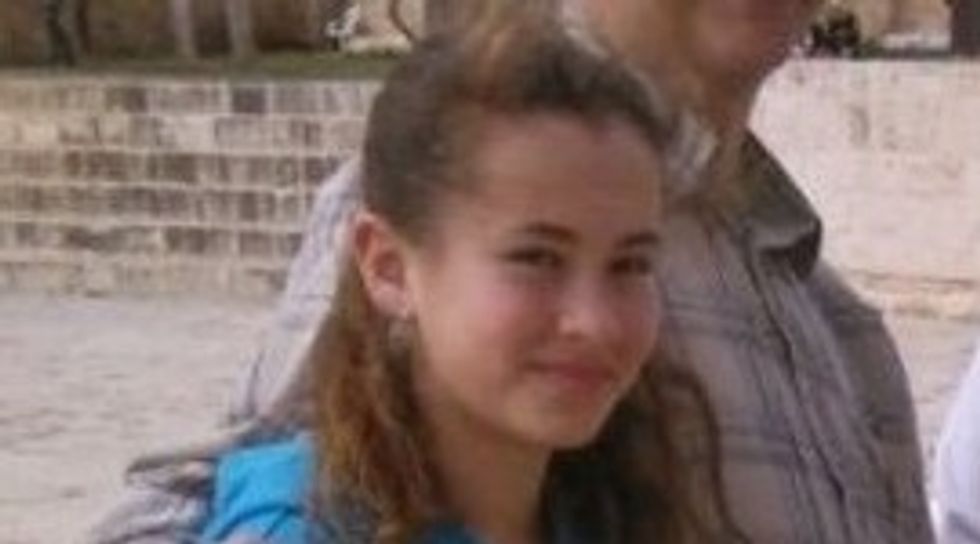 Hallel Yaffa Ariel (Image source: Times of Israel)
The Israeli military sealed off the entrances to a nearby village, the home of the attacker, as Israeli Prime Minister Benjamin Netanyahu called on both the Palestinian leadership and the international community to condemn the brutal assault.
"The horrifying murder of a young girl in her bed underscores the bloodlust and inhumanity of the incitement-driven terrorists that we are facing," Netanyahu said after an emergency meeting with his defense minister. "The entire nation deeply identifies with the family's pain and declares to the murderers: you will not break us."
The hospital identified the slain girl as Hallel Yaffa Ariel. She was a a cousin of Uri Ariel, a Cabinet minister from the Jewish Home, a party affiliated with the West Bank settler movement. The minister later said Israel would make "every effort" to build up settlements in the West Bank.
Photographs circulated by the Israeli government showed a pool of blood in a colorful children's bedroom in Kiryat Arba, a hard-line Jewish settlement located near the Palestinian city of Hebron, a focal point of the current wave of violence.
A Palestinian terrorist broke into an Israeli home in Kiryat Arba and stabbed to death a 13 y/o girl in her bedroom. pic.twitter.com/tYWAmzug1c

— Ofir Gendelman (@ofirgendelman) June 30, 2016
In Washington, the U.S. State Department condemned "in the strongest terms the outrageous terrorist attack," calling the stabbing "unconscionable."
Since last September, Palestinians have carried out dozens of stabbing, shooting and vehicular ramming attacks that have killed 33 Israelis and two American tourists. About 200 Palestinians have been killed during that time, most identified as attackers by Israel.
The assaults were once near-daily occurrences, but have become less frequent in recent months though they have not stopped altogether. On June 8, a pair of Palestinian gunmen killed four Israeli civilians in a popular Tel Aviv tourist district.
Israeli officials say the violence is the result of anti-Israeli incitement by Palestinian leaders and in Palestinian social media. Palestinian officials say the violence is the result of despair and hopelessness after two decades of failed peace efforts, and the lack of hope for gaining independence after nearly 50 years of Israeli occupation.
Israeli security forces have had a difficult time stopping the attackers, in large part because they have tended to be young "lone wolf" assailants, often in their teens or early 20s, acting on their own and not sent by organized militant groups.
Thursday's attacker seemed to fit that profile. The Palestinian Health Ministry identified him as Mohammed Tarayreh, 17, from the Bani Naim village near Kiryat Arba. An earlier report had him as being 19.
Adnan Tarayreh, a cousin, said Mohammed had dropped out of school and was working in a bakery. He said the family was surprised by Mohammed's attack and speculated that the teen may have been spurred to action after the death of a cousin who was killed while attempting to ram Israelis in Kiryat Arba.
The military said it had closed the entrances of Bani Naim to all but humanitarian and medical cases. Troops arrived at Tarayreh's family home for investigation, the army said.
Netanyahu said Israel was revoking Israeli work permits for members of Tarayreh's extended family, and preparations were being made to demolish the family's home - a much criticized Israeli tactic.
Residents of Kiryat Arba said Tarayreh had climbed over a fence surrounding the settlement and entered the community undetected. It was not immediately clear how he entered the home.
The military said private Israeli security guards at the settlement had fired at Tarayreh as he tried to flee the attack scene. One guard was stabbed before the assailant was killed, the army said. Emergency services' spokesman Yonatan Yagodovsky said the stabbed man was in serious condition.
Speaking to reporters at the Jerusalem hospital where her daughter died, Ariel's mother, Rina, said the girl was sleeping when the attacker slipped into her room and attacked her. She defiantly said the community would remain strong.
"Kiryat Arba is ours and it's still a place you can live in," she said.
Palestinian President Mahmoud Abbas did not comment on the attack. He has spoken out against violence in the past, though Israeli officials say his apologies have been half-hearted and at times he has made comments amounting to incitement.
Abbas faced criticism earlier this month after he repeated an unsubstantiated claim of a plot by Israeli rabbis to call on Jews to poison Palestinian wells. He later disavowed his comments.
A growing number of Israelis believe the roots of the violence go much deeper, and that the lack of hope over a stagnated peace process is driving the unrest.
"People need to see a light at the end of the tunnel," retired Maj. Gen. Gadi Shamni told Israel Radio. Shamni is among the authors of a new report, endorsed by more than 200 retired security commanders, urging Israel to take steps to improve the political climate and Palestinian economy to create conditions for a final peace deal.
Palestinian political science lecturer Ahmad Jamil Azem at Birzeit University said the past months of violence have persisted because young Palestinians have felt exasperated by Israel's ongoing military occupation.
He noted that in previous grassroots Palestinian campaigns against Israelis, their leadership managed to harness the public's frustration and transform it into a movement.
"Now we don't have anything," Azem said. "All the organized sectors - the unions, the political movements - nobody has a political vision."
—