An Indiana dad's innocent mistake led to a priceless text message exchange with his wife that is now taking the internet by storm.
Jeremy Basso was in charge of getting his two kids to school and daycare on the same morning that his wife, Brooke Hawley-Basso, had a job interview. Basso was used to dressing his 6-year-old son, Brady, and seeing him off.
He apparently thought getting his 7-month-old daughter, Olivia, would be no problem — but he was wrong. A screenshot of the text conversation exchanged between the couple, shared with US Weekly, reveals the hilarious moments that followed when Jeremy realized his major "#daddyfail."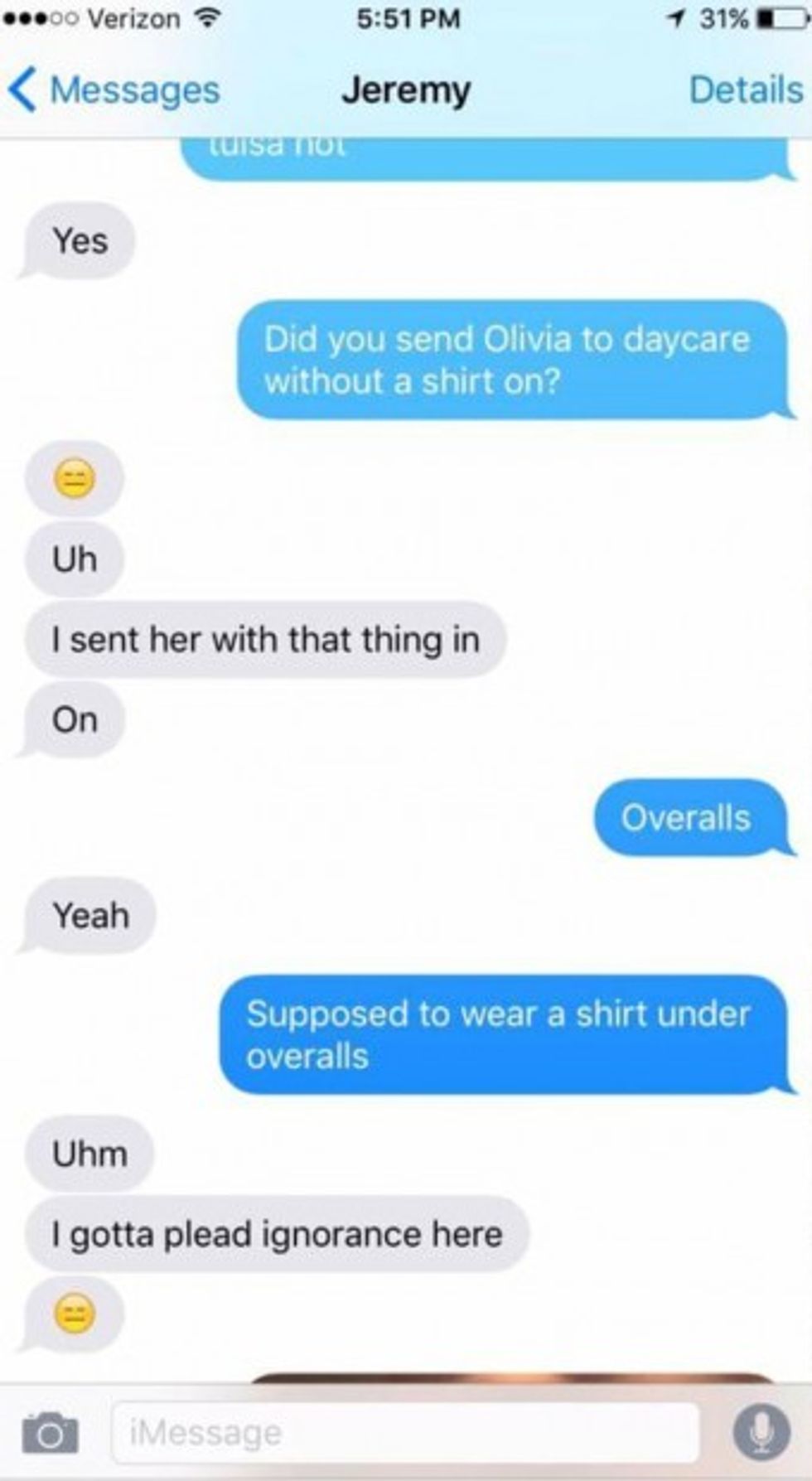 US Weekly
"Did you send Olivia to daycare without a shirt on?" Brooke asked.
"Uh I sent her with that thing on," Jeremy replied to his confused wife.
"Overalls...supposed to wear a shirt under overalls," Brooke corrected.
Jeremy then gave this candid — and comical — admission: "I gotta plead ignorance here."
Brooke later shared what happened on Ellen DeGeneres' Facebook page, writing, "My darling husband Jeremy got the baby dressed and took her to daycare this morning. This is how things went down when I picked her up!#daddyfail."
The post has now been shared more than 30,000 times and has more than 10,000 comments.
According to what Brooke reportedly told US Weekly, Jeremy is playing along with the response to the viral incident.
She said he later wrote on Facebook, "Well, I guess I'll never be dressing the baby again!"
(H/T: Fox News)
—
Follow the author of this story on Twitter and Facebook: