Attorney General Loretta Lynch is expected to announce Friday that the U.S. Justice Department will allow the FBI to make the call on whether former Secretary of State Hillary Clinton will be charged with any crimes related to her use of a private email server to conduct official business.
Lynch met privately with former President Bill Clinton this week at a Phoenix, Arizona, airport — but Lynch said they did not discuss the ongoing investigation.
The decision to accept the recommendation of "career prosecutors" at the FBI "removes the possibility that a political appointee will overrule investigators" in the email case, the New York Times reported today.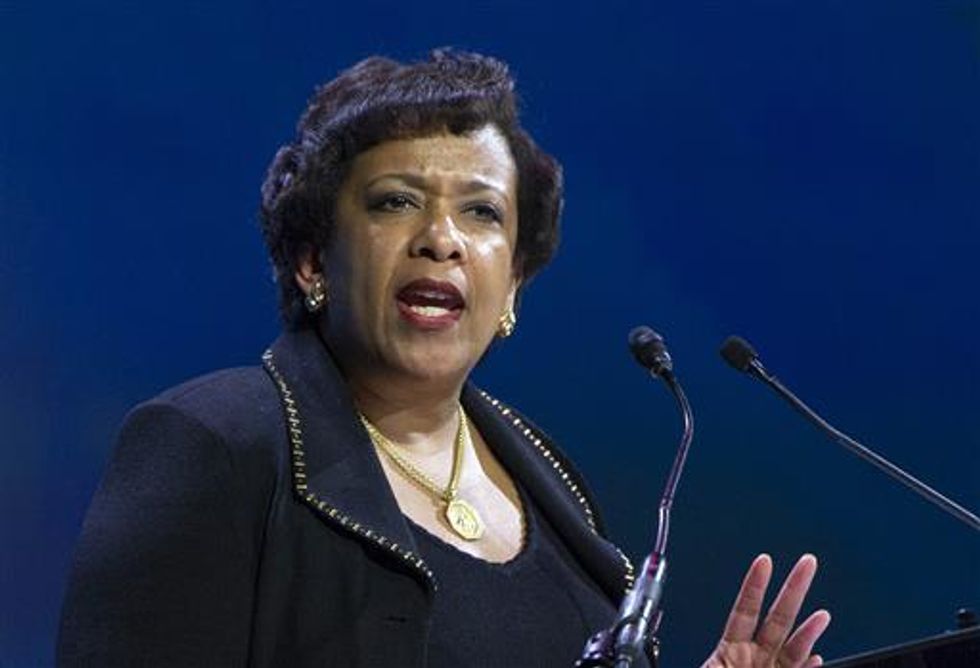 Attorney General Loretta Lynch speaks in Washington. Former President Bill Clinton spoke with Lynch during an impromptu meeting in Phoenix, but Lynch says the discussion did not involve the investigation into Hillary Clinton's email use as secretary of state. (AP/Cliff Owen)
Though the Justice Department has been considering this action for months, the political firestorm set off by Lynch's meeting with Bill Clinton this week "made the decision all but inevitable," the Times reported.
Republican presidential candidate Donald Trump, who's likely facing Hillary Clinton in the 2016 general election, said last night that he was "flabbergasted" by the meeting between Lynch and Bill Clinton.
"I think it's amazing, I've never seen anything like that before," he said on Fox News.
The FBI is expected to make its recommendation to the Justice Department in the next few weeks.
—
Follow the author of this story on Twitter and Facebook:
[facebook //www.facebook.com/plugins/like.php?href=