College campuses aren't exactly safe spaces for Donald Trump supporters.
"We've had tons of students email us and say that they've been cursed at in the middle of their campus, they've been assaulted, that they've had their property vandalized, windows broken into if they have Trump signs in their front yard if they're a fraternity house or sorority house, cars vandalized if they have stickers," John Lambert, the national vice chairman of the group Students for Trump, said. "They've had their cars keyed, they've had their windows broken. It's kind of bad."
Higher educational institutions, often bastions of liberal thought, have been battlegrounds for issues of free speech and political expression throughout the 2016 cycle.
For supporters of a candidate known for his unpopular speech, that means often defending Trump against allegations of racism and sexism beyond the typical dialogue on issues and platform differences.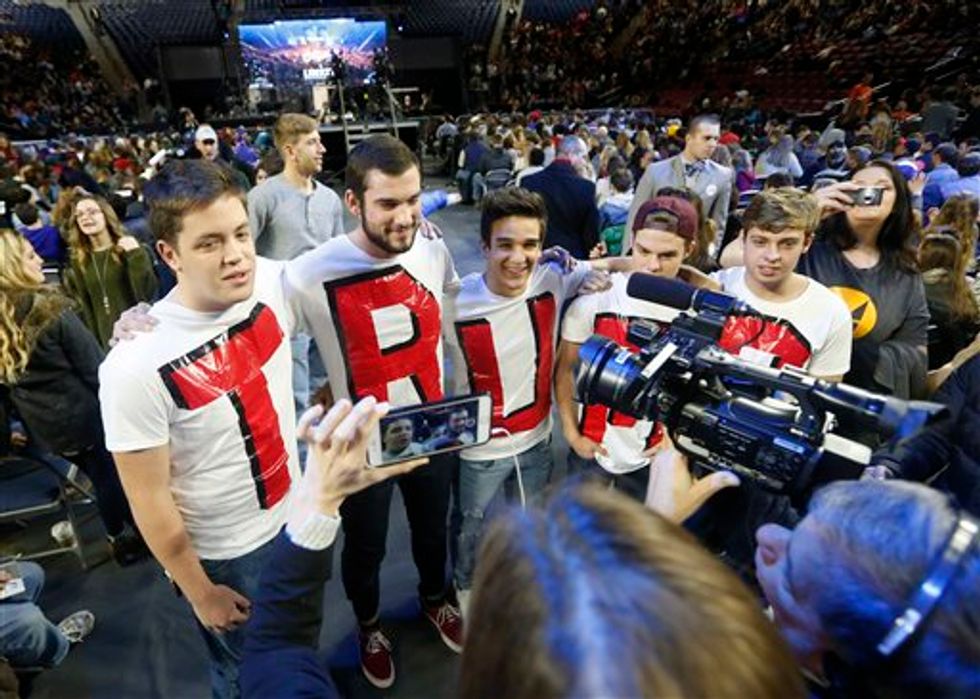 Liberty University students display homemade T-shirts as they wait for a speech by Republican presidential candidate Donald Trump in Lynchburg, Virginia, in January. (AP/Steve Helber)
"People are saying, 'Gosh, we'd love to wear Trump merchandise, and we'd love to show our support when we're going to the grocery store or going to college games or anything,' but they feel unsafe doing so," Lambert, a 20-year-old student at Campbell University in Raleigh, North Carolina, said.
Lambert and Students for Trump Chairman Ryan Fournier founded the group in October in an attempt to create outreach through social media to try to motivate people to vote for the billionaire businessman, who has since emerged as the presumptive nominee of the Republican Party.
"This was actually my first time being in an organization politically, so I kind of took on something big," Lambert said.
Since then, the group has grown to about 280 chapters across the United States and boasts more than 5,000 campaign volunteers. The group is not officially affiliated with the Trump campaign but does coordinate closely with Trump staff on events and volunteer efforts.
The group communicates through social media portals like Instagram and Reddit, where students talk about their on-campus efforts, as well as detail clashes with their school administrations over permits and free speech.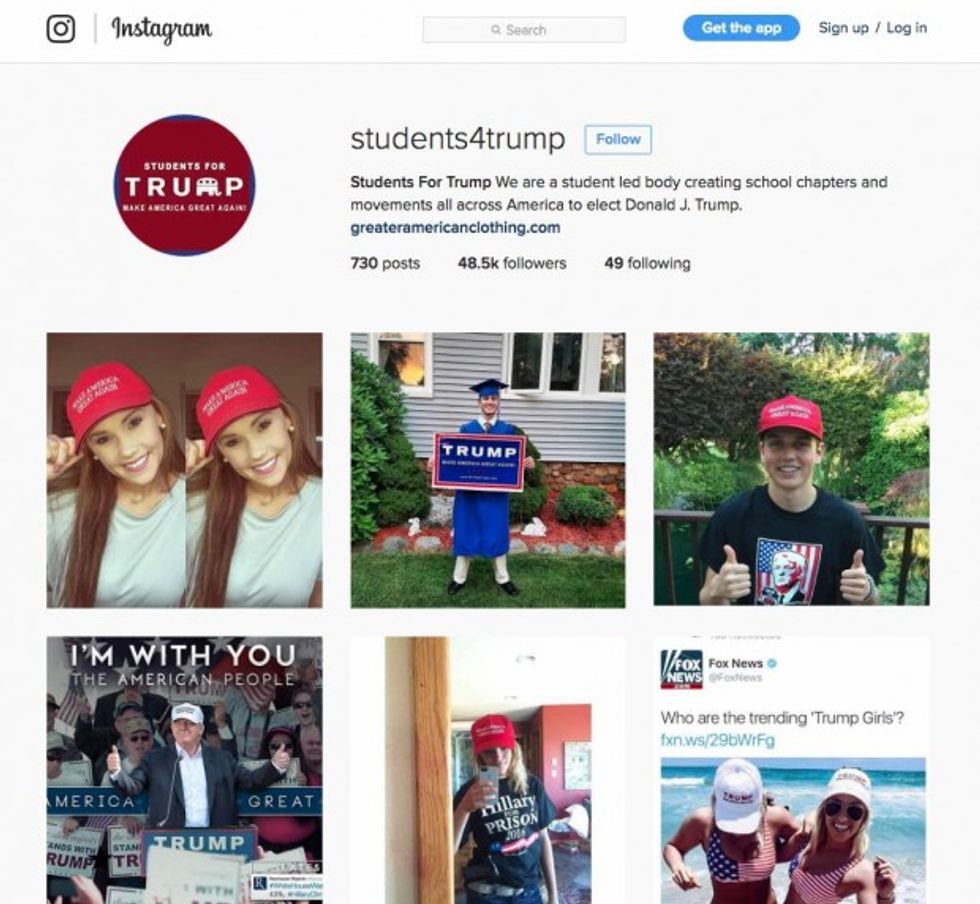 Image via: Instagram/students4trump
"Obviously with Mr. Trump, you have the extreme supporters and you have the extreme non-supporters," Lambert said. Some people "react violently" to seeing displays of support for Trump.
Still, Lambert said that the group is seeing particularly independent and Republican students' minds be changed on supporting Trump.
Though likely Democratic nominee and former Secretary of State Hillary Clinton leads in polling, that's "just a sign that we have more work to do," he said.
Lambert added that the anti-Clinton argument is just as persuasive on college campuses as the pro-Trump one.
"He's a hell of a lot better than Hillary Clinton, and he's our nominee because people believe in him," he said.
But as the election continues, Students for Trump is expecting the political climate on campus to get steadily more toxic.
"It's kind of hilarious that that should exist in our country ... but sadly that's the way this election is going," Lambert said. "And I'm here to say that I think it's going to get even worse unfortunately as we get closer to November."
—
Follow the author of this story on Twitter and Facebook:
[facebook //www.facebook.com/plugins/like.php?href=