© 2023 Blaze Media LLC. All rights reserved.
"It feels like I'm holding a bolt of lightning in my hands."
Just over a year ago, TheBlaze showed you Drake Anthony's homemade 40W "laser shotgun." The now-23-year-old college student is back with a new, and much more powerful device built from scrap metal and electronics he purchased on eBay.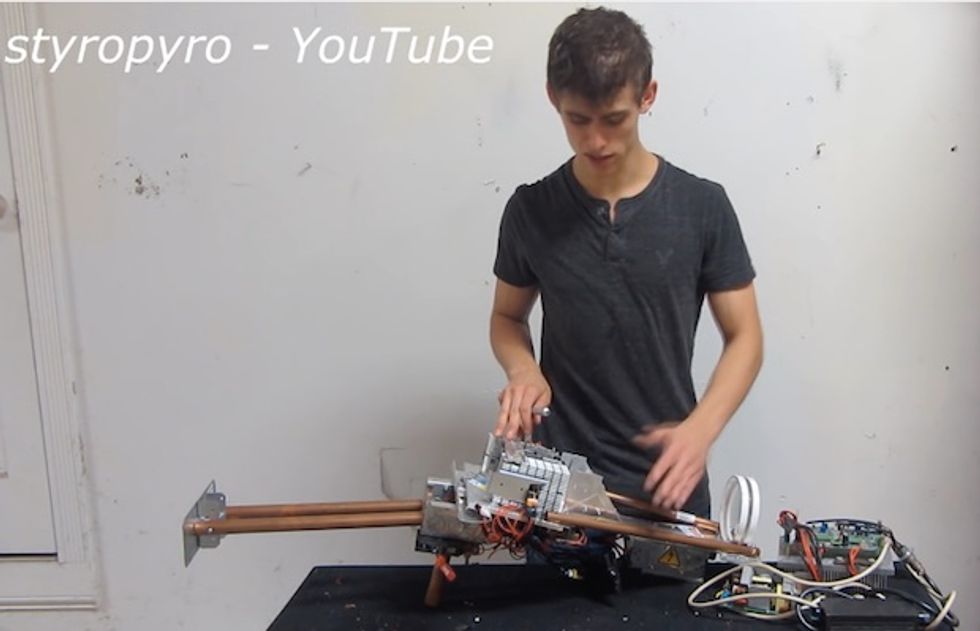 Image source: YouTube
Anthony says he has been fascinated with lasers for more than half his life, starting from the time he was a curious 12-year-old, tearing them apart to see how they worked.
Calling himself the "D-I-Y Laser Guy," Anthony started posting videos of his homemade lasers on YouTube back in 2006. His channel has amassed a following of more than 270,000 subscribers, generating over 80 million views.
In his latest video, the young inventor shows off a device he calls a "200W LASER BAZOOKA!"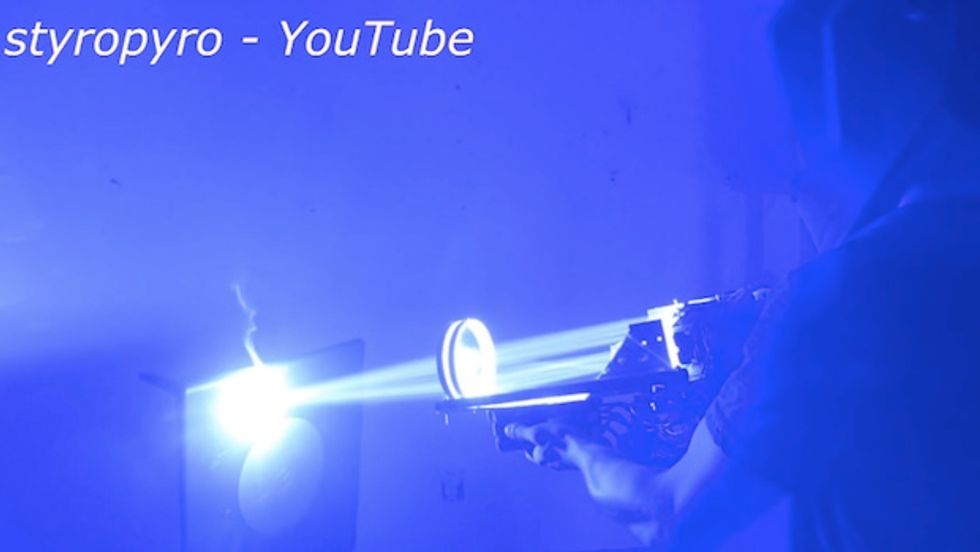 Image source: YouTube
Just how intense is the 200W laser? This creation is five times as powerful as the device we featured last year. What's more, Anthony's "laser cannon" dwarfs typical laser pointers, which are federally limited to a mere .005 W.
The 200W of laser power comes in this D-I-Y creation from four 50W lasers Anthony harvested from used projectors he purchased online. The beams are combined with something he called a "knife edgers" and then focused through a lens at the end of the barrel of the device.
Image source: YouTube
Alexander claims a direct shot to the eye with the 200W laser would be "33 million times more intense than staring into the sun."
After covering his face with a welder's mask and special goggles, Anthony demonstrated the device, burning through a laptop screen, torching a block of wood and exploding a small pile of titanium-infused gunpowder the instant the beam made contact.
Image source: YouTube
While showing off the invention, Anthony shared his excitement, "It feels like I'm holding a bolt of lightning in my hands," he said.
Watch Drake Anthony's latest laser gun in action:
—
Follow the author of this story on Twitter and Facebook:
Want to leave a tip?
We answer to you. Help keep our content free of advertisers and big tech censorship by leaving a tip today.
more stories
Sign up for the Blaze newsletter
By signing up, you agree to our
Privacy Policy
and
Terms of Use
, and agree to receive content that may sometimes include advertisements. You may opt out at any time.