© 2023 Blaze Media LLC. All rights reserved.
Mystery Blast Leaves Man Seriously Injured in Central Park — Here's What We Know
One witness said his foot was "all but gone."
An 18-year-old man suffered a serious injury to his left foot Sunday morning while walking through Central Park, the New York Daily News reported. Witnesses told police he had just stepped onto a rock when an explosion occurred.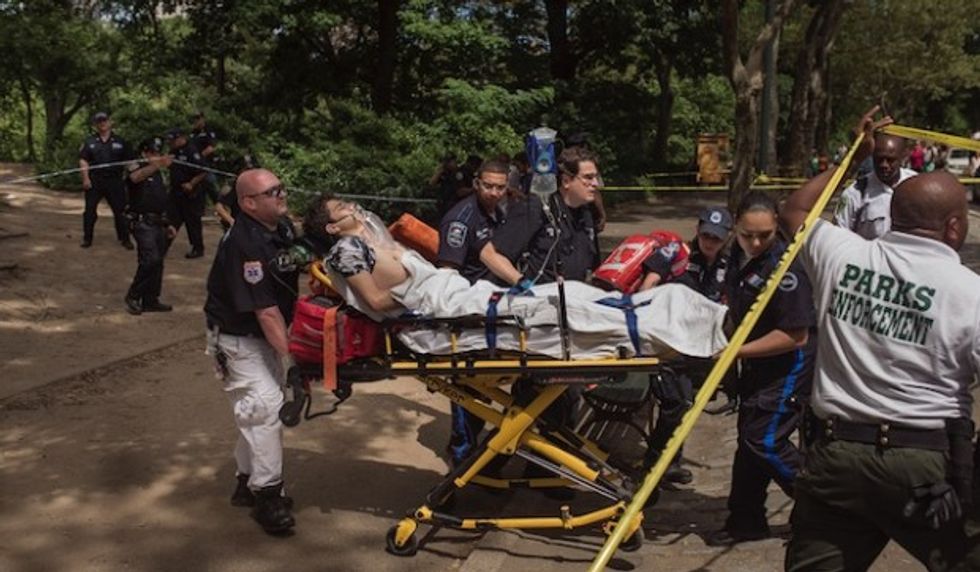 AP Images
The blast, shortly before 11 a.m., could be heard several blocks away.
The incident occurred near the synagogue where the funeral service of Eli Wiesel took place earlier today.
Elie Wiesel' words were "a testimony as what mankind can do to fight against oppression," Ronald Lauder @ funeral pic.twitter.com/71WYUr8LgN

— Edgar Sandoval (@edjsandoval) July 3, 2016
Outside Eli Wiesel's funeral I heard a huge explosion just now. Running into Central Park and found a young man with his left leg blown off

— Sarah Maslin Nir (@SarahMaslinNir) July 3, 2016
The young man is safely on his way to hospital.No official word as to what transpired. His friends said he was walking&stepped on something

— Sarah Maslin Nir (@SarahMaslinNir) July 3, 2016
Fire officials say it happened inside the park at 68th Street and Fifth Avenue. The man suffered serious injuries, possibly needing an amputation, and was taken to the hospital. Police say he's from out of town, but didn't give his name.
#BREAKING: man suffers severe leg injury in explosion in #CentralPark. Unclear what happened. #anc7ny pic.twitter.com/AiYfka2C5j

— Josh Einiger (@JoshEiniger7) July 3, 2016
Parts of Central Park closed after explosion near Central Park Zoo. Likely fireworks related, but bomb squad and counterterrorism on scene.

— Ali Ehrlich (@ehrlichABC) July 3, 2016
A bomb squad was on the site. The police were investigating.
"There was a small explosion then dust," the young man's friends told the New York Daily News' Edgar Sandoval. They said the explosion they witnessed was "beyond the caliber of fireworks."
Friends of the #CentralPark victim say the blast came out of nowhere. @NYDailyNews Most of park remains open. #NYPD pic.twitter.com/D0TQNmeQuo

— Edgar Sandoval (@edjsandoval) July 3, 2016
The victim was identified by sources as Connor Golden of Fairfax, Virginia.
One witness told the Daily News his foot was "all but gone."
Want to leave a tip?
We answer to you. Help keep our content free of advertisers and big tech censorship by leaving a tip today.
more stories
Sign up for the Blaze newsletter
By signing up, you agree to our
Privacy Policy
and
Terms of Use
, and agree to receive content that may sometimes include advertisements. You may opt out at any time.