© 2023 Blaze Media LLC. All rights reserved.
Bill Kristol, 'Never Trump' Advocates Push for Floor Challenges Among Delegates at GOP Convention
"This is an effort to restore or codify or reassert what are the fundamental rights of the delegates."
Multiple "Never Trump" conservatives who have been pressing for an independent candidate as an alternative to presumptive Republican presidential nominee Donald Trump lent their praise and names Tuesday night to those in the so-called "free the delegates" movement.
Prominent conservatives such as Weekly Standard editor Bill Kristol and National Review writer David French joined a conference call Tuesday with Free the Delegates and Delegates Unbound organizers. The advocacy groups, made up of activists, RNC delegates and lawyers, are seeking to ensure delegates to the Republican National Convention are unbound.
"I myself was more focused more on the notion of a possible independent Republican candidate if Trump were to be the nominee, and I'm happy to support what you all are doing," Kristol said on the call.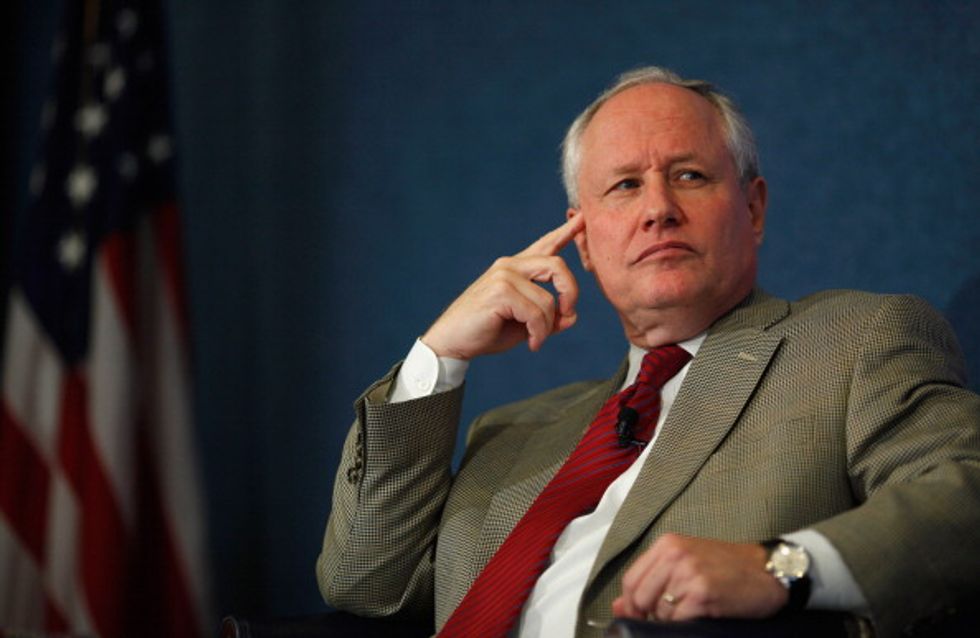 Bill Kristol. (Getty Images/Chip Somodevilla)
Kristol argued in favor of a position promoted by RNC Committeeman Curly Haugland, who says delegates are actually already unbound and are not required to vote consistent to state party rules.
"It's very important to establish the principle that the delegates have the right to vote as they see fit," Kristol said. "Think of the opposite extreme, the contrast of some delegate's chairman standing up and casting some vote, while all the delegation is there saying, 'No, I don't want to do that.' That's why I think there could and should be floor challenges if it comes to that."
"This is an effort to restore or codify or reassert what are the fundamental rights of the delegates," he said.
French, who was considered a possible independent presidential candidate last month, told those on the call that, if they were able to "rescue the GOP from Donald Trump," Republicans would have a greater chance of defeating presumptive Democratic presidential nominee Hillary Clinton in November.
"If your efforts succeed, a GOP nominee — a nominee of the GOP that is not named Donald Trump — would have a better chance of defeating Hillary Clinton than an independent candidate would or a candidate coming from the Libertarian Party," French said. "I think that much is born out by history and born out by polls."
"In fact, I'd argue that nominating Donald Trump would put forward the worst possible candidate for defeating a very vulnerable Hillary," he continued.
French said he chose not to run as an independent in order not to block another candidate who had more funding, a wider constituency and a better position to seek the presidency and defeat Clinton. However, should Trump still become the Republican Party's nominee, French argued an independent candidate should still run as an alternative.
Kristol also addressed the fact that the "Never Trump" crowd hasn't been able to uplift a viable independent candidate and argued that if Trump did not get enough votes from delegates on the first ballot at the convention, "others would be able to step forward as potential nominees."
"That would be fine actually. That would be a kind of representative democracy at work. I think you could very well produce a good nominee and actually be an exciting convention with some consensus by the end of it on a nominee," Kristol said. "I don't think people should be scared of the notion that it's going to be chaos."
Kristol referred to the free the delegates movement as an "impressive grassroots effort" and said he was "happy to echo and maybe hopefully amplify" their cause.
"Win or lose, I think this is an impressive and important moment for American representative democracy, and I think there is a chance to win," he said.
Other notable "Never Trump" voices such as conservative blogger Erik Erickson and radio host Steve Deace were not present on the call.
—
Follow Kaitlyn Schallhorn (@K_Schallhorn) on Twitter
Want to leave a tip?
We answer to you. Help keep our content free of advertisers and big tech censorship by leaving a tip today.
more stories
Sign up for the Blaze newsletter
By signing up, you agree to our
Privacy Policy
and
Terms of Use
, and agree to receive content that may sometimes include advertisements. You may opt out at any time.