© 2023 Blaze Media LLC. All rights reserved.
Prominent Christian Pastor Says Supreme Court Justices 'Wield More Power' Than Kings and Dictators
"This election is no longer about Republicans or Democrats — it's about Americans."
Dr. David Jeremiah, lead pastor of Shadow Mountain Community Church in El Cajon, California, said this presidential election is about the nomination of Supreme Court justices who "wield more power than most of the kings and dictators in this world."
According to Jeremiah, the vacancy left by late Supreme Court Justice Antonin Scalia and the potential for even more vacancies on the high court is "why you must vote."
Dr. David Jeremiah on July 4, 2016 (Image provided)
"We are a nation of laws, not a nation of dictators, but rest assured these Supreme Court justices who sit on the bench for life wield more power than most of the kings and dictators in this world," the California pastor said during his Independence Day remarks earlier this week.
Jeremiah, speaking to an audience of more than 7,000 people, warned against the "commonly heard" sentiment that those who are dissatisfied with both leading candidates — Donald Trump and Hillary Clinton — should just stay home on Election Day.
"We should know better. We tried this approach in 2012 when 25 million evangelicals who were registered to vote did not take the time to do it," he said. "The difference in the 2012 popular vote was less than five million votes, and 25 million evangelicals refused to go to the polls."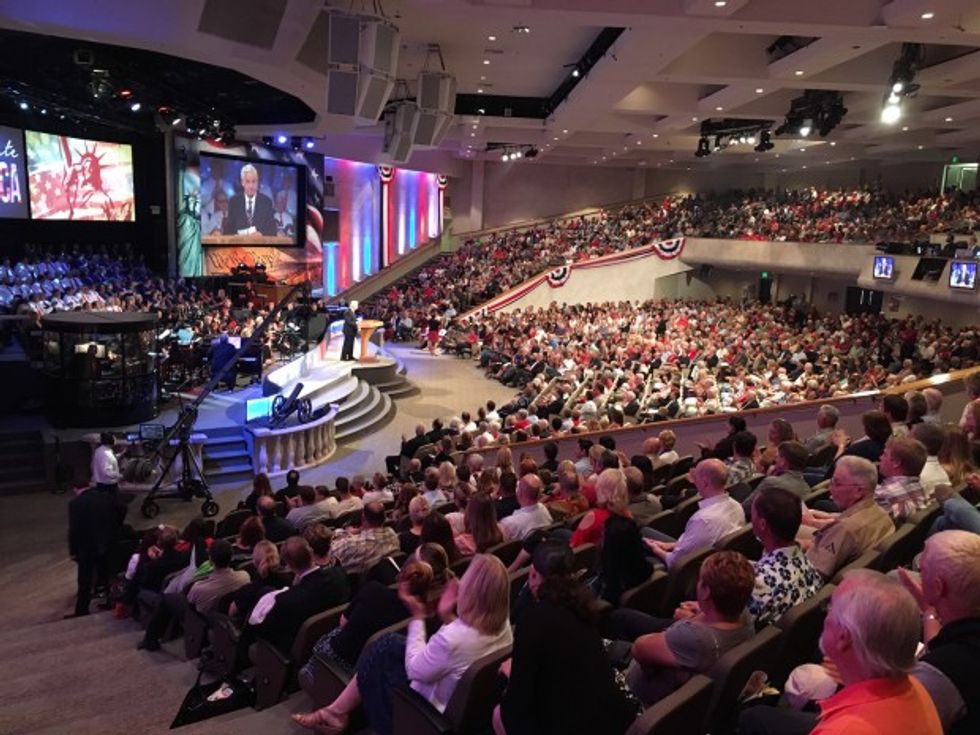 Shadow Mountain Community Church on July 4, 2016. (Image provided)
The pastor's remarks were offered during a Fourth of July celebration at Shadow Mountain and honored 104-year-old Ray Chavez, the oldest living Pearl Harbor survivor. Jeremiah implored voters to rise above partisanship when they go to the polls in the fall.
"For this election is no longer about Republicans or Democrats — it's about Americans," he said. "It's about the ability to retain the freedom we are here today to celebrate."
While Jeremiah voiced fears over how the next president will address the Islamic State, the increasing national debt and the "immigration crisis," he said it was the Supreme Court that concerns him most because voters have been "disenfranchised" by the justices, who in recent history have served for nearly 30 years on average.
Jeremiah said Supreme Court justices must hold to an originalist interpretation of the Constitution, which holds that the document's meaning has not changed since the time of enactment. According to the pastor, those who do not adhere to the "original intent" of the Constitution are able to read into it their own perspectives.
"That's what five of the unelected judges are doing as they they excerpt their influence over the court and over our nation," he said, adding that the U.S. is "now facing a judicial time bomb the likes of which we have never seen before."
Concluding his remarks, Jeremiah said voters in this election are not only casting a ballot for a president who may serve for the next four or eight years, but are "voting for someone whose Supreme Court decisions will affect us for decades to come."
"You must decide who you think will appoint the best justices for the Supreme Court, and then whatever else you may think of that person, you must vote," he said.
—
Follow the author of this story on Twitter:
Want to leave a tip?
We answer to you. Help keep our content free of advertisers and big tech censorship by leaving a tip today.
more stories
Sign up for the Blaze newsletter
By signing up, you agree to our
Privacy Policy
and
Terms of Use
, and agree to receive content that may sometimes include advertisements. You may opt out at any time.