The office of Kentucky's attorney general announced Tuesday that Rowan County Clerk Kim Davis violated the state's Open Records Act by refusing to release documents related to her case.
Davis became the center of a national controversy last year when she refused to issue marriage licenses to same-sex couples.
According to the Lexington Herald-Leader, the nonprofit Campaign for Accountability requested "retainer agreements and attorney-client engagement agreements" between Davis and Liberty Counsel, the religious freedom law firm representing her.
Liberty Counsel refused to comply with the records request on Davis' behalf, citing attorney-client privilege and calling them private rather than public documents.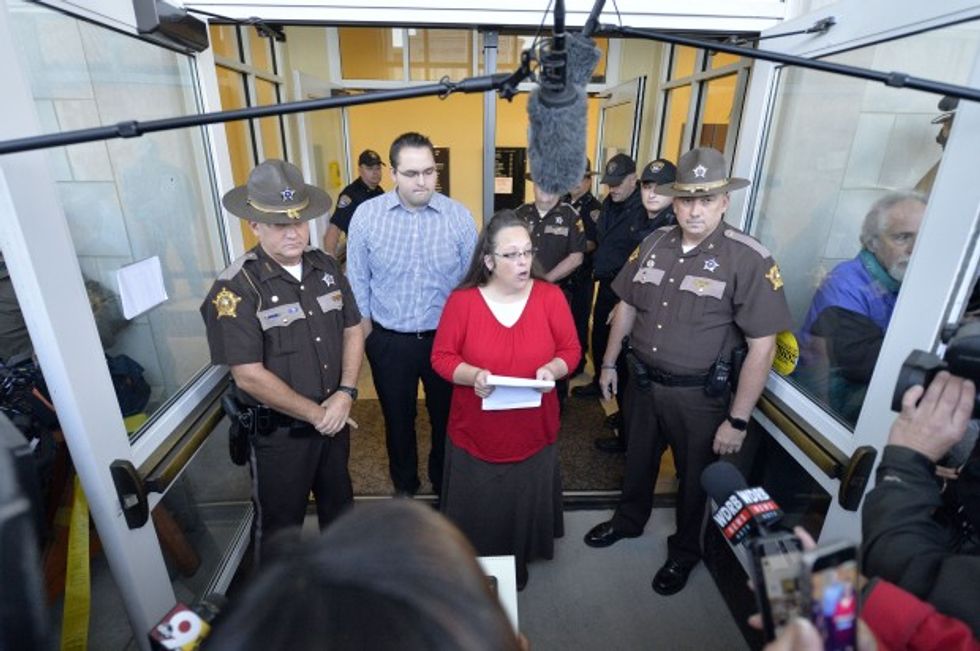 Surrounded by Rowan County Sheriff's deputies, Rowan County Clerk Kim Davis, center, with her son Nathan Davis standing by her side, makes a statement to members of the media at the front door of the Rowan County Judicial Center in Morehead, Ky., Monday, Sept. 14, 2015. (AP Photo/Timothy D. Easley)
The Campaign for Accountability appealed to the attorney general, who requested that Liberty Counsel allow the government office to privately review the documents in order to rule on the request. Liberty Counsel refused to provide most of the documents, which the attorney general's office called a violation of the Open Record Act, the Herald-Leader reported.
According to the newspaper, the attorney general's rulings on the Open Records Act "carry the weight of law in Kentucky."
Assistant Attorney General Matt Jones wrote in the office's opinion that "an agency cannot benefit from intentionally frustrating the attorney general's review of an open records request."
"Such result would subvert the General Assembly's intent behind providing review by the attorney general," Jones wrote.
Mat Staver, founder and chairman of Liberty Counsel, did not immediately return TheBlaze's request for comment.
—
Follow the author of this story on Twitter and Facebook: