In the wake of the deadly Dallas police ambush Thursday night, Blaze radio hosts Doc Thompson and Skip LaCombe are hosting a special to discuss the violence currently plaguing the United States.
Thompson and LaCombe, chronicling the the Orlando attack, the Dallas shooting and the police-related shootings of Alton Sterling and Philando Castile, will discuss how the country can begin to heal.
You can listen to the special for free on TheBlaze Radio. The program will be live from 7 p.m. until 10 p.m. CT.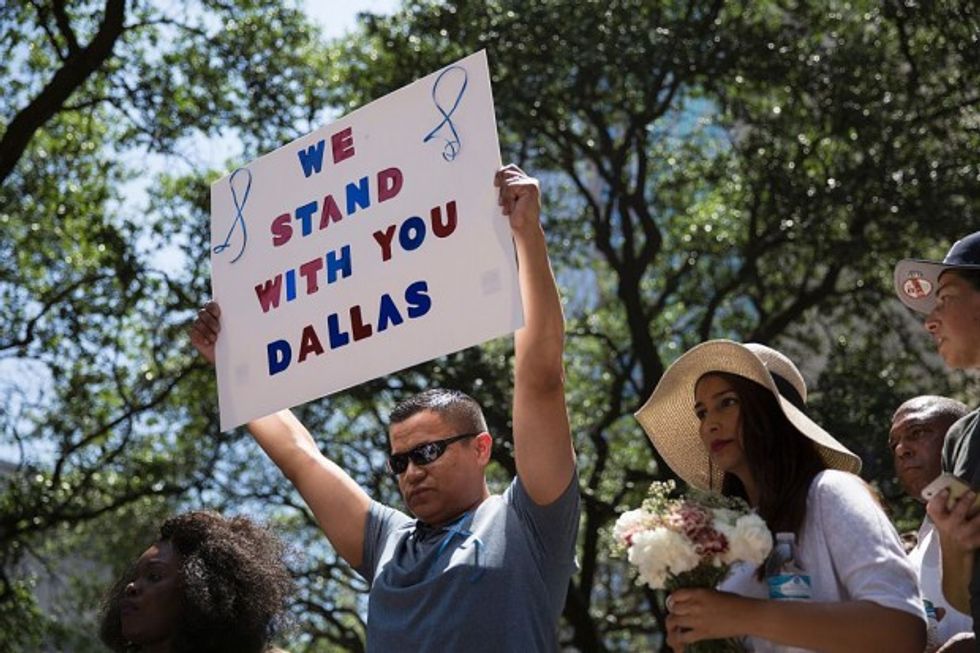 A man holds a sign reading 'We Stand With You Dallas' during a vigil at Thanks-Giving Square in Dallas, Texas, on July 8, 2016, following the shootings during a peaceful protest on July 7 which left 5 police officers dead. / AFP / Laura Buckman (Photo by LAURA BUCKMAN/AFP/Getty Images)
According to authorities, the Dallas police ambush left five officers dead and 12 others injured. Two civilians were also wounded during the attack.
The suspected sniper, Micah Xavier Johnson, was killed by a robotic bomb after a standoff with Dallas police officers. Officials believe the threat has been neutralized and Dallas is now safe.
Listeners are welcome to call and participate in the radio special.
—