© 2023 Blaze Media LLC. All rights reserved.
Man Legally Carrying Rifle Misidentified as Dallas Shooting Suspect — Now He Wants an Apology From Police
After police misidentified a black man legally carrying a rifle as a suspect in the Thursday night Dallas shooting, the individual is asking for an apology from police.
The Dallas Police Department released an image of Mark Hughes — who was dressed in camo and legally open carrying his rifle — and called him a suspect in the shooting.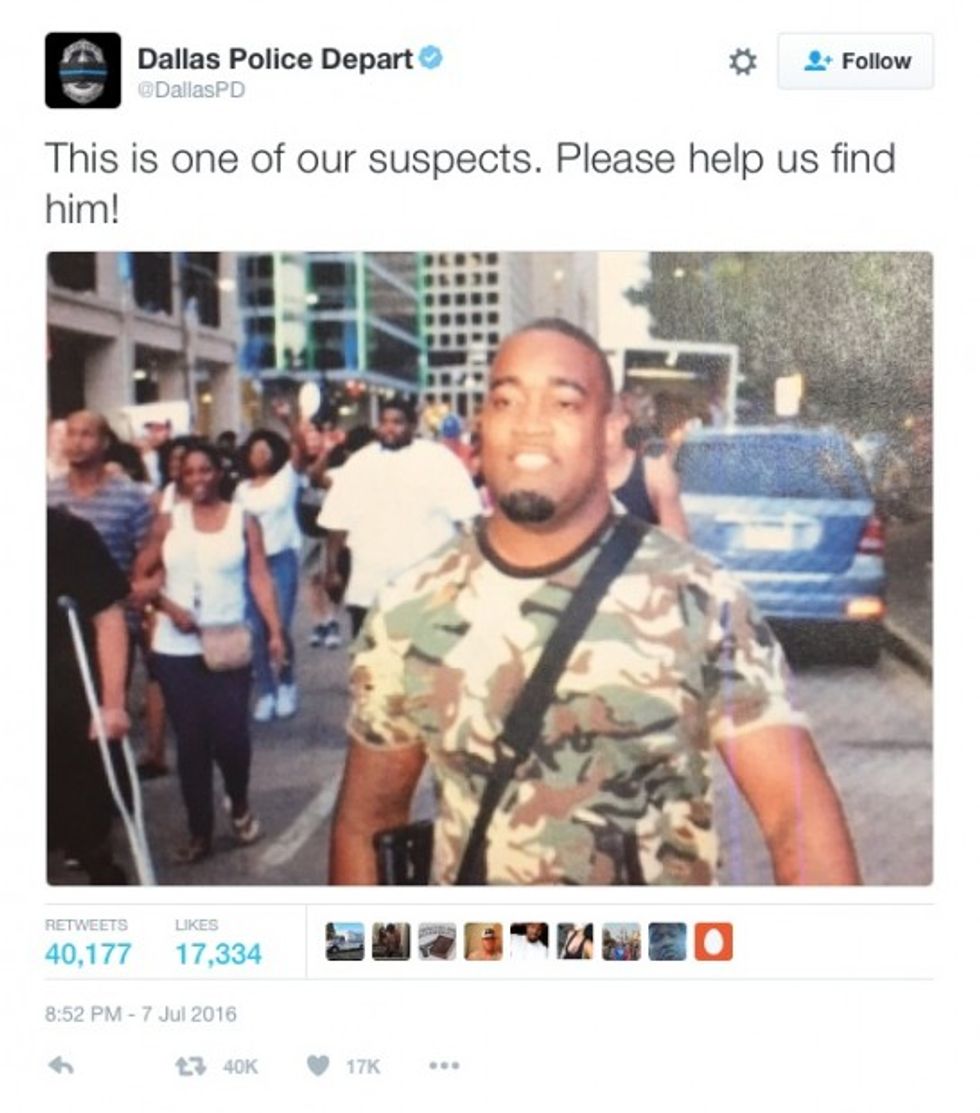 Image source: Twitter
Hughes told reporters that when he realized he was wanted as a suspect he "flagged down" a police officer and turned himself in and surrendered his firearm. He was later released.
"We asked them, we said, you know what, now that you all have my face on national news, are y'all gonna come out and say that this young man had nothing to do with it?" he said.
Hughes said that he and his brother, Cory Hughes who came to his defense on television, have received "thousands" of death threats.
"I feel that they need to do something about that," Hughes said.
TheBlaze previously reported that Hughes was released after being interrogated by police.
"I just got out of the interrogation room for about 30 minutes with police officers lying, saying they had video of me shooting, which is a lie," Hughes told CBS 11 News. "That they have witnesses saying I shot a gun, which is a lie."
"I mean, at the end of the day, the system is trying to get me," he added.
As of press time, the tweet identifying Hughes as a suspect had yet to be deleted.
This is one of our suspects. Please help us find him! pic.twitter.com/Na5T8ZxSz6

— Dallas Police Depart (@DallasPD) July 8, 2016
The suspected gunman has reportedly been identified as 25-year-old Micah Johnson.
Watch:
Man wrongly labeled as person of interest in #dallaspoliceshooting "I can't believe it.I can't believe it." Via KTVT pic.twitter.com/n37cY7h9hk

— Dr. Seema Yasmin (@DoctorYasmin) July 8, 2016
—
Follow the author of this story on Twitter and Facebook:
Want to leave a tip?
We answer to you. Help keep our content free of advertisers and big tech censorship by leaving a tip today.
more stories
Sign up for the Blaze newsletter
By signing up, you agree to our
Privacy Policy
and
Terms of Use
, and agree to receive content that may sometimes include advertisements. You may opt out at any time.