David Duke, former grand wizard of the Ku Klux Klan who has become something of a household name in recent months, is potentially days away from launching a campaign for Congress.
Duke, a one-time candidate for Louisiana governor, told The Daily Beast he is seriously considering challenging Rep. Steve Scalise (R-La.), who serves as the majority whip in the House of Representatives, making him the third highest-ranking Republican in Congress. At one time, Scalise reportedly referred to himself as, "David Duke without the baggage."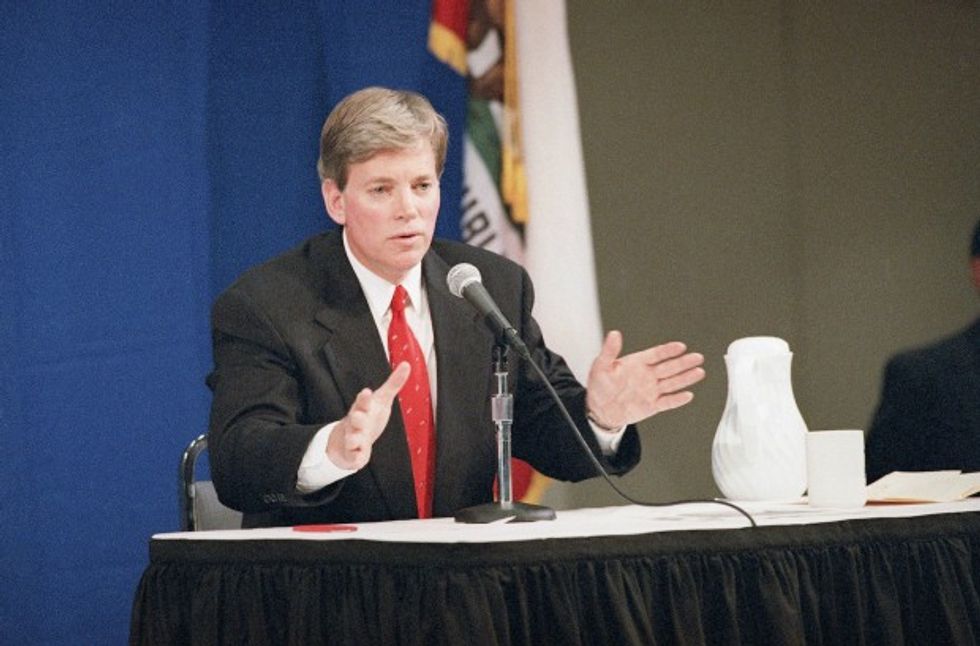 Former Klu Klux Klan grand wizard David Duke speaks during a debate with civil rights leader Joe Hicks about California Proposition 209, at California State University, Northridge on the campus in Los Angeles on Wednesday, Sept. 25, 1996. Duke was on campus to debate Hicks on the proposition, which would prohibit racial or gender preference in public hiring, education and contracting. (AP Photo/Nick Ut)
"I've very seriously set up an exploratory committee to run for the United States Congress against Steve Scalise," Duke said Tuesday, adding that he expects to make his decision "in a few days."
Scalise has served Louisiana's first congressional district since January 2009, but now Duke feels the veteran Republican has overstayed his welcome. Duke, concerned about the rights of European Americans as the Black Lives Matter movement continues to grow, made the decision to consider a run after last week's deadly police ambush in Dallas.
"I don't take any satisfaction in the fact that I was right, but I have been right," the ex-KKK leader said. "Unless European Americans stand up, they are going to lose everything they care about in this country."
Duke served in the state legislature nearly 30 years ago, but was unsuccessful in previous attempts to run for the U.S. Senate. Now, however, with the increased racial tension in the U.S., he feels the time is right to wage a campaign for the House of Representatives.
"There are millions of people across the country who would like to have me in the Congress," he insisted. "I'd be the only person in Congress openly defending the rights and the heritage of European Americans. We are on the offensive today. There's no more defenses."
Duke believes his political perspectives mimic those of Donald Trump, the presumptive Republican nominee for president, saying he said "everything" the billionaire businessman has said — "and more."
"I think Trump is riding a wave of anti-establishment feeling that I've been nurturing for 25 years," Duke said.
Duke also had some sharp criticism for former House Speaker Newt Gingrich, who was suspended from Fox News Tuesday as rumors continue to swirl that he could be Trump's choice for vice president. According to the former grand wizard, Gingrich is a "total sellout cuck."
"I would be a better pick," Duke claimed. "I had a perfect Republican voting record. If he had me as a VP, he would have a life insurance policy. But again, I don't see him doing that. That's just a fantasy."
Alas, Trump has not reached out to Duke because, according to the Louisiana native, the real estate developer fears "offending the oligarchs," a term Duke uses to describe the political establishment, which he said is controlled by Jewish, Hispanic and African-American interests.
As for his potential run for Congress, Duke not only expects backlash, but welcomes it.
"We have social media and the internet today puts me at an even footing with you," he said. "The truth is going to get out one way or the other. I demand some fair treatment. The media can demonize me all they want. They can lie about me. They can say whatever they want about me."
In his mind, "things are changing in this country."
–
Follow the author of this story on Twitter: