DALLAS (TheBlaze/AP) -- President Barack Obama on Tuesday gathered with politicians, police officers and families of the fallen in Dallas to call for unity in the wake of a shocking slaying of five police officers by a black man who said he wanted revenge for the killings of blacks by police.
"The soul of our city was pierced," Dallas Mayor Mike Rawlings said, as he welcomed Obama to a memorial service. The group had assembled because to combat "a common disease" of violence and honor those who fight it, "our men and women in blue, our peacemakers in blue."
"To wage this battle against violence and separatism, today must be about unity," Rawlings added. Unity among faiths, unity among police and citizens and yes, unity among politicians."
Mayor Mike Rawlings: "Today must be about unity." WATCH LIVE: https://t.co/c9zM2oVly3https://t.co/adefd6XT9o

— WFAA-TV (@wfaachannel8) July 12, 2016
Rawlings spoke steps from five empty chairs and five portraits of the dead officers.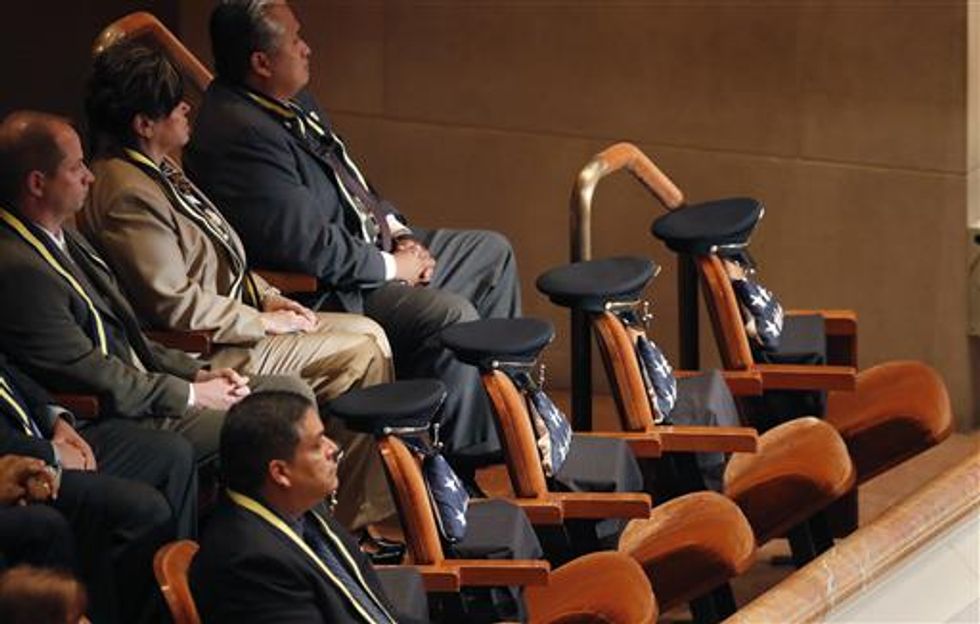 Seats hold flags and hats for fallen officers during a memorial service at the Morton H. Meyerson Symphony Center, Tuesday, July 12, 2016, in Dallas. Five police officers were killed and several injured during a shooting in downtown Dallas last Thursday night. (AP Photo/Eric Gay)
Obama has denounced the shooting as a "vicious, calculated and despicable attack on law enforcement" by a "demented" individual. And he has argued that, despite the heated public outcry of the past week, the country is not as divided as it may seem.
Obama planned to return to that message in his speech Tuesday and his choice of traveling companions underscored the theme. Republican Sen. Ted Cruz of Texas and House Democratic Leader Nancy Pelosi of California both joined Obama on Air Force One for the flight to Dallas.
"At a time when our country is feeling so divided I think it is important that the country's leadership come together across party lines, despite significant differences to emphasize our shared desire to unify the country," White House spokesman Josh Earnest told reporters.
Earnest said the president worked late into the night writing his speech and consulting scripture for inspiration.
Just a few weeks ago, Obama spent hours in Orlando, Florida, consoling the loved ones of 49 people who were killed in a shooting rampage at a nightclub.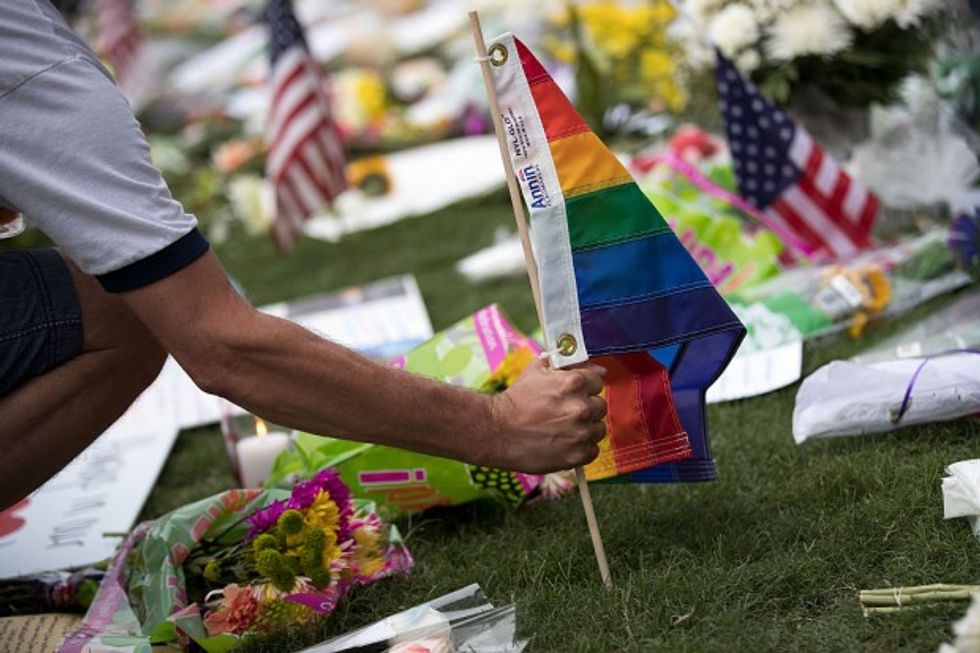 A man plants a Pride flag at a makeshift memorial prior to an evening vigil for the victims of the Pulse Nightclub shootings, at the Dr. Phillips Center for the Performing Arts, June 13, 2016 in Orlando, Florida. The shooting at Pulse Nightclub, which killed 49 people and injured 53, is the worst mass-shooting event in American history. (Photo by Drew Angerer/Getty Images)
In what has become an unwelcome but regular duty of his presidency, Obama was preparing to address an interfaith memorial service in Dallas for the officers. They were killed last Thursday while standing guard as hundreds of people peacefully protested the police killings of black men in Louisiana and Minnesota earlier in the week.
The attack ended with the gunman, Micah Johnson, 25, blown up by a bomb delivered by a police robot. The black Army veteran portrayed the attack on the officers as payback for the fatal police shootings of black men in Baton Rouge, Louisiana, and suburban Minneapolis.
Portions of both shootings were videotaped and broadcast nationwide, leading to fresh outrage, protests and scores of arrests. The killings also put the country on edge, heightened racial tensions and pushed the issue of the use of deadly force against black males by white police officers to the forefront.
Obama will seek to bridge those issues with his tribute to the fallen five, which include a former Army Ranger, a Navy veteran and a newlywed starting a second family.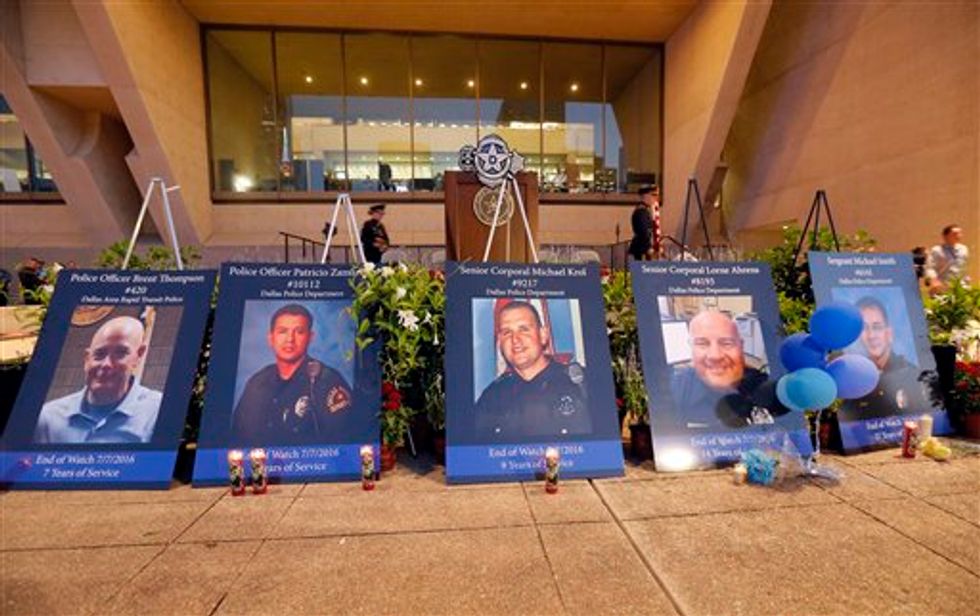 Portraits of the five fallen police officers sit in front of a stage after a candle light vigil in front of city hall honoring them, Monday, July 11, 2016, in Dallas. Four Dallas police officers and one DART officer were killed and several injured during a shooting in downtown Dallas last Thursday night. (AP Photo/Tony Gutierrez)
Some police officials blame the president for the rise in racial tension, saying he is insufficiently supportive of law enforcement. In comments since the Dallas shooting, Obama has urged the public to recognize and respect that police officers have a tough job.
Meanwhile, Obama has criticized by others for going to Dallas before visiting Louisiana or Minnesota, a sign that he is aligning with police over protesters.
As Obama landed in Dallas, Earnest said the president had called the families of Alton Sterling, the man shot by police in Baton Rouge, and Philando Castile, the Minnesota motorist shot by an officer, to offer his and first lady's condolences.
The president, joined by his wife, Michelle, and Vice President Joe Biden and his wife, Jill, will also meet privately with the families of the slain officers as well as the injured to convey the support and gratitude for their service and sacrifice that has been expressed around the country. At least nine other officers and two civilians were injured in the attack.
Former President George W. Bush and his wife, Laura, will also attend. Bush, a Dallas resident, will also speak at the service.
Earnest said Obama recognizes that people across the U.S. are grieving with Dallas.
"The president is hoping to offer some measure of comfort," Earnest said.
—