One captured Islamic State fighter admits to killing dozens of men, women and children in the name of religion, but now, as he awaits likely execution, he says his past commitment to the terror group "haunts" him.
Sitting in a jail cell in the Kurdish-controlled city of Kirkuk, 27-year-old Thahir Sahab Jamel disavowed the Islamist army he joined in 2013. In an interview with Fox News, he chronicled his journey as a foot soldier for the Islamic State and his eventual disillusionment with the heinous vision he was sworn to carry out.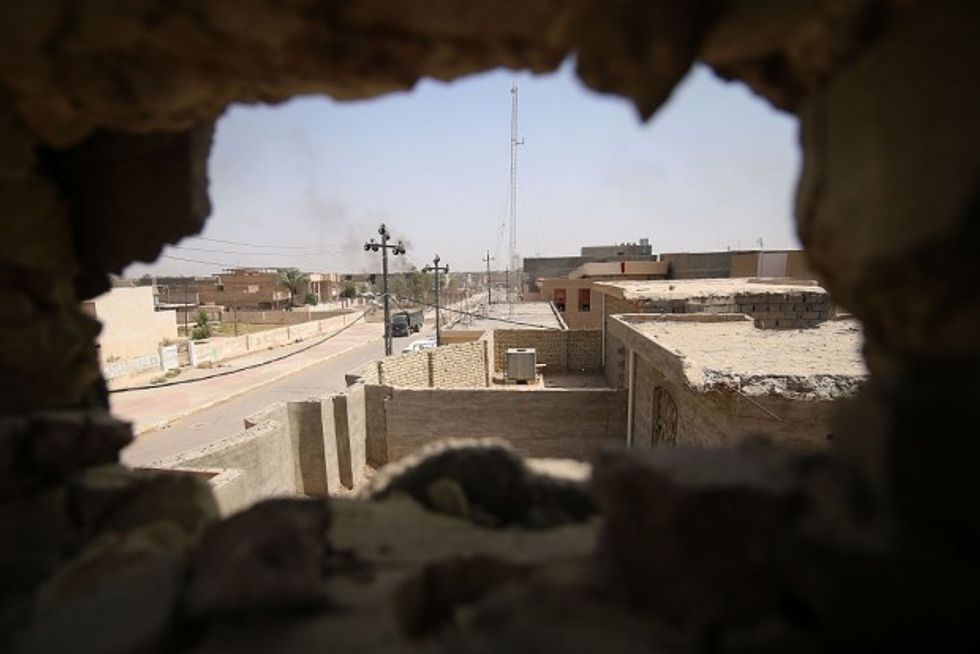 A picture taken through a hole on a building shows Fallujah, 50 kilometres (30 miles) from the Iraqi capital Baghdad, after Iraqi forces retook the embattled city from the Islamic State group on June 26, 2016. Iraqi Prime Minister Haider al-Abadi urged all Iraqis to celebrate the recapture of Fallujah by the security forces and vowed the national flag would be raised in Mosul soon. While the battle has been won, Iraq still faces a major humanitarian crisis in its aftermath, with tens of thousands of people who fled the fighting desperately in need of assistance in the searing summer heat. / AFP / HAIDAR MOHAMMED ALI (Photo by HAIDAR MOHAMMED ALI/AFP/Getty Images)
"At the beginning, ISIS told us we would all go to heaven," Jamel, flanked by Kirkuk police guards, said. "But now that I am in prison, it means I am going to the fire. I am going to hell."
Kirkuk Police Brig. Gen. Sarhad Qader Mohammad said Jamel told authorities after his arrest that he wanted to escape the Islamic State. But the Kurdish jailers, who indicated they've heard similar refrains before, aren't convinced his turnaround is legitimate.
"When they are arrested they try to say they are no longer with ISIS, but most of the time it is not true," Mohammad said.
Jamel has been in solitary confinement since being arrested two and a half months ago. The supposed former jihadist says he joined the terror organization along with many other young Sunni Muslim men who were dissatisfied with the Shia-led government in Baghdad.
"A man named Salam talked to me and got me connected to ISIS. He told me I needed to be a jihadist and fight the Shia government. He convinced me to fight the government," the handcuffed and partially-covered prisoner said. "I started getting involved as they were planning operations to begin in Iraq and Syria."
Before joining the Islamic State, Jamel said he lived with his mother and three brothers in Hawija, a smaller town just south of Kirkuk, an oil-rich Iraqi city. He even held down a steady job in agriculture, which led many in his family to wonder why he would risk it all to join the radicalized group.
When it first began, Jamel — and many of his counterparts — were young men in their 20s, mesmerized with the vision pitched to them by their recruiters. But before long, their ranks were infused with soldiers, some in their 50s, from Saddam Hussein's old army. Those men, also Sunni Muslims, were experienced in battle.
Their mission became clear: take over the nation and strike down any infidels and fellow Muslims who stood in their way. Jamel said "everything was about setting the role of Shariah," or Islamic law, which the imprisoned fighter said the terror group wants to spread across the world.
"We were told that yes, people here are Muslims, but they are not the right Muslims," Jamel said of his time in the Islamic State before being captured. "And to build the Caliphate we must control the economy, take over every oil field."
In the beginning, Jamel was allowed to carry a firearm, but as the Islamic State expanded, orders were sent out that only senior leadership and mid-level commanders, known as "Amirs," could brandish guns when not in battle. However, in 2015, Jamel was tapped as an Amir and put in charge of directing a group of 70 radical fighters in the heavily-contested area of Baiji.
While Jamel was unsure how many civilians he killed and soldiers he and his men murdered, he openly admitted to willfully taking part in the slaughter and handing over prisoners to Islamic State leaders for torture and, ultimately, execution. He told Fox News he never was much for the public beheadings and the civilian murders, which were carried out to instill fear in dominated locales.
In defense of his actions, he said he was simply following orders from self-professed Islamic State caliph Abu Bakr al-Baghdadi.
"I got many orders from him," Jamel said, "but he is a liar, he lied to us. His plan is all wrong."
Jamel was arrested in May in a village near Kirkuk. Police in the government-controlled city had information about his location and were able to arrest him, along with several of his terrorist associates. After his arrest, he seemed to experience an awakening.
"It haunts me that I am responsible for killing many people, we killed them for nothing," he said of his actions.
Now, though Mohammed says he knows Jamal is a terrorist, "we have to complete a special investigation" into the legitimacy of the one-time jihadist's claims.
Once the probe is complete, Jamel will be relocated and permitted to mingle with other prisoners and Islamic State fighters. Soon thereafter, he will face a court trial and sentencing, which usually results in life imprisonment. However, sometimes terrorists who go through similar situations are executed by hanging for their acts of terror.
The Kirkuk Police Department told Fox News they currently have around 70 Islamic State members awaiting trial. Since the inception of the radical terror group, approximately 60 fighters have been sentenced to death. Mohammad said most are local men, but there are some foreign fighters, too.
As for how they are captured, Mohammad said they are frequently arrested when they are sleeping. He said they also sometimes find and capture "terrorist men trying to hide by dressing as women."
—
Follow the author of this story on Twitter: