Presumptive Republican presidential nominee Donald Trump's policies would violate multiple constitutional amendments, the American Civil Liberties Union announced in a Thursday report.
His policies would launch a legal battle among federal courts and the Supreme Court that has been "unseen" in modern-day presidencies, ACLU Executive Director Anthony Romero told reporters the day prior to the report's release.
"In our own view, there's simply no way for him to implement these policy proposals without violating established court tenants of the U.S. Constitution, established statutes and other laws in the U.S.," Romero said Wednesday afternoon.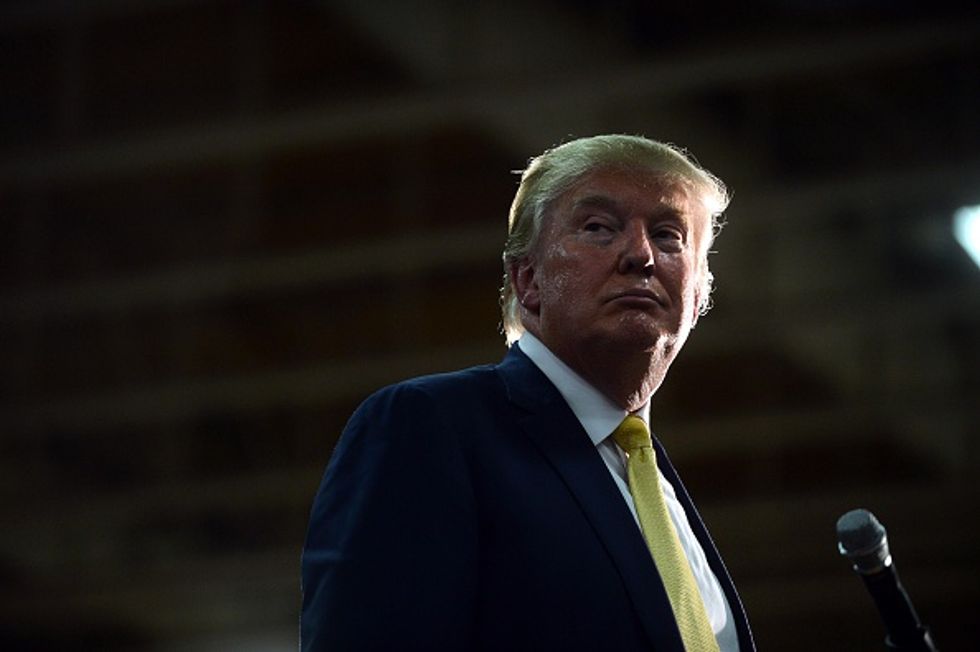 Presumptive Republican presidential nominee Donald Trump during a town hall event. (Getty Images/Darren McCollester)
The policies in question, Romero said, include Trump's proposed ban on Muslim immigrants as well as his rhetoric around free speech, libel and torture.
The report, provided to TheBlaze, also called attention to Trump's immigration policies and argued that his "mass deportation scheme" would violate the Fourth Amendment, as tactics for such a plan would rely on "unreasonable searches and seizures."
His immigration plan also would violate the Fifth and Fourteenth Amendments, the report stated, as it would resort to racial and ethnic profiling.
On the issue of torture, Romero contended that Trump's "enthusiasm" for techniques such as waterboarding is a "legacy of the Bush administration."
Romero added that the ACLU report isn't meant to endorse any presidential candidate and said a report on presumptive Democratic presidential nominee Hillary Clinton's proposed policies is imminent.
"Clinton's policies have changed and evolved over time, but there are a number of areas where we are deeply troubled," Romero said, adding that his organization is "more than halfway" finished with a Clinton report.
"The report is not an exhortation to vote for or against any candidate," Romero said, emphasizing that the ACLU is a nonpartisan organization that doesn't make endorsements. "The public needs to make its own mind. Our supporters are made up of people who support Hillary Clinton, who support Bernie Sanders and who support the Republican Party."
Romero called the report a "clear-eyed analysis" into Trump's policies and said the billionaire businessman "could of course change his mind" on any of these issues.
"Our analysis here is mostly an exhortation to him for him to realize that the policies he proposes are simply unconstitutional, in many cases un-American and untenable," he added.
While the report criticized Trump's policy proposals, it did make one promise: "But should our country ever find itself under the thumb of his proposed policies, make no mistake: We'll be seeing him in court."
Read the ACLU's report below:
Trump Memos by Kaitlyn on Scribd
—
Follow Kaitlyn Schallhorn (@K_Schallhorn) on Twitter