There are at least 84 dead after a truck driver plowed into a crowd of people celebrating Bastille Day in Nice, France, late Thursday, according to the president of the Nice regional council. French President Francois Hollande described the assault as a terrorist attack.
A Paris prosecutor said Friday there are a total 202 people wounded, 25 on life support and 52 in critical condition after the bloody attack.
A French official told local news outlet BFM TV that the truck driver was also dead. Eyewitnesses claimed the driver fired gunshots toward the fleeing crowd at the Promenade des Anglais, which is the city's primary boulevard along the Mediterranean Sea.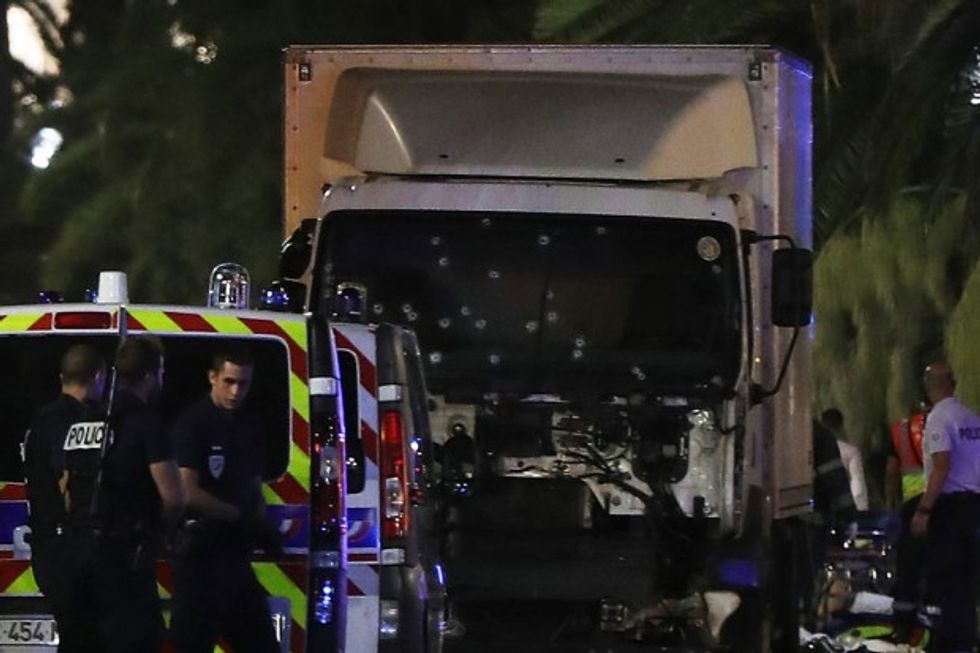 Police officers and rescued workers stand near a van that ploughed into a crowd leaving a fireworks display in the French Riviera town of Nice on July 14, 2016. The mayor of the French city of Nice said dozens of people were likely killed after a van rammed into a crowd marking Bastille Day in the French Riviera resort today and urged residents to stay indoors. (AFP / VALERY HACHE)
The incident took place around 10:30 p.m local time and was first reported by the mayor of Nice, who originally tweeted resident should "stay for the moment in your homes."
Wassim Bouhlel, an eyewitness, told the Associated Press that he first saw the truck drive into the crowd, then saw the driver exit the vehicle and begin firing at people.
"There was carnage on the road," he said. "Bodies everywhere."
The truck driver "mounted onto the Prom and he drove on everyone," a reporter for the Nice-Matin newspaper said of the incident, adding, "people are running, it's panic."
An image shared earlier on social media appeared to show nearly one dozen people lying in the street, some of whom being tended to by medical officials.
Les secours sont à pied d'oeuvre à Magnan #AttaquesNice https://t.co/vDpJQoFvr6

— Nice-Matin (@Nice-Matin) 1468531969.0
Video from the moments following the incident show people in panic as the truck drives through the celebration.
Video shows panic in Nice, France, after a truck drives through a Bastille Day gathering via @France24_en https://t.co/n4RzrieaHQ

— BuzzFeed News (@BuzzFeedNews) July 14, 2016
Sebastien Humbert, a police prefect for the Alpes-Maritime area, said the driver traveled "over a long distance," which he said "explains this extremely heavy toll."
As a result of the onslaught, Hollande has extended the state of emergency — which was slated to be lifted in the coming days — for another three months.
Bastille Day is a July 14 holiday in France commemorating the storming of the Bastille prison in Paris and the beginning of the French Revolution.
This is a developing story and will be updated.
—