Texas Lt. Gov. Dan Patrick confronted President Barack Obama over his treatment of police during an ABC town hall Thursday, accusing the commander in chief of being "too quick to condemn the police" before all the facts are known.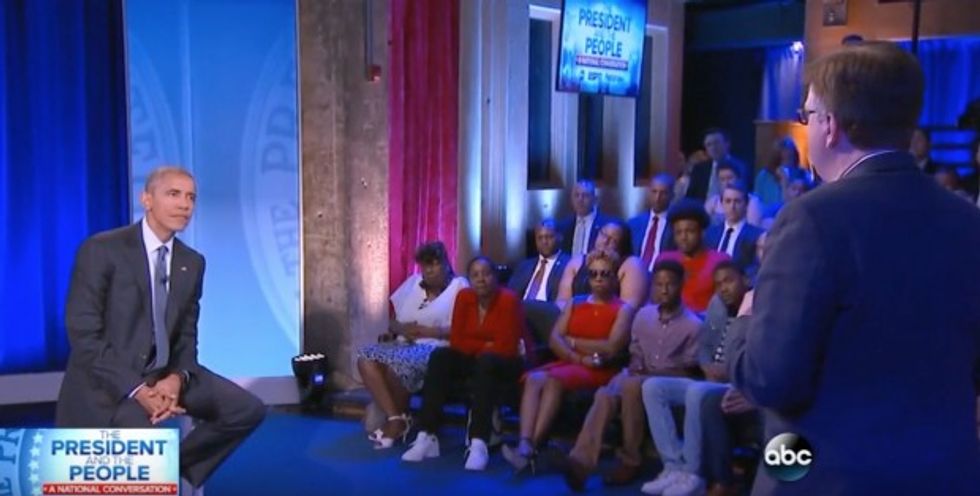 President Barack Obama discusses law enforcement issues with Lt. Gov. Dan Patrick during a town hall on ABC.
"I'm concerned that police officers across the country, they know you support law enforcement, of course. But do they really in their heart feel like you're doing everything you can to protect their lives?" Patrick said.
Patrick also accused Obama of proclaiming, "Tensions between the police and between black America are only going to get worse."
"Words matter," Patrick said. "I would ask you to consider being careful when there is an incident of not being too quick to condemn the police without due process and until the facts are known."
Patrick was paraphrasing Obama's recent remarks about police, but his actual statements included more context:
And sadly, because this is a huge country that is very diverse and we have a lot of police departments, I think it is fair to say that we will see more tension in police — between police and communities this month, next month, next year, for quite some time.
Obama responded sternly, telling Patrick he has been "unequivocal in condemning any rhetoric directed at police officers."
"I appreciate the sentiment, I think it's already being expressed," he added.
Watch the exchange below via ABC:
---