Presumptive Republican presidential nominee Donald Trump announced Friday that he has chosen Gov. Mike Pence (R-Ind.) as his running mate, and groups on both sides of the abortion debate were quick to weigh in on Trump's selection.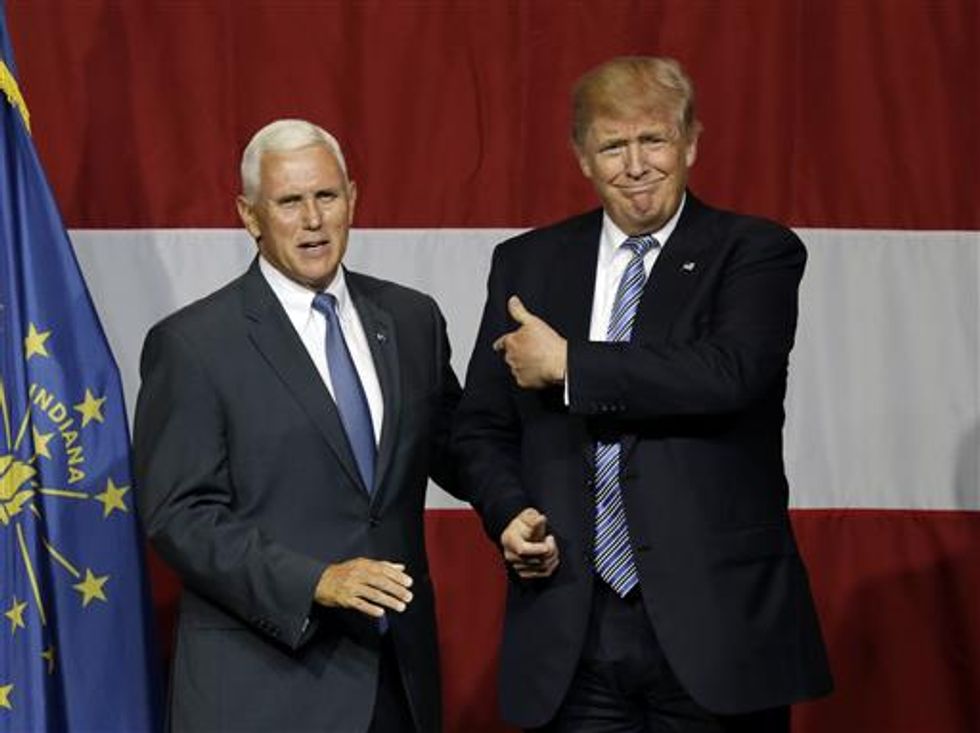 Indiana Gov. Mike Pence joins Republican presidential candidate Donald Trump at a rally in Westfield, Ind., Tuesday. (AP/Michael Conroy)
Trump — who previously called himself "pro-choice in every respect" — has said he's now pro-life, but has made conflicting statements about abortion throughout his campaign. He has pledged to appoint pro-life justices to the Supreme Court as president, but he has also expressed support for taxpayer funding for Planned Parenthood and broadening exceptions to the Republican Party's opposition to abortion.
Pence, however, has a 100 percent voting record from the National Right to Life Committee and a zero percent rating from the pro-choice group NARAL.
Many pro-life activists have regarded with skepticism Trump's claim that he's now pro-life, but some pro-life leaders were encouraged by his selection of Pence.
Marjorie Dannenfelser, president of the Susan B. Anthony List, said in a statement that "Mr. Trump's selection of Gov. Mike Pence is an affirmation of the pro-life commitments he's made and will rally the pro-life grassroots."
"Gov. Pence has proven to be a pro-life champion both during his time in Congress and as Governor of Indiana," Dannenfelser said. "It was Mike Pence who led the effort to defund Planned Parenthood in Congress, and it was Gov. Pence who signed into law a historic bill protecting unborn children from lethal discrimination in the womb. Mike Pence is a pro-life trailblazer and Mr. Trump could not have made a better choice."
Kristan Hawkins, president of Students for Life of America, said in a statement that choosing Pence as a running mate "may be the best decision Donald Trump has made thus far in his campaign."
"Governor Pence is a tested pro-life conservative, having been in the trenches with us on several important fights," Hawkins said. "The pro-life movement should be thrilled with this pick."
Planned Parenthood has portrayed Trump as a staunch opponent of abortion and touted his running mate selection as proof.
In a statement, Dawn Laguens, executive vice president of the Planned Parenthood Action Fund, the lobbying arm of the nation's largest abortion provider, slammed Pence as a "anti-Planned Parenthood foe."
"Donald Trump just sent a terrifying message to the women of America: your health and your lives are not important," Laguens said. "His running mate, Mike Pence, has been on a years-long crusade against women's health care and access to abortion in this country, no matter how many women's lives are put at risk. A Trump-Pence ticket should send a shiver down the spine of women in this country."
—
Follow the author of this story on Twitter and Facebook: