NEW YORK (AP) — Donald Trump introduced Indiana Gov. Mike Pence as his running mate on Saturday, calling him "my partner in this campaign" and his first and best choice to join him on a winning Republican presidential ticket.
Skipping the traditional massive rally in favor of a low-key announcement in a Manhattan hotel, Trump tried to draw a sharp contrast between Pence, a soft-spoken conservative, and Hillary Clinton, the Democratic presidential candidate. In fact, he spent about as much time lambasting Clinton as praising Pence, declaring she had led President Barack Obama "down a horrible path" abroad.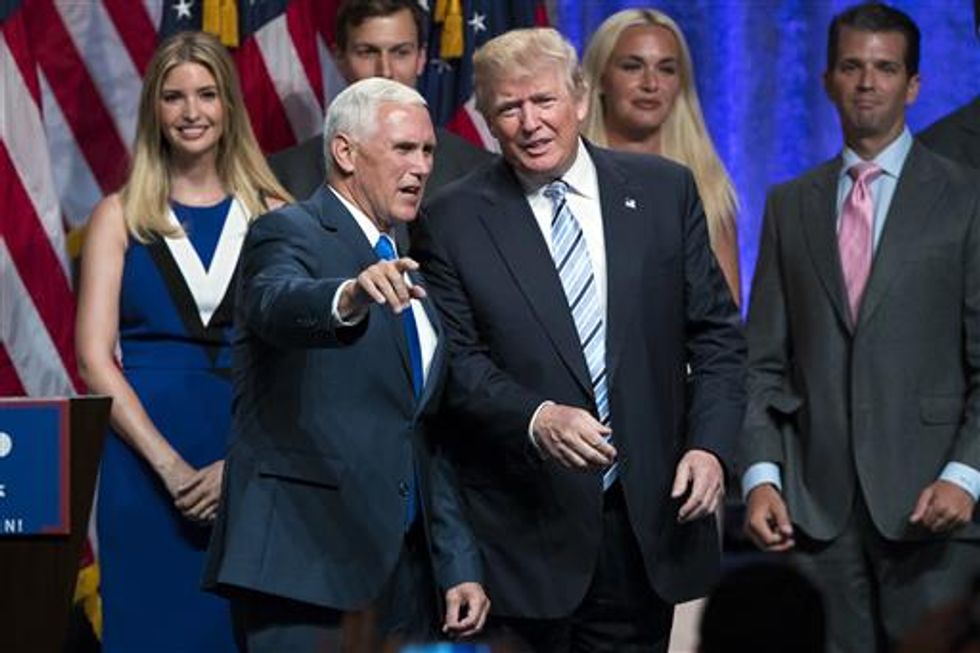 Republican presidential candidate Donald Trump talks with Gov. Mike Pence (R-Ind.) during a campaign event to announce Pence as the vice presidential running mate on, Saturday, July 16, 2016, in New York. (AP Photo/Evan Vucci)
He said Pence would stand up to America's enemies and that he and the governor represent "the law-and-order candidates" at home.
"What a difference between crooked Hillary Clinton and Mike Pence," Trump said. He added: "He's a solid, solid person."
Pence, standing alone in front of American flags, hewed closely to the populist themes that Trump has voiced on the campaign trail, describing himself as "really just a small-town boy." He praised Trump effusively as "a good man," a fighter, a legendary businessman and a patriotic American.
"The American people are tired," Pence said. "We're tired of being told that this is as good as it gets. We're tired of having politicians in both parties in Washington, D.C., telling us we'll get to those problems tomorrow."
The joint appearance was intended to catapult the party toward a successful and unified Republican National Convention, which kicks off in Cleveland on Monday. Trump conceded that one of the reasons he'd selected Pence was to promote unity within the Republican Party, left deeply fractured by Trump's ascent.
"So many people have said 'party unity,' because I'm an outsider," Trump said. "I want to be an outsider."
Pence, whose calm demeanor forms a marked counterpoint to the fiery Trump, was chosen in part to ease concerns in some GOP corners about the billionaire's perceived impulsive style and lack of political experience. A steady conservative with extensive governing experience, Pence may also serve to reassure Republicans who are skeptical about Trump's conservative bona fides.
Brandishing his running mate's job-creating credentials, Trump ticked through a list of statistics he said showed how Pence had pulled Indiana out of economic recessions: an unemployment rate that fell to less than 5 percent on his watch, an uptick in the labor force and a decrease in Indiana residents on unemployment insurance.
Thank you! #TrumpPence16 pic.twitter.com/RHprMCsGT6

— Donald J. Trump (@realDonaldTrump) July 16, 2016
"This is the primary reason I wanted Mike — other than that he looks very good, other than he's got an incredible family, and incredible wife," Trump said. He predicted that Pence would have won re-election as governor, were he not running for vice president.
The Trump-Pence event offered Americans the first glimpse at what the 2016 Republican presidential ticket will look like, barring the unexpected. Just as Trump was settling on Pence, Republicans gathering in Cleveland essentially quelled the movement to oust Trump at the convention, all but assuring he'll be the GOP nominee.
"They got crushed," Trump said. "And they got crushed immediately, because people want what we're saying to happen."
__