Donald Trump Campaign Chairman Paul Manafort told CBS' John Dickerson Sunday on "Face the Nation" that those following this week's Republican National Convention will have a chance to see "more of the man" that is Trump "up-close and personal." He explained that the four-day event will be a "very personal" time during which former Trump employees and members of his own family will speak on behalf of the candidate.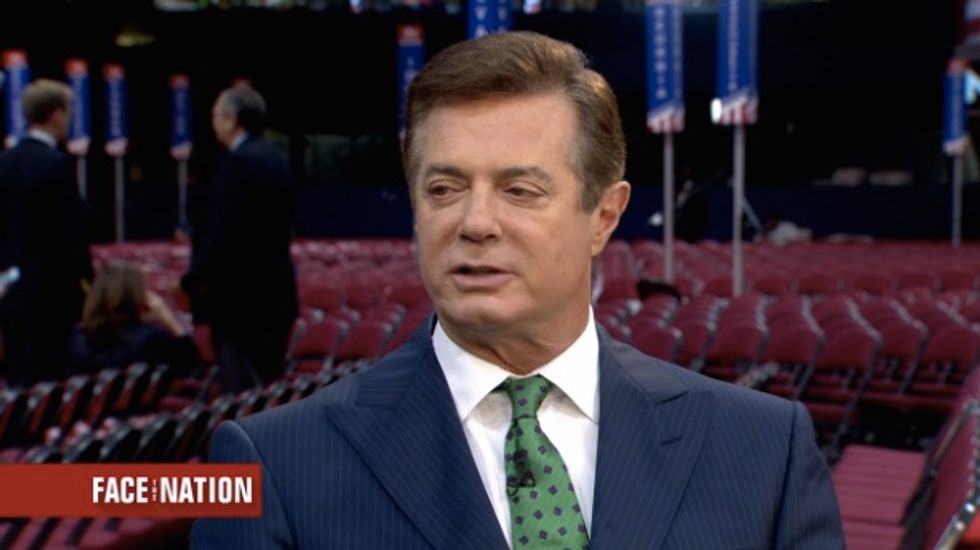 Image source: CBS/"Face the Nation"
"Is this Donald Trump's convention or the Republican Convention?" Dickerson asked.
Manafort said that it is "both," but asserted that "this is clearly going to be Donald Trump's convention."
"The delegates on the floor are going to be his delegates," he explained. "More importantly, the message is going to be his. The platform that was passed on in this past week, that will be adopted by the convention — he has his clear imprint on what would be — what is the framework of principles that the Republican Party has had for many years, but the Trump stamp is on that platform. So it is a combination of both, but ... this is a Donald Trump convention."
When asked if Trump's newly appointed running mate, Indiana Gov. Mike Pence, "stabilizes" the candidate, Manafort hesitated.
"Well, I don't know that he stabilizes Donald Trump, but he complements Donald Trump," he said. "The two of them have the same view on all of the key issues of this country. But, at the same time, Pence brings a different perspective. Pence has been a part of Washington. He understands how to work in Washington. And he will be a real partner for Trump as Trump comes in to break the gridlock, which is what is paralyzing our company."
Watch: