Fox News' Shepard Smith has come under fire from viewers for objecting to former Louisiana Gov. Bobby Jindal's use of the phrase "all lives matter" during an interview Sunday.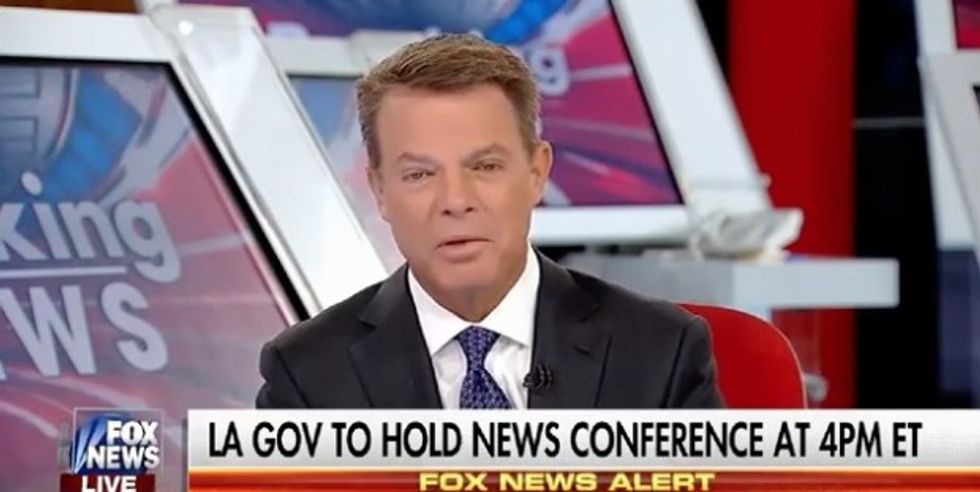 Image source: YouTube
While discussing three police officers who were fatally shot in Baton Rouge, Louisiana, on Sunday, Jindal told Smith, "Look ... it is time for folks across party lines, across ideological lines to condemn this violence, to condemn this insanity."
"We've got to come together," Jindal continued. "We've got to say that all lives matter, doesn't matter what color you are, black, white, brown, red, it doesn't matter. All lives matter. We've got to protect and value our belief —"
Smith then interrupted Jindal saying the "phrase you just used is one that is seen by many as derogatory."
"I just wonder why it is that you used that phrase when there's a certain segment of the population that believes it's a real dig on them," Smith said.
Jindal replied that "it's not meant to be."
"The point is we've got to move beyond race," Jindal said. "Look, these police officers, these are the men and women that run towards danger not away from it so that we can be safe. It is time for us to be unified ... as a country. We've to look beyond race. I think that's ... one of the dumbest ways for us to divide people. It's one of the dumbest way to for us to classify people or categorize people. We shouldn't be divided, we do need to be united. These are police officers, they don't care whether you're black or white, they will run towards danger to protect you. That's what they swear ... that's their duty, that's what they do for us. These are heroes."
Jindal added that "we're all sons and daughters of God, created in his image" and called for fasting and prayer for the nation.
Later in the interview, when Jindal reiterated his belief that "all lives matter" — regardless of color — Smith interjected: "I don't understand why – governor why do you say that?"
"I mean, it's certainly a given that that's the case because every life matters, on every level, but you know that's a very, very divisive phrase that a lot of people hear and become really upset about, and I just wonder why you keep using it," Smith said.
"It shouldn't be," Jindal said, adding, "that's what we've got to move beyond."
Some social media users suggested Smith was out of line.
Disgusting! @ShepNewsTeam just reprimanded @BobbyJindal for daring 2 say "All Lives Matter. We're all in this together." #BatonRouge

— Amy Mek (@AmyMek) July 17, 2016
@ShepNewsTeam did I hear you say that #AllLivesMatter is offensive to a certain segment of society? Are you kidding me?

— Lori Hendry (@Lrihendry) July 17, 2016
Shepard smith owes Bobby Jindal and America an apology. https://t.co/CkAAT6gpBV

— Rodger Goolsby (@Stopcnnlies) July 17, 2016
Why would @ShepNewsTeam condemn @BobbyJindal 4 saying #alllivesmatter in the eyes of God? What's false about that? What's "divisive"?

— Daniel John Sobieski (@gerfingerpoken) July 17, 2016
Jindal responded by tweeting:
Our thoughts and prayers are with our law enforcement community after today's horrible shootings. All lives matter, plain and simple.

— Gov. Bobby Jindal (@BobbyJindal) July 17, 2016
Watch below:
—
Follow the author of this story on Twitter and Facebook: