Last week a pro-choice group released a promotional YouTube video that plays off Jerry Seinfeld's reality special, "Comedians in Cars Getting Coffee."
In Seinfeld's version, celebrities join the comedian on hilarious vehicular adventures. But pro-life advocates won't see humor in NARAL Pro-Choice America's "Comedians in Cars Getting Abortions."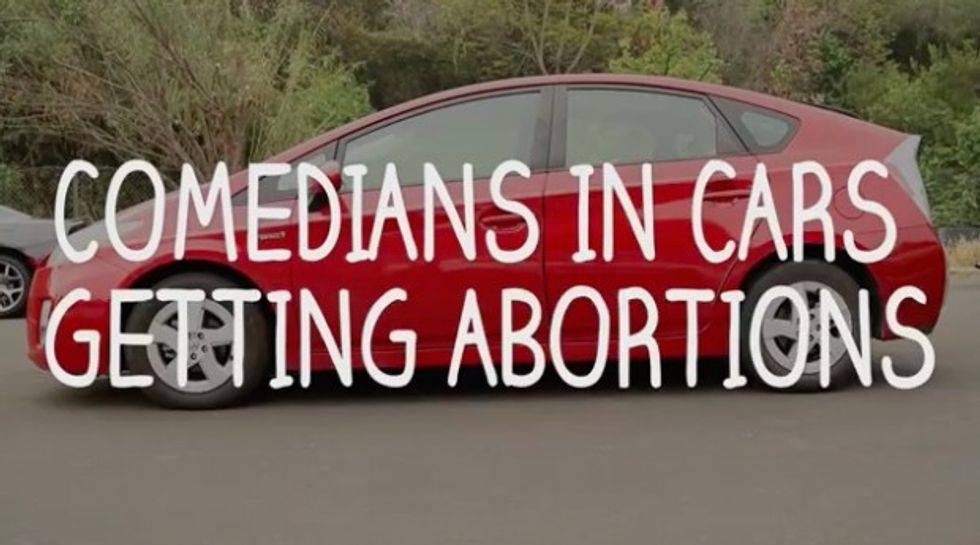 Image source: YouTube
"Watch comedians Alice Wetterlund and Nato Green navigate the barriers the anti-choice movement creates to interfere with women's reproductive choices," the video's description reads.
The clip began with Green's character pulling up to Wetterlund's home. When the actress came out to meet Green and realized he wants to get coffee and film it as part of a comedy sketch, she announced she had plans to go to a clinic to get an abortion.
With cameras rolling, Green asked Wetterlund to explain why she wants an abortion.
"I want an abortion because my body is doing a thing right now that is not incubating a person, and I would like it to continue doing that thing," she says. "Okay? It's my choice."
Wetterlund then looked out the window and saw a child misbehaving and "slapping his dad in the face."
"Yeah, we don't need more of those in the world," she asserted.
"Good point," Green said.
When they arrive at the clinic, Wetterlund cheerfully told the receptionist, "One abortion, please!"
But the receptionist, who is apparently pro-life, proceeded to offer questionable statistics about fetal development, presumably to dissuade Wetterlund from going through with the procedure.
When the comedian asked if there are any doctors around she could speak to, the receptionist replied, "Who needs doctors when you have the Book of Jeremiah?"
That's when Green and Wetterlund discovered that they're not at an abortion clinic but a "crisis pregnancy center."
When the two finally arrive at an abortion clinic, a doctor informs them of all the government-mandated rules they must first follow, such as waiting 32 hours before returning to receive the procedure. The doctor also shows Wetterlund photos of a baby a various stages of development, which she explained was another government requirement.
The comedian then asked if there is anywhere she can go to get an abortion right away, no questions asked.
The doctor explained that the easiest way to get an abortion is to "go to a place where it's legal, like Canada or Uruguay."
The comments section of the video's YouTube page flooded with negative backlash from pro-life supporters.
"You know the lefties have lost their minds when they actually believe that killing a human child is morally superior to eating a steak," one commenter wrote.
Another wrote: "We don't 'need more of those.' Human beings is what she is talking about, small children is what she is talking about. My goodness how these people can dehumanize others like this its crazy!"
"Utter degenerate filth," another commented. "You people are probably the same people who freak out about an airline pilot calling his stewardesses 'pretty girls' yet you think you're making the world a better place by getting rid of the stigma around killing your child."
Watch: