Glenn Beck is offering his theory on what he thinks really happened with Melania Trump's RNC speech, which was widely criticized after some pointed out the distinct similarities between the potential first lady's speech and Michelle Obama's 2008 DNC speech.
Beck, an outspoken Trump critic, defended the presumptive GOP nominee, suggesting on his radio show Tuesday that the Trumps were "sabotaged."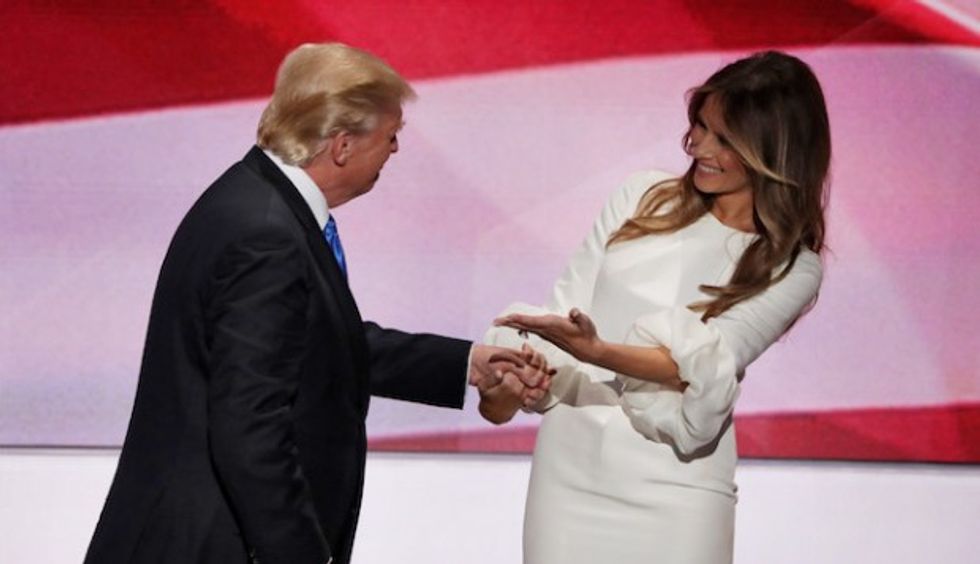 Presumptive Republican presidential nominee Donald Trump and wife Melania hold hands after she delivered a speech on the first day of the Republican National Convention on July 18, 2016 at the Quicken Loans Arena in Cleveland, Ohio. An estimated 50,000 people are expected in Cleveland, including hundreds of protesters and members of the media. The four-day Republican National Convention kicks off on July 18. (Photo by Alex Wong/Getty Images)
"I don't think Donald Trump or Melania had anything to do with it. I think somebody sabotaged them. I think this was done intentionally. No good speechwriter does that," Beck said.
Beck's co-hosts pointed to another portion of Melania Trump's speech, which they compared to Rick Astley's 1987 hit, "Never Gonna Give You Up."
"He will never, ever give up. And most importantly, he will never, ever let you down," Melania Trump said Monday night at the RNC in Cleveland.
Those words are eerily similar to the lyrics of Astley's popular single: "Never gonna give you up, never gonna let you down." Beck went on to theorize: "Was that the writer putting that line in as a wink to us, the people of the world, as a rick roll, of 'don't listen...this is a clown show."
—
Follow the author of this story on Twitter and Facebook: