Milo Yiannopoulos may have been permanently banned from Twitter, but the conservative firebrand has made it clear that he won't be silenced.
Twitter suspended the openly gay Breitbart editor for good Tuesday evening after he and his followers trolled the account belonging to "Ghostbusters" star Leslie Jones, who subsequently decided to leave Twitter.
"People should be able to express diverse opinions and beliefs on Twitter," a Twitter spokesperson told BuzzFeed News. "But no one deserves to be subjected to targeted abuse online, and our rules prohibit inciting or engaging in the targeted abuse or harassment of others."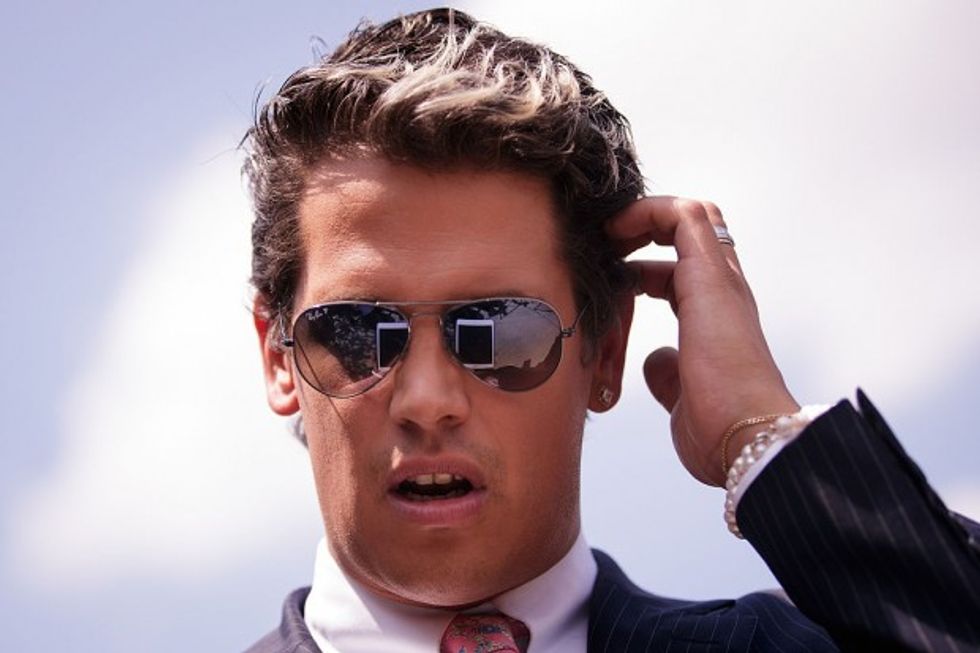 Drew Angerer/Getty Images
In an interview with Business Insider later Tuesday night, Yiannopoulos declared war on the social media empire, blasting Twitter CEO Jack Dorsey, whom he largely blames for his expulsion.
"He just sent a very clear message to the entire user base of Twitter, which is if you believe in mischief and dissidence and fun and free speech, you're not welcome on Twitter," Yiannopoulos said.
"If you're going to make jokes about the wrong people, you're not welcome on Twitter," he added. "If you're a columnist with the wrong politics, even a gay conservative who decides he doesn't like a movie and makes a few jokes, you're not welcome on Twitter."
When asked if he plans to challenge the ban, Yiannopoulos confidently shared that he will get his revenge.
"I'm going to make their lives hell," he said. "I'm going to make them wish they'd never started a company. Because they deserve it."
Yiannopoulos said the move to remove him was a "critical mistake" on the part of Twitter executives.
"There is always a moment in the history of social networks, one thing, one critical mistake that on its own doesn't look huge but embodies every one of the mistakes that company has been making and ultimately comes to be seen as sort of the turning point," he explained. "Twitter just did it."
Yiannopoulos and his fans have frequently voiced what they believe is a double-standard in Twitter's handling of "controversial," "hateful" or "dangerous" content. Their argument is that truly problematic accounts belonging to Islamic extremists, anti-police groups and others continue to exist.
Unfortunately there is a lot of hate speech on Twitter. Fortunately if you're a democrat, Twitter looks the other way #FreeMilo

— little sweet tweets (@Lil_SweetTweets) July 20, 2016
If #FreeMilo is banned, Twitter should ban those calling for the death of cops.

— The Heidelblog (@RScottClark) July 20, 2016
According to Twitter Milo is bad, Ayatollah Khamenei, who regularly calls for another Holocaust, less bad. #FreeMilo pic.twitter.com/BcoX7z2lN4

— Dave Rubin (@RubinReport) July 20, 2016
One guy on Twitter can "whip up a mob," but riots and murdered cops have nothing to do with @deray, @ShaunKing, et al. #FreeMilo

— Jim Treacher (@jtLOL) July 20, 2016
BuzzFeed posted screen shots of some of the Yiannopoulos' tweets directed at Jones, which insulted her career and her intelligence.
"If at first you don't succeed (because your work is terrible), play the victim," he tweeted on July 18 with a link to one of Jones' tweets. "EVERYONE GETS HATE MAIL FFS."
In another tweet, the conservative provocateur made fun of a tweet from Jones that included a typo: "Barely literate. America needs better schools!"
After receiving the news of his permanent suspension, Yiannopoulos released a statement to Breitbart that was obtained by TheBlaze:
"Like all acts of the totalitarian regressive left," he said, "this will blow up in their faces, netting me more adoring fans. We're winning the culture war, and Twitter just shot themselves in the foot."