The Cleveland Police Department has added syringes to the list of banned items after several unconfirmed reports of protesters outside the GOP convention pricking officers.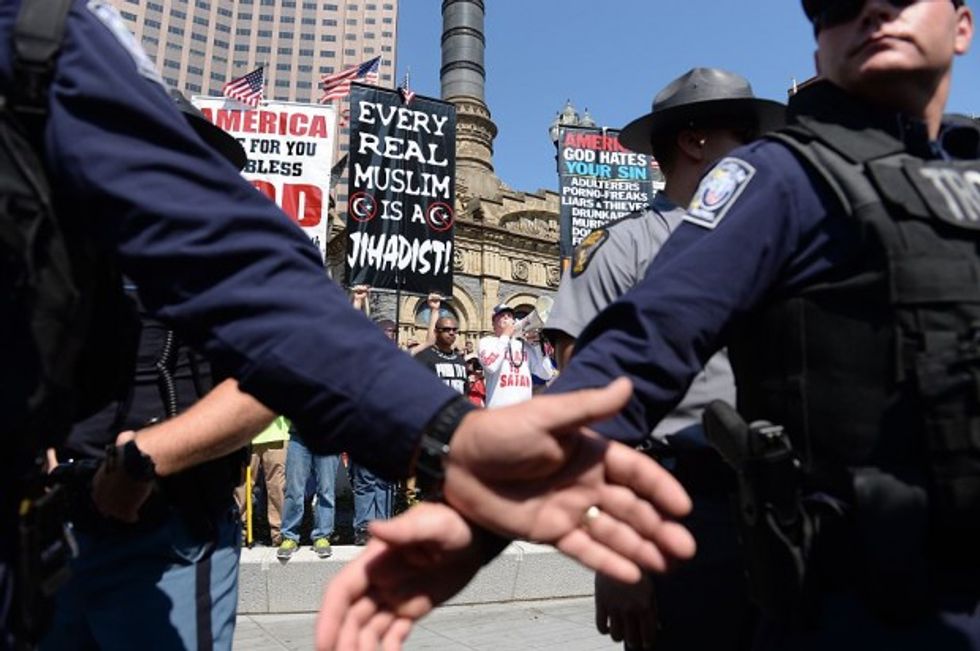 Poice officers watch protesters on the second day of the Republican National Convention on July 19, 2016 in Cleveland, Ohio. About 50,000 people are expected in Cleveland this week for the Republican National Convention, at which Donald Trump is expected to be formally nominated to run for the US presidency in November. (Photo by BRENDAN SMIALOWSKI/AFP/Getty Images)
Though the Cleveland police say they have not yet confirmed reports of anyone stabbing officers with needles, if people are spotted with syringes, they will be confiscated on a case-by-case basis — excluding those with  medical conditions — as a cautionary measure.
Currently, NO confirmed injuries to officers from syringes. However, out of an abundance of caution, syringes now on prohibited items list.

— Cleveland Police (@Cleveland Police)1469136687.0
South Carolina State Troopers relayed unconfirmed information to the Cleveland police that they had been told someone in the crowd gathered outside the Quicken Loans Arena was trying to poke officers with syringes Thursday, according to Cleveland.com.
The reports first sprang up on social media and through unconfirmed chatter heard on the police scanner.
Around the same time, unconfirmed reports of officers being tagged with drug-laced stickers began to bubble up. Cleveland police indicated that two troopers were transported to MetroHealth for an unknown illness, but they do not believe it is related to the stickers.
2 troopers conveyed to MetroHealth for unknown illness. Not believed to be related to stickers.

— Cleveland Police (@Cleveland Police)1469135767.0
UPDATE: Two officers treated on scene for unknown skin irritations. One treated and released, other remains in medical@care.

— Cleveland Police (@Cleveland Police)1469137323.0
UPDATE: GA State Trooper treated and released. One @CLEpolice officer being treated for unknown skin irritation. Only two officers involved

— Cleveland Police (@Cleveland Police)1469137414.0
A man carrying some of the stickers was later apprehended and questioned by the FBI, according to Yahoo News. His stickers have been sent to a lab for testing. According to the police scanner, officers planned to charge the unidentified suspect with assault of a police officer.
So far, there have been very few run-ins with police and protesters since the start of the Republican National Convention Monday.
Police, however, believe tonight could be the largest night of demonstrations, as Donald Trump is scheduled to deliver his speech accepting the Republican Party's nomination for president later in the evening.
—
Follow the author of this story on Twitter: