A black Donald Trump supporter scolded an apparent CNN reporter outside the Republican National Convention on Thursday after he was asked what he thought about "white supremacists" supporting the GOP candidate.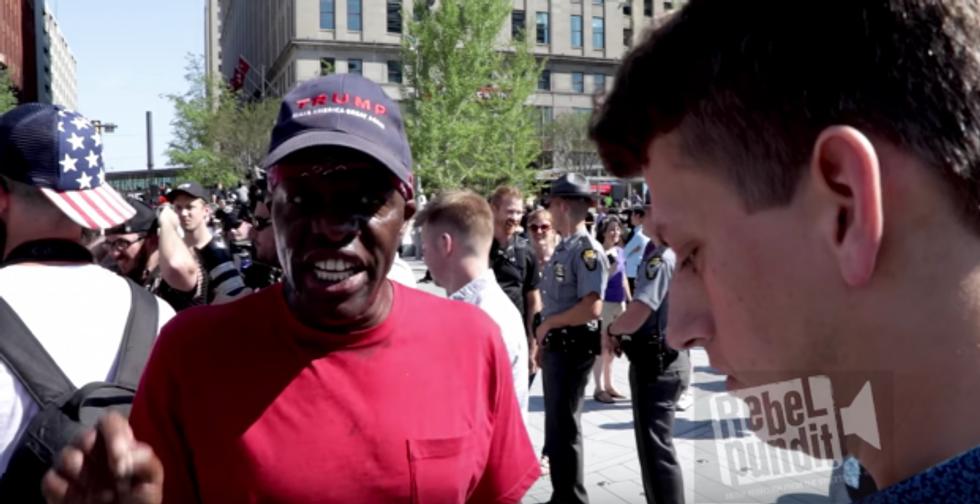 A black Trump supporter scolds a reporter outside the RNC in Cleveland. (YouTube/Rebel Pundit)
The Trump supporter, identified as Kenneth, expressed his opposition to Black Lives Matter and the Clintons before the reporter shifted the focus, causing the interview to go off the rails.
"What do you think of the fact that the white supremacists support Trump?" the reporter asked.
"It doesn't matter. That's the right of free speech. I'm sick of this race and divide. And CNN is perfect at doing that," Kenneth responded. "It's always divide and conquer. People have the right to choose who they want." What the hell does that have to do with Donald Trump? He's not a racist! I'm sick of that!"
He continued: "It's a scam! And I know it's not going to get on CNN. We're sick of you, media!"
At that point, conservative reporter Andrew Marcus turned the questions around on the man identified as a CNN reporter, asking him if his questions were "fair" and whether Black Panthers support Obama.
"I'm just here doing my job," the reporter insisted.
Watch the tense exchange below via Rebel Pundit:
---