Democrats failed to mention terrorism or the Islamic State a single time during the first night of the Democratic National Convention, according to Politifact.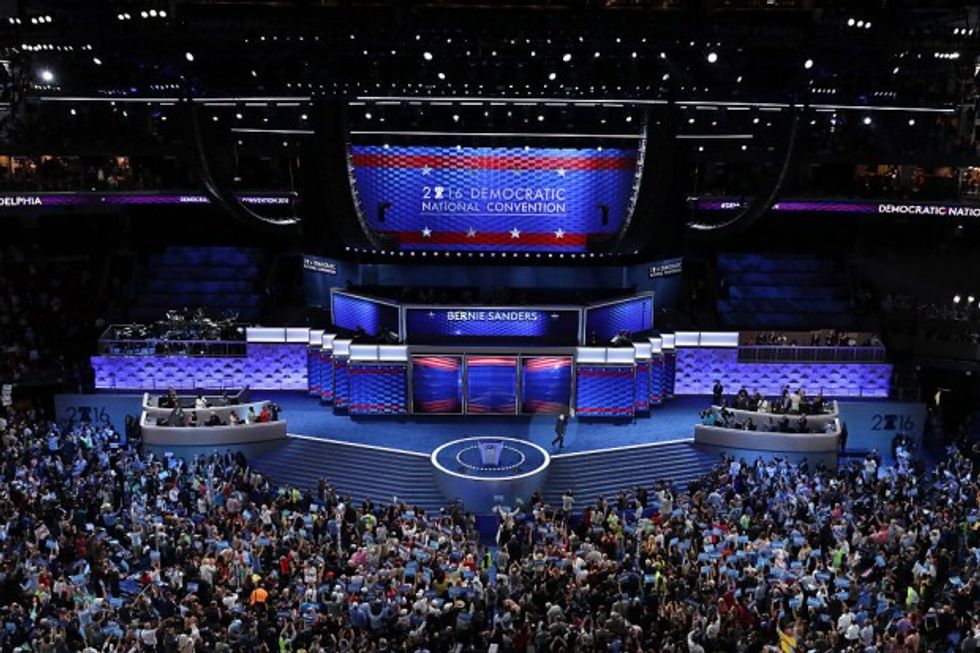 PHILADELPHIA, PA - JULY 25: on the first day of the Democratic National Convention at the Wells Fargo Center, July 25, 2016 in Philadelphia, Pennsylvania. An estimated 50,000 people are expected in Philadelphia, including hundreds of protesters and members of the media. The four-day Democratic National Convention kicked off July 25. (Photo by Chip Somodevilla/Getty Images)
After the claim was floated by Republicans, the fact-checking website failed to find even one reference of "ISIS," "Islamic," "terror," "terrorist," or "terrorism" after searching through DNC transcripts. More from the report:
That said, as it concerns the convention in Philadelphia, the RNC's statement is literally correct. Based on our searches of C-SPAN closed-captioning text, Congressional Quarterly transcripts and other video archiving services, we couldn't find any speaker who mentioned "ISIS," "Islamic" "terror," "terrorist," or "terrorism" during the first day of the convention.

The closest example came in a video that quoted Hillary Clinton's speech after the mass shooting in Orlando in which a gunman who professed allegiance to ISIS attacked a gay nightclub.

"From Stonewall to Laramie, and now Orlando, we've seen too many examples of how the struggle to live freely, openly and without fear has been met by violence. We have to stand together, be proud together. There is no better rebuke to the terrorists and all those who hate," she said.
Republican nominee Donald Trump's running mate, Mike Pence, seized on the issue Tuesday during a campaign event.
"It's extraordinary to think that yesterday in Philadelphia, 61 speakers came to the podium and not one of them named ISIS by name," he said. "This man will name our enemies without apology and he will defeat them."
#MikePence on no one naming ISIS in #DNC speeches: "[#DonaldTrump] will name our enemies...and he will defeat them." pic.twitter.com/m5V4BAL0nI

— Fox News (@FoxNews) July 26, 2016
---