Hours after Republican presidential nominee Donald Trump glibly invited Russian hackers to look for emails deleted by Democratic presidential nominee Hillary Clinton, Senate Minority Leader Harry Reid (D-Nev.) urged intel agencies to only give the businessman "fake" briefings.
"I would suggest to the intelligence agencies, if you're forced to brief this guy, don't tell him anything, just fake it, because this man is dangerous," Reid told The Huffington Post. "Fake it, pretend you're doing a briefing, but you can't give the guy any information."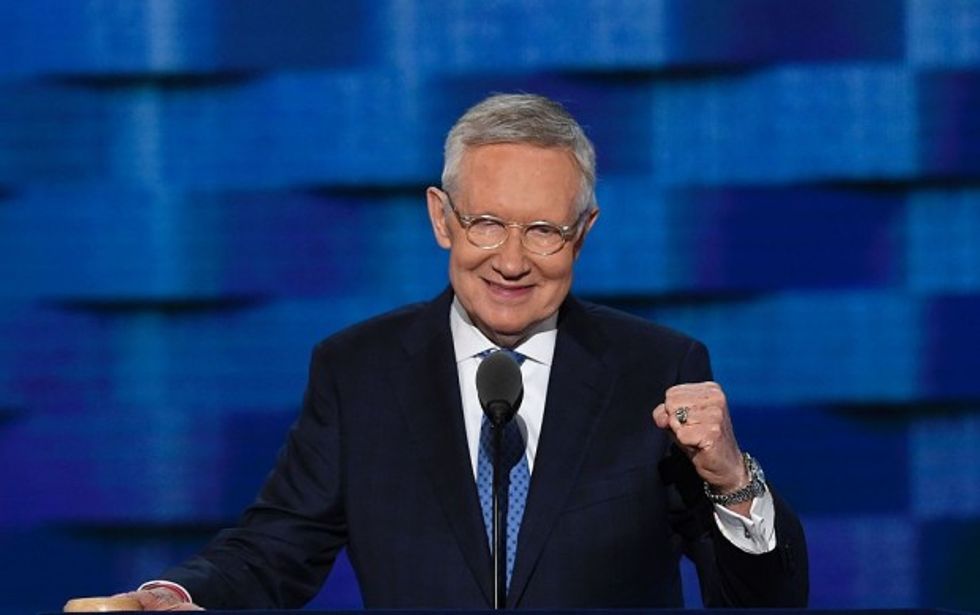 Senate Democratic Leader Harry Reid of Nevada arrives to speak on Day Three of the Democratic National Convention at the Wells Fargo Center in Philadelphia, Pennsylvania, July 27, 2016. (Photo by SAUL LOEB/AFP/Getty Images)
Speaking during a press conference in Doral, Fla., Wednesday, Trump, looking directly into the camera, said, "Russia, if you're listening, I hope you're able to find the 30,000 emails that are missing. I think you will probably be rewarded mightily be our press."
"We knew he liked Putin before this, but this is quite ridiculous," Reid said in response.
While the Nevadan lawmaker wouldn't go so far as to label Trump's request as "treason," he did say he has "never seen anything" like Trump in his many decades in American politics. Reid added that the idea of such cybercrime taking place at the behest of a presidential candidate could be worse than the infamous Watergate scandal that irreparably damaged former President Richard Nixon.
"I think Watergate was something that people understood. It was wrong, morally wrong, for the president of the United States to be involved in such trivia," the senator said. "What Trump is talking about is much worse than Watergate. Absolutely."
This is not, however, the first time it has been suggested that a candidate should be barred from receiving classified intelligence briefings. Earlier this month, House Speaker Paul Ryan (R-Wis.) called on the director of National Intelligence to block Clinton from receiving intel.
"I think the DNI, the director of national intelligence, should block [Clinton's] access to classified information," Ryan said in an interview on Fox News' "The Kelly File" earlier this month, following the FBI's decision not to recommend charges against the former secretary of state for her use of a private email server during her tenure at the State Department.
National Intelligence Chief James Clapper ultimately denied Ryan's request.
(H/T: Mediaite)
—
Follow the author of this story on Twitter: