Republican presidential nominee Donald Trump has been closely following this week's Democratic National Convention, weighing in on media coverage of the event via his personal Twitter account.
On Tuesday night, Fox News anchor and longtime Trump Twitter rival Megyn Kelly hosted the "Kelly File" live from Philadelphia and brought up Trump's hardline policy on combatting the Islamic State.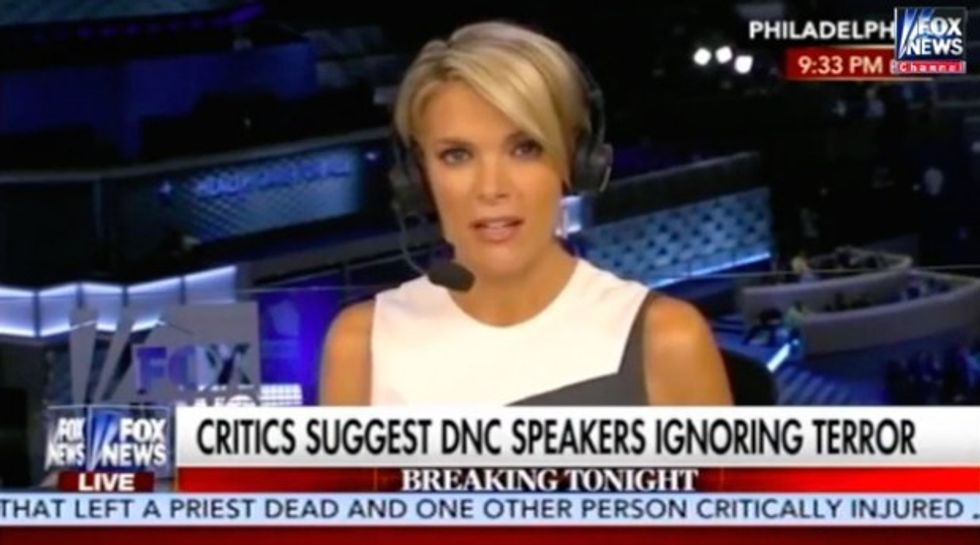 Image source: YouTube
The mention of the terror group came in the wake of the murder of a French priest Tuesday carried out by Islamic State extremists. Kelly asserted that Trump wanted to "bomb the oil fields" to destroy the group's economic power, though he retracted the statement later.
Guest Stephen Hayes chimed in, noting that it's "hard to figure out where Donald Trump is on a lot of these issues."
After the show ended, Trump wasted no time firing back a Twitter response, telling Kelly to "please get your facts straight."
You have no idea what my strategy on ISIS is, and neither does ISIS (a good thing). Please get your facts straight - thanks. @megynkelly

— Donald J. Trump (@realDonaldTrump) July 27, 2016
Trump proceeded to condemn critics of his foreign policy Wednesday morning in a series of tweets describing where he stands when it comes to radical Islam.
Hopefully the violent and vicious killing by ISIS of a beloved French priest is causing people to start thinking rationally. Get tough!

— Donald J. Trump (@realDonaldTrump) July 27, 2016
Crooked Hillary Clinton wants to flood our country with Syrian immigrants that we know little or nothing about. The danger is massive. NO!

— Donald J. Trump (@realDonaldTrump) July 27, 2016
Our not very bright Vice President, Joe Biden, just stated that I wanted to "carpet bomb" the enemy. Sorry Joe, that was Ted Cruz!

— Donald J. Trump (@realDonaldTrump) July 27, 2016
Watch the Trump segment on the "Kelly File" beginning at the 30:10 mark below: