A Kentucky judge was intensely bothered by the scene she witnessed this week in her courtroom.
Video from a Jefferson District Court hearing Friday morning shows a female inmate who was brought in not only without a jumpsuit, but apparently also without pants.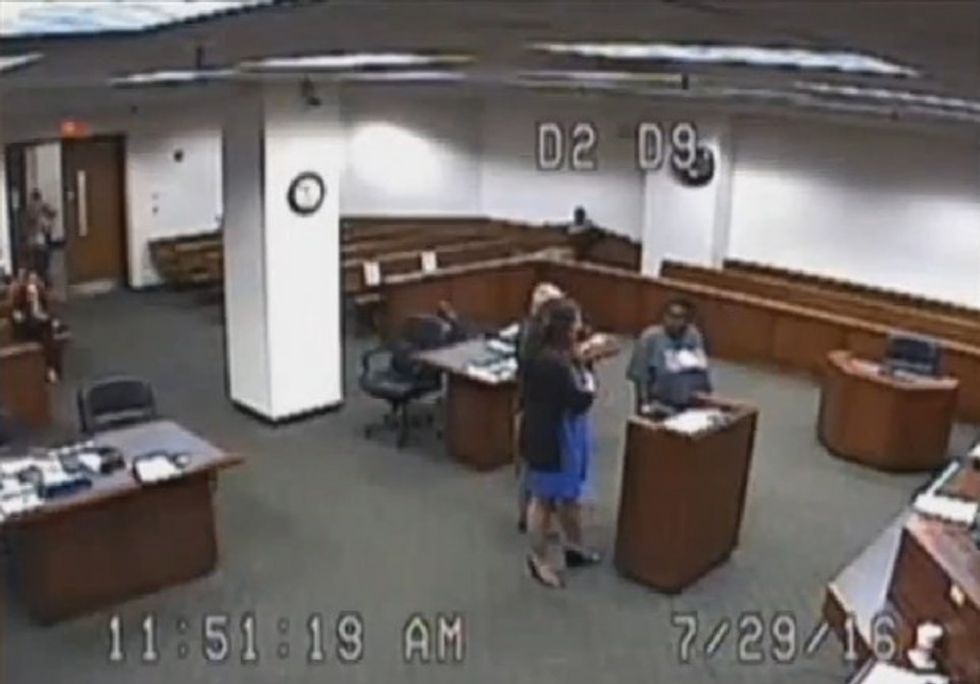 Image source: WDRB-TV
The woman's attorney told Judge Amber Wolf that the jail "refused to give her pants and any kind of hygiene products that she needed," according to the video, which was released by WDRB-TV.
According to WDRB, the woman was in jail for not completing a diversion program on a 2014 shoplifting charge. She told Judge Wolf that she had been in the Metro Corrections facility for days without pants, despite multiple requests.
"Excuse me?" Wolf exclaims in the video. "This is outrageous. Is this for real?"
At one point, the judge asks, "Am I in the twilight zone? What is happening?"
After hearing the inmate and her attorney's explanation, Wolf took out her cell phone to call Metro Corrections Director Mark Bolton. Wolf can be seen in the video telling someone from the facility that she wanted to ask Bolton "why there is a female defendant standing in front of me with no pants on.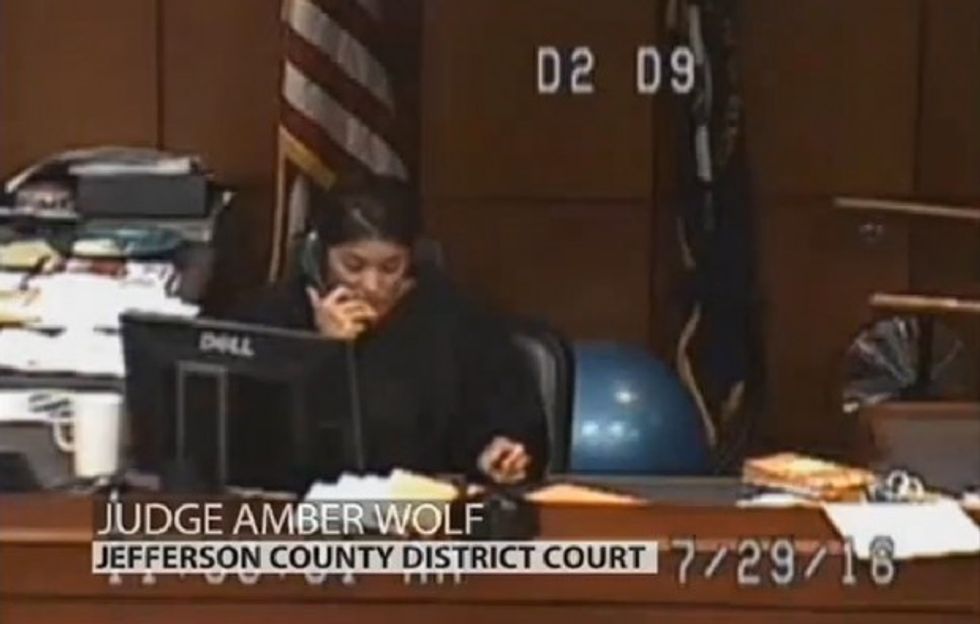 Image source: WDRB-TV
"What the hell is going on?" Wolf says into the phone. "I'm holding her here until she is dressed appropriately to go back to jail. This is outrageous."
The annoyed judge sked court staff if they would find something to cover the woman with. "Anything — I don't care what it is," Wolf said.
After the someone brought the woman clothing, Wolf called her back to the bench and apologized on behalf of the jail.
"This is not normal," she said. "I've never seen it happen. ... This is completely inhumane and unacceptable. I'm sorry you had to go through this."
According to WDRB, jail officials said the woman was wearing athletic shorts that were hidden under her long shirt. Steve Durham, a spokesman for the jail, told the station the inmate had not been in custody long enough to be issued a jail jumpsuit.
"This is pretty standard that when individuals are arrested, they remain in the clothing that they've been arrested in," Durham said. "Especially for the first 72 hours."
During the hearing Friday, Metro Corrections Deputy Director Dwayne Clark brought clothing to the woman and told Wolf that she should have been given a jumpsuit and hygiene products. Clark promised to take necessary steps to correct the issue.
"Dressed like she was," he said, "she should have been changed into a jumpsuit. I gotta look into why she wasn't."
Following the hearing, jail officials who spoke with WDRB reportedly denied that there had been any problem.
Wolf released the woman from jail and issued her a $100 fine. According to WDRB, the judge said she had no other charges and should "have been in jail" no more than a day before being released.